Bostonians turned out to the city's annual marathon in high spirits on Monday - one year after attacks killed three and injured hundreds.
Read the full story ›
Advertisement
Kenya's Rita Jeptoo has successfully defended her Boston Marathon title with a time of 2:18:57, organisers have said.
Rita Jeptoo (KEN) sets a course record (~2:18:57) to win the women's field of the 118th Boston Marathon - her... http://t.co/7qzaGcWk9g
Almost 36,000 athletes will run in the 118th Boston Marathon today in the first running of the race since last year's bombing.
Massachusetts Governor Deval Patrick said security will be tighter than ever for this year's running of the world's oldest marathon.
Runners attending the event will have to use clear plastic bags for their belongings, and fans hoping to watch near the finish line are encouraged to leave strollers and backpacks behind.
An image allegedly showing the last words written by suspected Boston Marathon bomber Dzhokhar Tsarnaev, before he was captured, have been obtained by ABC News.
The writing was apparently found on the wall of the boat he was arrested in.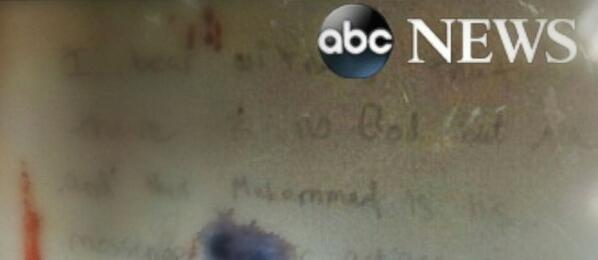 ABC have transcribed what they believe to be the inscription on the boat walls:
"The U.S. government is killing our innocent civilians, but most of you already know that… I can't stand to see such [bullet hole] go unpunished," said the note ABC News obtained from a law enforcement official.
"We Muslims are one body. You kill one of us, you hurt [bullet hole] us all."
Advertisement
A lone officer from the bomb squad was captured on video destroying an unattended backpack left near to the Boston Marathon finish line. A man remains in police custody in connection with the incident.
A member of the police bomb squad walks away from an unattended backpack left on the road near the finish line of the Boston Marathon in Boston. A man is in police custody following the security alert, which prompted evacuations of the surrounding area.
The Boston Police Department has confirmed two unattended bags left at the Boston Marathon finish line have been destroyed, as a precaution. A man remains in custody.
#BPDPublicSafetyAlert: BPD confirming that the unattended bags at the Finish Line have been disrupted for precautionary reasons.
The Boston Police Department has tweeted that a man is in custody after two unattended backpacks were found near the Boston Marathon finish line, a year on from the bomb attacks.
#BPDPublicSafetyAlert: #BPD confirming a male suspect in custody in connection to the unattended backpacks found at the Finish Line.
Load more updates