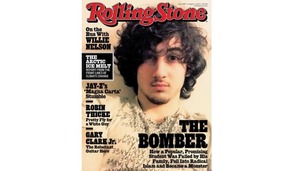 Rolling Stone magazine sparks controversy by placing Boston Marathon bombing suspect Dzhokhar Tsarnaev on its front cover.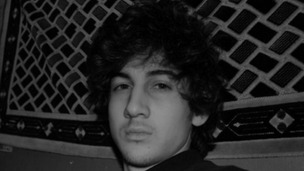 Boston bombing suspect Dzhokhar Tsarnaev pleaded not guilty to all charges as he made his first public appearance since the attacks.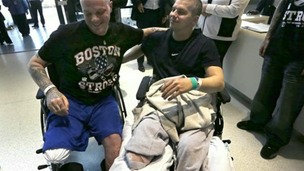 Paul and JP Norden both lost a leg in the Boston Marathon attacks. They are helping each other recover from their injuries.
Live updates
Final Boston Marathon mile run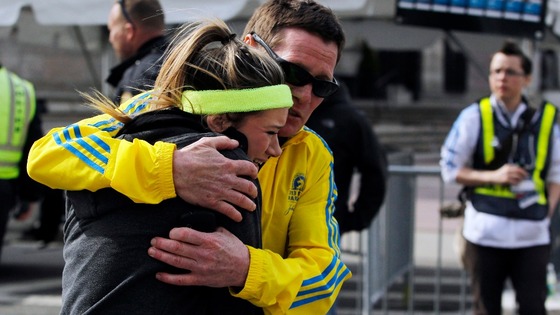 Thousands of people will run the final mile of the Boston Marathon later today as part of a free, non competitive run.
"One Run" will take place at 10 am local time - and has garnered over 2,500 RSVPs on its Facebook page.
Jon Ritter-Roderick, one of the organisers of One Run, told Metro.us: "We are not concerned about who finishes first, or who finishes last," he said. "Just the show of completing something that was interrupted will be a huge step in the right direction for Boston."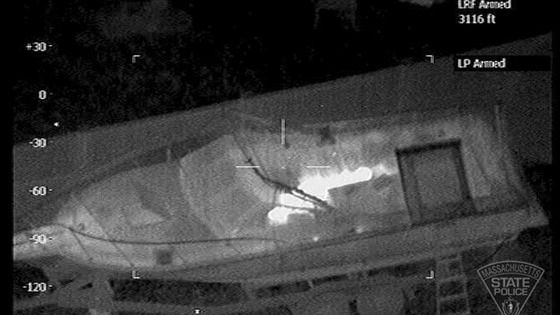 The Boston Marathon bombing suspect Dzhokhar Tsarnaev left a note claiming responsibility for the April 13 attack and justifying his actions, CBS News reports.
The note, written on one of the walls of the boat's cabin, said the attacks were a retaliation to the US military action in Afghanistan and Iraq and said the victims were "collateral damage." Whilst bleeding from police gunshot wounds he wrote: "When you attack one Muslim, you attack all Muslims."
The younger Tsarnaev also said he didn't mourn the death of his brother Tamerlan as he was a "martyr in paradise" and the he expected to join him there soon.
Advertisement
Boston suspect friend in court
The teen suspected of lying in the Boston bombings investigation can be released under strict conditions, the prosecutor said.
Robel Phillipos would have GPS monitoring, home confinement and $100,000 bond, Reuters is reporting.
Boston suspect friend in court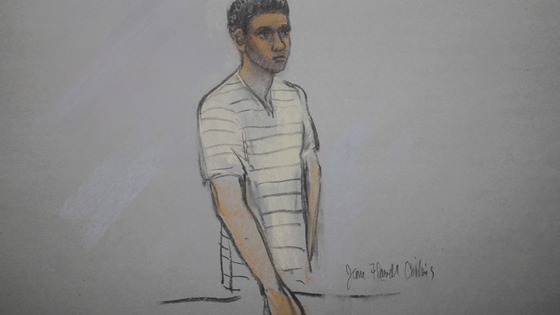 One of three new suspects arrested in connection with the Boston Marathon bombings will appear in court today after being charged with obstructing a federal investigation.
American Robel Phillipos is accused of lying to investigators to keep his friend Dzhokhar Tsarnaev out of trouble and he faces up to eight years in prison and an $250,000 fine.
A hearing for other two suspects, Kazakh nationals Azamat Tazhayakov and Dias Kadyrbayev, is scheduled for May 14.
Marathon solidarity with Boston
Kentucky runner Jason Darnall, who run the Boston Marathon in 2012, wears a black ribbon in memory of those affected by the Boston bombings.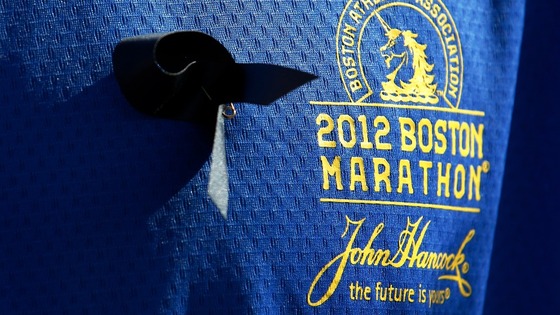 Police boost ahead of marathon
London
The Metropolitan Police say there has been no change London's threat level despite a 40% increase in the number of officers at today's Marathon.
We have worked with organisers, partners and other emergency services throughout the preparations for this year's marathon to ensure that we have the right plans in place.

Following the terrible events in Boston, we are providing additional visible reassurance to the public in what is naturally a worrying time.

I would stress there is no change to the threat level to London and nothing at this stage to link the Boston bombings to the London marathon.

Nevertheless we want to do all we can to help provide a secure environment in which the runners, spectators and volunteers can enjoy themselves."
– Chief Supt Julia Pendry, Gold commander for the Marathon

The public are being urged to ensure they take good care of their belongings in order to avoid police responding to reports of unattended items.
Advertisement
Police boost ahead of marathon
London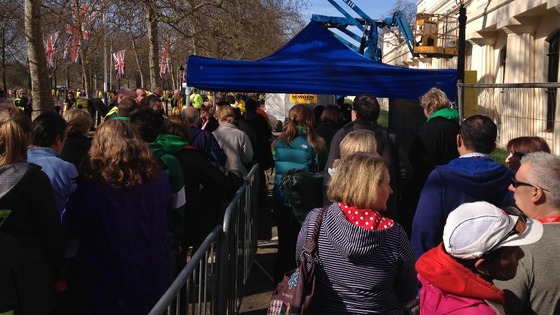 Heightened security at this year's London Marathon has left spectators queuing to get past the finish line.
Hundreds of extra police officers have been drafted in to oversee the event after a terror attack at the Boston Marathon on Monday. Three people were killed and hundreds injured in two bomb blasts near the finish line.
The Metropolitan Police say the measure is meant to reassure runners.
Police boost ahead of marathon
Wishing all involved in @londonmarathon a great day out, good luck if you're raising money & @bostonmarathon our thoughts are with you today
Police boost ahead of marathon
The enhanced police presence planned for Sunday's London Marathon will remain in place despite the death and capture of the Boston Marathon bombing suspects, Scotland Yard have said.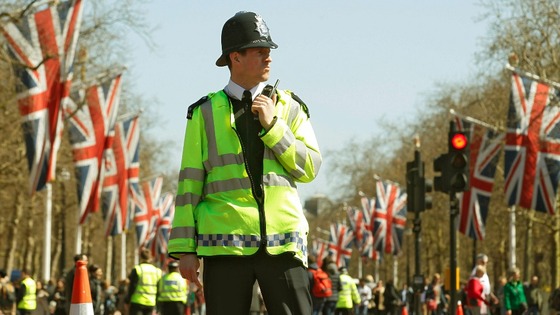 Security has been stepped up to reassure the 36,000 runners and tens of thousands of spectators in the wake of the atrocities which killed three people and injured 180 in the US last Monday.
After a manhunt which left Boston in virtual lockdown, 19-year-old Dzhokhar Tsarnaev was arrested following a shootout with officers and his brother Tamerlan, 26, was killed yesterday.
But several hundred more officers will still be out on London's streets tomorow - a 40 percent increase on last year.
The Met is in close contact with the FBI and Boston Police and there is nothing to suggest any link with the bomb attacks.
Police boost ahead of marathon
The Boston bombings will not put off spectators or runners from taking part in tomorrow's London Marathon, the race's chief executive said.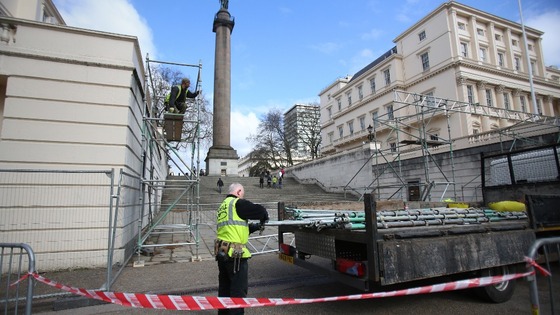 Security has been stepped up for the 26.2 mile event in the capital with several hundred more officers set to line the streets for Sunday's marathon.
The race's chief executive Nick Bitel said: "After the terrible events in Boston we conducted a security review with the Metropolitan police and all the other agencies.
"As was announced yesterday, we have increased substantially the number of police officers who are going to be out there, going to be visibly reassuring people and putting in more search regimes and a number of other measures to ensure that it is as safe and fun as it always is."
He added: "I think the spectators won't be put off, we'll have a great day. There's some fantastic races, really competitive, and the numbers in terms of people running will be 35,500 - 36,000 as they would always be."
Load more updates
Back to top