A naked man fell through the ceiling of a women's toilet at a US airport before fleeing and "viciously assaulting" an elderly man.
Read the full story ›
A medical clinic near the US city of Boston was quarantined and a patient has been isolated outside the building because of his recent travel to West Africa, the Boston Globe reports.
The patient was reportedly also complaining of Ebola-like symptoms.
Joe Zanca of Braintree Fire Department is quoted as saying that "no one is leaving" the building.
Advertisement
An image allegedly showing the last words written by suspected Boston Marathon bomber Dzhokhar Tsarnaev, before he was captured, have been obtained by ABC News.
The writing was apparently found on the wall of the boat he was arrested in.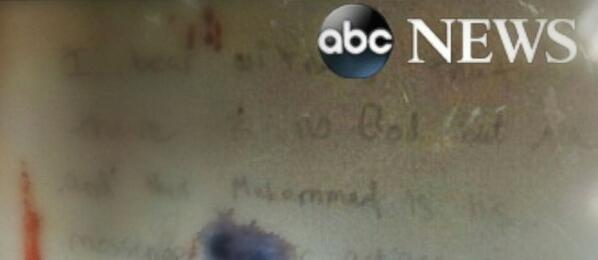 ABC have transcribed what they believe to be the inscription on the boat walls:
"The U.S. government is killing our innocent civilians, but most of you already know that… I can't stand to see such [bullet hole] go unpunished," said the note ABC News obtained from a law enforcement official.
"We Muslims are one body. You kill one of us, you hurt [bullet hole] us all."
A lone officer from the bomb squad was captured on video destroying an unattended backpack left near to the Boston Marathon finish line. A man remains in police custody in connection with the incident.
A member of the police bomb squad walks away from an unattended backpack left on the road near the finish line of the Boston Marathon in Boston. A man is in police custody following the security alert, which prompted evacuations of the surrounding area.
Advertisement
The Boston Police Department has confirmed two unattended bags left at the Boston Marathon finish line have been destroyed, as a precaution. A man remains in custody.
#BPDPublicSafetyAlert: BPD confirming that the unattended bags at the Finish Line have been disrupted for precautionary reasons.
The Boston Police Department has tweeted that a man is in custody after two unattended backpacks were found near the Boston Marathon finish line, a year on from the bomb attacks.
#BPDPublicSafetyAlert: #BPD confirming a male suspect in custody in connection to the unattended backpacks found at the Finish Line.
Local media is reporting two suspicious packages have been identified near to the finish line of the Boston Marathon, prompting evacuations.
A memorial service has been taking place to mark the first anniversary of the bombings.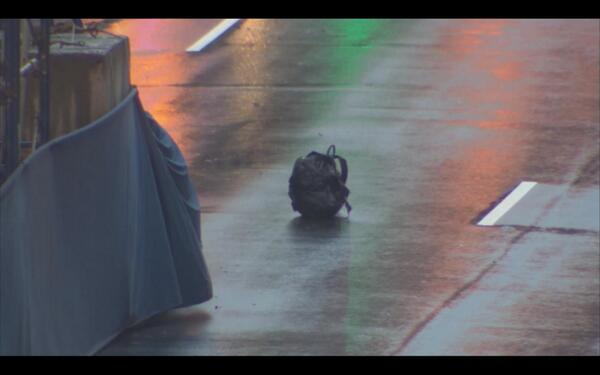 The @bostonpolice department confirms there are 2 unattended backpacks at the finish line that have caused the evacuations. #wbz
Load more updates