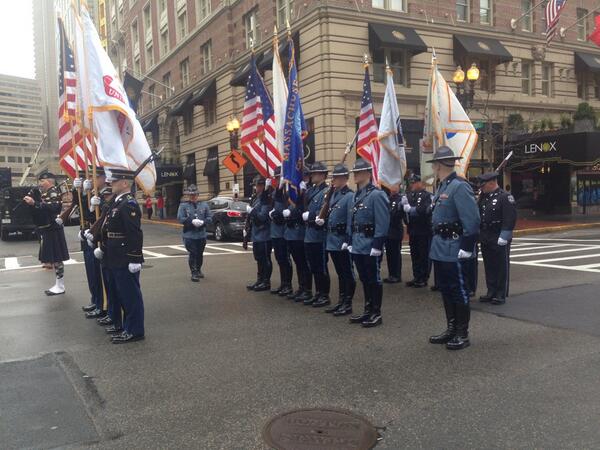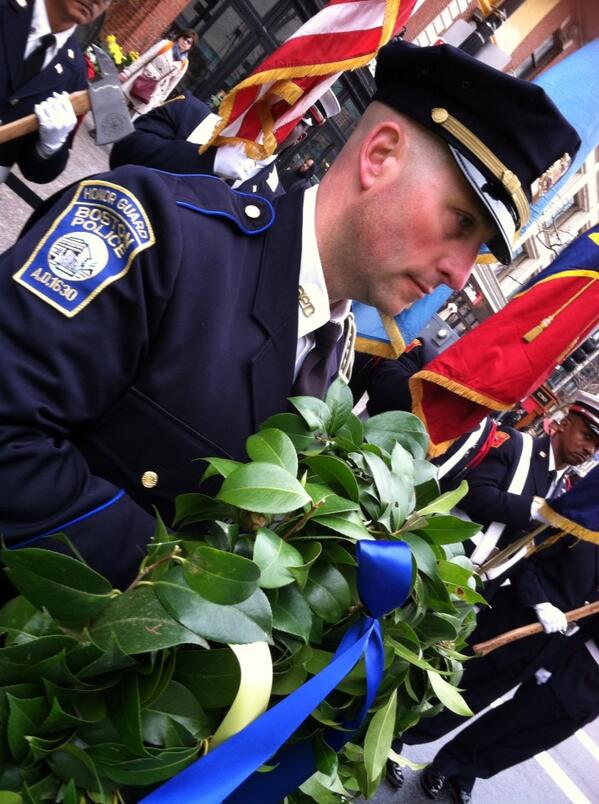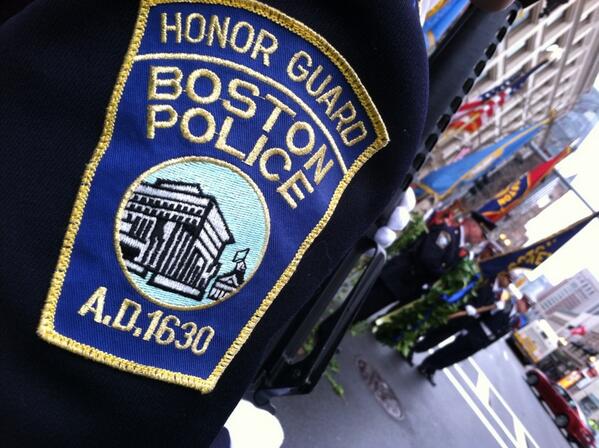 US Secretary of State John Kerry tweeted on the first anniversary of the Boston Marathon bombings:
One year later, even if you were miles from home, no Bostonian will forget this day. Remember victims, honor heroes. We are #BostonStrong.
Advertisement
Wreaths have been placed at the sites of the two Boston Marathon bomb attacks as the city remembers the events one year on.
Boston Mayor Marty Walsh urged people on Twitter to join in a moment of silence to honour those affected by last year's marathon bombings: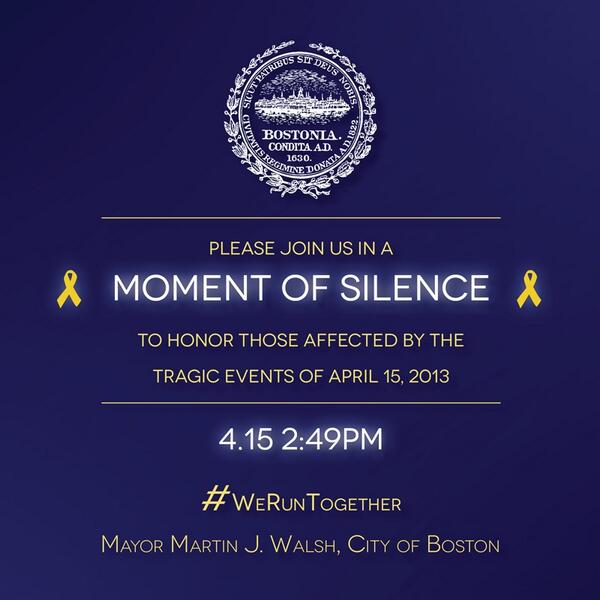 President Barack Obama has paid tribute to the people of Boston one year on from the marathon bombings, recognising the "incredible courage and leadership of so many Bostonians in the wake of unspeakable tragedy."
Obama said: "We also know that the most vivid images from that day were not of smoke and chaos, but of compassion, kindest and strength: A man in a cowboy hat helping a wounded stranger out of harm's way; runners embracing loved ones, and each other; an EMT carrying a spectator to safety.
"We offer our deepest gratitude to the courageous firefighters, police officers, medical professionals, runners and spectators who, in an instant, displayed the spirit Boston was built on - perserverance, freedom and love.
"One year later, we also stand in awe of the men and women who continue to inspire us - learning to stand, walk, dance and run again."
Marc Fucarile, the last Boston Marathon survivor to leave hospital after the twin bombings, has told ITV News his fiancee and son Gavin were "the reason I fought to live",
"That little boy is my life ... I just couldn't think about not being with them," Mr Fucarile, who will marry his fiancee Jennifer Regan later this week, said.
"I wasn't going to let him grow up without a dad, I was going to fight no matter what," he added.
Mr Fucarile and his family created their own crowd funding website, Help Marc Fucarile, which has generated more than $190,000 (£113,700) so far.
Advertisement
As Boston prepares to mark one year on from the marathon bomb attacks, ITV News asks how are the survivors coping?
Read the full story ›
A Boston Marathon bombings survivor has told ITV News those responsible for the attacks should be handed the death penalty.
Marc Fucarile, who lost his right leg above the knee and broke his spine, Washington Correspondent Robert Moore: "You know they're sick, sick people. They killed people that didn't do anything to them and I think they should pay the ultimate sacrifice.
"I think that anyone that thinks in that direction should also pay the sacrifice".
Tamerlan Tsarnaev, who died in a shoot-out with police four days after the attacks, and his brother Dzhokhar have been accused of carrying out the Boston Marathon bombings.
Dzhokhar Tsarnaev has pleaded not guilty to 30 charges.
A Boston Marathon bombings survivor has told ITV News he feels "unbelievably lucky" to be alive.
Marc Fucarile, who spent 100 days in hospital following the blasts last year, told Washington Correspondent Robert Moore: "I looked at a picture - right next to me there was a piece of metal fencing ... bent at a 90 degree angle around the mailbox."
Mr Fucarile said the fact he was still here with just one leg missing "is amazing."
"I have no idea how I can still talk, think, walk ... I'm definitely lucky," he added.
Information that may have raised US scrutiny of Boston Marathon bombing suspect Tamerlan Tsarnaev fell through the cracks in communications among US intelligence agencies and between the United States and Russia, an inspectors general report released today showed.
US intelligence was alerted by Russian intelligence in 2011 that Tsarnaev might pose a threat, but lack of further information led to less heightened awareness of the danger he posed, said the report by inspectors general for the US intelligence community.
Two Chechen brothers, Tamerlan and his younger brother Dzhokhar, are suspected of planting pressure-cooker bombs near the race's finish line last April 15 in an attack that killed three people and wounded more than 260.
Tamerlan died after a gunfight with police while the younger brother is awaiting trial on charges that could lead to the death penalty if he is convicted.
Load more updates