Floyd Mayweather Jr. and Justin Bieber pose for a photo in the locker room before the showdown with Manny Pacquio.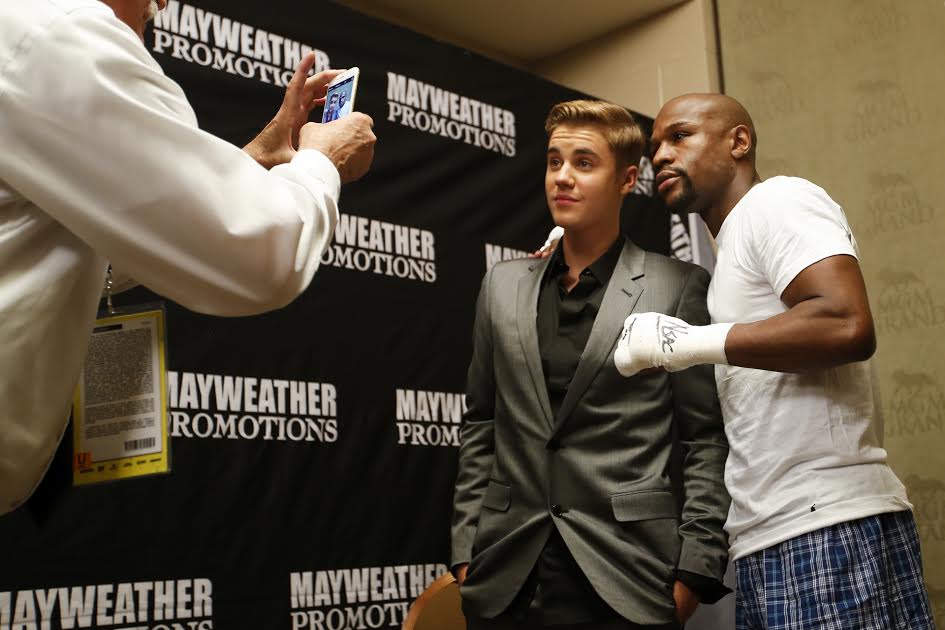 Las Vegas airport is reportedly closed to private aircraft ahead of today's hotly anticipated match-up between Floyd Mayweather and Manny Pacquiao.
Journalist Liz Habib has tweeted this picture of a packed landing apron at the airport.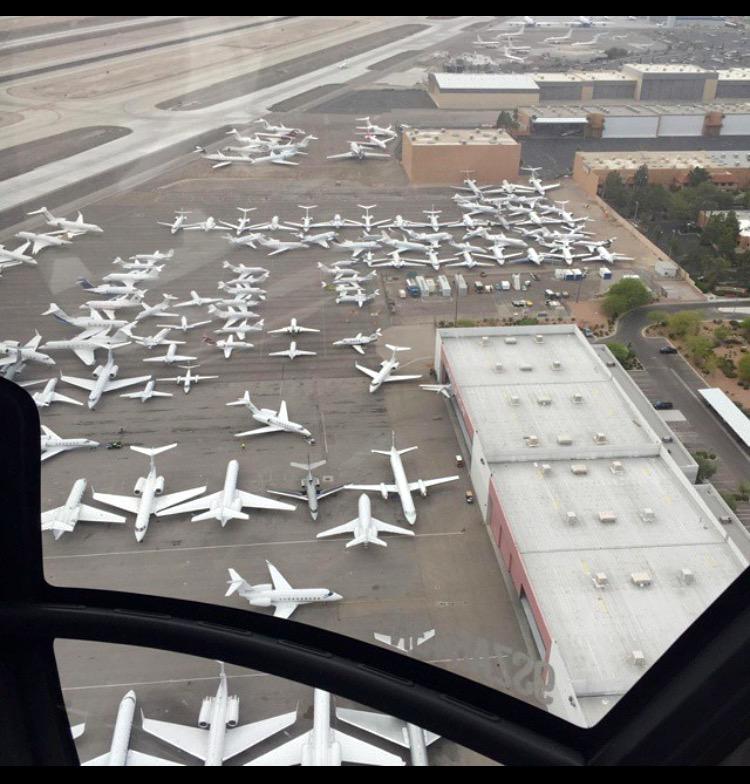 Advertisement
Kell Brook has set his sights on a welterweight unification bout against the winner of Saturday night's long-anticipated fight between Floyd Mayweather and Manny Pacquiao.
After years of wrangling, the sport's two biggest names will finally get in the ring in Las Vegas where Mayweather's WBA and WBC straps will be on the line alongside Pacquiao's WBO belt.
Brook holds the IBF version of the welterweight title and, provided he successfully defends that against domestic rival Frankie Gavin later this month, the Sheffield fighter would relish a shot at unifying the division.
"I'm going to take care of Frankie Gavin on May 30," he told Sky Sports News.
"We've got pencilled in a fight in August but if the fight comes for September, I'd absolutely grab it with both hands - a unification fight with the winner.
"They're getting on, Pacquiao and Mayweather, so I'd love to lock horns with them before their time is out.
"I'm open to a unification."
Floyd Mayweather has warned Manny Pacquiao that his 'reckless' style could get him knocked out.
The American boxing welterweight made the claim hours before the two meet for what is being called the 'Fight of the Century' in Las Vegas on Saturday night.
"This is going to be an exciting fight," said Mayweather, who has a perfect 47-0 record with 26 knockouts and is acknowledged as the world's best pound-for-pound boxer.
"Our styles are totally different. He is very, very reckless. Every move I make is calculated. I'm always 5-10 steps ahead of my opponent.
"Pacquiao would be a better fighter if he wasn't so reckless. It's a gift and a curse. He's won a lot of fights by being reckless but being reckless can get you knocked out."
Floyd Mayweather and Manny Pacquiao have squared up to each other for the last time before their multi-million dollar contest in Las Vegas.
In front of a packed crowd at the MGM grand Garden Arena the two boxers weighed in ahead of Saturday's highly anticipated welterweight showdown.
Pacquiao tipped the scales at 145 pounds while Mayweather registered 146 pounds for what is being billed as the 'Fight of the Century'.
Dressed in a bright red track suit, Pacquiao waved and raised his fists into the air as he slowly made his way to the stage in contrast to Mayweather who was serious and focused, rarely looking up from under the brim of his 'Money Team' baseball cap.
After the weigh-in, the two welterweights moved to the front of the stage for the traditional stare down, the smaller Pacquiao looking up at Mayweather with a challenging smile while the stone-faced American stared straight-ahead unmoved.
"I have been fighting bigger guys like [Antonio] Margarito and [Oscar] De La Hoya," said the Filipino.
"It doesn't matter to me. I feel tomorrow that the Lord is always with me and gives me strength."
The showdown between the two best boxers of their generation has been more than five years in the making and at more than $400 million is expected to be the biggest-grossing prize fight of all time,
Barry McGuigan believes that Floyd Mayweather has the edge on Manny Pacquiao in their superfight this weekend.
"I think Mayweather has the edge just simply because psychologically he is unbeaten and by his very nature he doesn't know how it is to lose," said McGuigan, speaking at the BT Sport Industry Awards.
"He has the edge in speed...and he's a bigger man so I give him the edge but Pacquiao has the ability and all of the qualities to beat someone like Mayweather."
The most lucrative fight in boxing history will see the two fighters share a purse of around £198m, with Mayweather rumoured to be taking home a 60/40 majority.
Advertisement
Serafim Todorov was the last man to beat Floyd Mayweather at the 1996 Summer Olympics, but their lives have taken very different paths
Read the full story ›
Mike Tyson has labelled Floyd Mayweather "delisional" for comparing himself with Mohammed Ali, and admits accused the boxer of being too scared to take his children to school.
Former heavyweight world champion Tyson made a surprise appearance at the final press conference before this weekend's super-fight, and told UCN:
He's very delusional. He can't listen. If he was anything like Ali he would take his kids to school by himself.

Greatness is not guarding yourself from the people. Greatness is being accepted by the people. He can't take his kids to school by himself. He's a very small, scared man.
– Mike Tyson speaking to UCN
ITV Granada Sports Correspondent Chris Hall has been gauging the opinion of some familiar faces ahead of Floyd Mayweather v Manny Pacquiao
Read the full story ›
Roy Jones Jr, a former four-weight world champion, believes Pacquiao's speed and work rate will trouble Mayweatherwhen the welterweight rivals meet at the MGM Grand in the early hours of Sunday morning.
"Manny's best game plan is pressure, pressure. Floyd has never fought an opponent like Manny who throws so many punches, has power in both hands and is southpaw," Jones told Press Association Sport.
"If you look back to Zab Judah, he is the closest to that and he gave Floyd a good run in the first four rounds. After that he started to decline.
"Everyone knows that's Zab's MO, he declines after four rounds. But Manny doesn't decline after four rounds, he goes higher.
Load more updates