Amir Khan defiantly insisted he was okay while he was taken to hospital as a precaution after his heavy sixth-round knockout defeat by Saul 'Canelo' Alvarez in Las Vegas.
The WBC champion brutally stopped Khan with a huge right hand to make the first successful defence of his title, inflicting the fourth defeat of the 29-year-old's professional career and exposing him as a natural welterweight too small to convincingly compete at the catchweight of 155lbs.
There was little shame in the nature of the defeat for Khan, who impressed with his speed and combinations in the opening five rounds until Alvarez's superior size and strength began to slow him down and leave him vulnerable to the knockout that followed.
Khan said afterwards he expects to return to 147lbs, where he is undefeated and where his domestic rival Kell Brook is the IBF champion, and added on Twitter on his way to hospital: "Im okay everyone. thats boxing for you."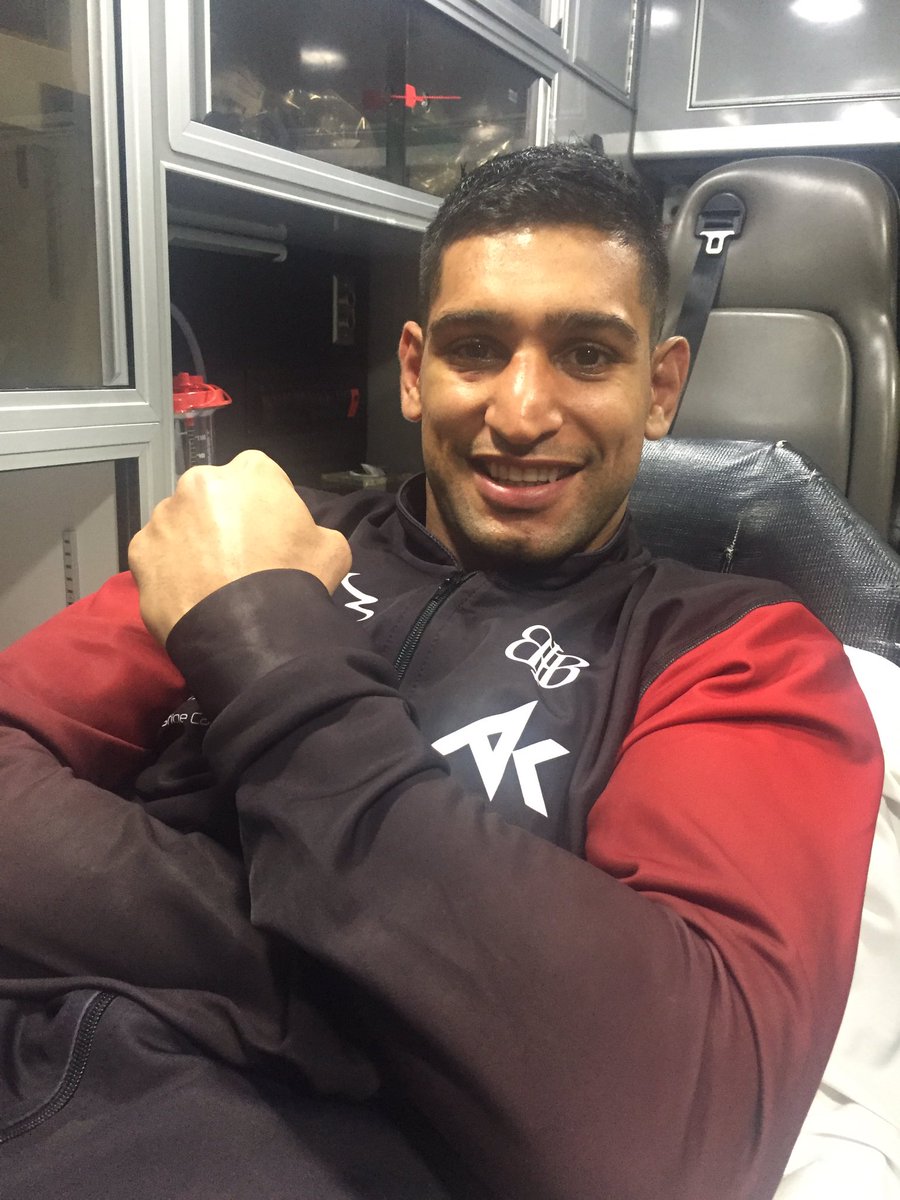 He hit the canvas so heavily it was instantly obvious the fight was over - the official time was two minutes and 37 seconds of the sixth round - and the 25-year-old Alvarez knelt beside him to check he was okay.
"You want to win by knockout, but you don't want to hurt anybody," the Mexican said. "It was a human reaction to make sure he was okay and I'm glad he appears to be."
Boxer Amir Khan sparked laughter in Las Vegas when he aimed a verbal jab at Republican presidential candidate Donald Trump.
Read the full story ›
Advertisement
Anthony Joshua is preparing to announce himself in the United States after signing a multi-fight deal with Showtime ahead of his maiden IBF world heavyweight title defence against the unbeaten Dominic Breazeale.
The pair meet at the O2 Arena on June 25, with Breazeale returning to London for the first time since his first-round defeat at the 2012 Olympic Games.
The 30-year-old from Los Angeles has won all 17 of his professional contests, with 15 stoppages, while Joshua has a 100 per cent knockout record after 16 bouts in the paid ranks.
Following the announcement of his television deal with American network Showtime, Joshua said he is ready for what will be a level fight between two unbeaten combatants.
"I know there are a lot of positive things happening in boxing and around my career, you see my reaction when these things happen and you're only good when you're winning," he said.
"Every fight could be your last fight, that is why I'm serious and I don't let success go to my head. Me and Dominic are very equal, 17 fights, 16 fights, turned professional around the same time.
"It is a very equal fight, he is my fourth undefeated fighter I've been fighting. He gets to announce himself in the UK and I can announce myself in America and the best man will come out on top. May the best man win."
Amir Khan has insisted he would not be interested in fighting Floyd Mayweather if the American makes his expected return from retirement, even if he defeats Saul Alvarez to win the WBC middleweight title.
He challenges Mexico's defending champion 'Canelo' Alvarez on Saturday at Las Vegas' new T-Mobile Arena when he is such an underdog that victory would be among the greatest ever by a British fighter.
Mayweather has this week attracted significant attention since hinting at plans for a comeback and speaking of talks with American television networks CBS and Showtime, and if Khan were to hold a middleweight title where the 39 year old is yet to fight, the potential money involved would be likely to get Mayweather's attention.
"He messed me around a lot so I don't think I'd take that fight. He messed me around, so I'd probably treat him the same way," said Khan.
"Floyd's probably missing not having his picture on the MGM. He must see my picture and Canelo's picture and think, 'People have forgotten about me'. As soon as you say you're retired, we do forget about the people who say that.
"Mayweather's feeling that now, he's feeling like no one's talking about him, that he's old news, and maybe that's why he's trying to get everyone supporting him again by saying 'I want to make a comeback'.
"Whatever Mayweather says, let him say it."
Tyson Fury says he will relocate to America after his rematch with Wladimir Klitschko because he does not feel accepted in this country.
The 27-year-old will defend his WBA and WBO heavyweight titles against the Ukrainian in Manchester on July 9 and after that he is ready to pack his bags and head across the Atlantic Ocean.
Fury, who has courted outrage with a string of controversial comments on homosexuality and abortion, believes he is treated like a "bum" in the United Kingdom and deserves better.
He told a number of national newspapers: "I am not accepted in this country. I am a gypsy and that's it. I will always be a gypsy, I'll never change. I will always be fat and white and that's it.
"I am the champion yet I am thought of as a bum. I am moving out of the country. I am going to America where champions are better thought of.
"I am moving to Los Angeles where people have a better life. I made the decision last week to go where people admire success."
Anthony Joshua will face undefeated American Dominic Breazeale in the first defence of his IBF world heavyweight title this summer.
The 30-year-old Breazeale, who competed at the 2012 Olympic Games where Joshua won his gold medal, will travel to London's O2 Arena on June 25 for his first fight at world level.
His selection as Joshua's opponent comes after a long period of him being monitored as a potential challenger, according to the champion.
Advertisement
"That's me done", says boxer less than a month after suffering serious head injuries in title match fight against Chris Eubank Jr.
Read the full story ›
Nicola Adams booked her place at the Rio Olympics after cruising to victory at the European qualifying tournament in Samsun, Turkey, on Friday.
The 33-year-old scored a unanimous decision win over Marielle Hansen of Norway to ensure she will defend her 2012 gold medal in Brazil.
It means Adams will get the chance to become the first British boxer to win two Olympic titles since Harry Mallin in Paris in 1924.
Adams started aggressively against her experienced opponent, repelling Hansen's advances and taking it clearly on the scorecard.
Despite getting a little wayward with her shots in the middle rounds, Adams finished with a flourish to complete a shut-out victory and book her place on the plane to Rio.
Tyson Fury has branded Anthony Joshua a "pumped up weightlifter" and warned Wladimir Klitschko he is for "another hiding" in their re-match this summer.
Fury, the WBA and WBO heavyweight champion, defeated Klitschko on points in Germany last November and will go up against the Ukrainian again on July 9 at the MEN Arena.
Anticipation is also growing around a potential all-British unification fight with Joshua, who clinched the IBF title on Saturday after beating defending champion Charles Martin at London's O2 Arena.
Fury called out Joshua immediately after the victory, labelling him "slow" and "ponderous" on Twitter, and he continued his war of words with the London 2012 gold medallist on Wednesday.
"I thought he looked like a pumped up weightlifter, out of his mind on drugs," Fury said of Joshua's win.
"He fought an American who came to lay down and had about as much fight in him as this glass of water there, zero."
The 26-year-old beat Charles Martin to become world champion on Saturday in a stunning second-round stoppage performance.
Read the full story ›
Load more updates