Angelina Jolie and Brad Pitt's wine from their French vineyard, Miraval Rose, has gone on sale in a UK supermarket for the first time.
Read the full story ›
Ocean's Eleven star George Clooney has congratulated newlyweds Brad Pitt and Angelina Jolie.
"How great is that? I'm really happy for Brad and Angie and their whole family," Clooney told People magazine.
The Hollywood star, who is getting ready for his own trip down the aisle with fiancee Amal Alamuddin, did not reveal whether he had been at the ceremony in France.
Advertisement
Actor Jon Voight is "very happy" for his daughter Angelina Jolie after she married her long-term partner Brad Pitt.
Speaking exclusively to Good Morning Britain, Voight, who was not at the small ceremony, said he was "very proud" of his daughter and could now officially refer to Pitt as his son-in-law.
Hollywood star couple Angelina Jolie and Brad Pitt were married in France on Saturday, a spokesperson for the couple said.
The pair wed in a small chapel in a private non-denominational civil ceremony attended by family and friends.
Before the ceremony they obtained a marriage licence from a California judge, who also conducted the ceremony at the Chateau Miraval.
The pair have been together since 2005 when they met on the set of the blockbuster Mr & Mrs Smith, which they co-starred in.
The pair who raise six children together announced their engagement in 2012.
When Brad Pitt joined fiancée Angelina Jolie last week for the Hollywood premiere of Maleficent, he was shocked to be hit in the face by serial celebrity prankster Vitalii Sediuk.
"I was at the end of the line signing autographs, when out the corner of my eye I saw someone stage-diving over the barrier at me. I took a step back; this guy had latched onto my lapels," the actor told People Magazine.
He added: "I looked down and the nutter was trying to bury his face in my crotch, so I cracked him twice in the back of the head – not too hard – but enough to get his attention, because he did let go.
"I think he was then just grabbing for a hand hold because the guys were on him, and he reached up and caught my glasses."
"I don't mind an exhibitionist," Pitt continues, "but if this guy keeps it up he's going to spoil it for the fans who have waited up all night for an autograph or a selfie, because it will make people more wary to approach a crowd."
"He should know, if he tries to look up a woman's dress again, he's going to get stomped," Brad Pitt said.
A serial celebrity prankster who reportedly hit Brad Pitt in the face during a red carpet premiere, has been banned from attending any future Hollywood events, entertainment news agency TMZ is reporting.
According to TMZ, Vitalii Sediuk appeared before the judge in Los Angeles County court to enter his plea of no contest to battery and unlawful activity at an event/
He was sentenced to 20 days community service, $220 (£131) in fines and ordered to stay 500 yards away from red carpets, film premieres, and award shows.
Advertisement
A man was arrested by police after attacking actor Brad Pitt at the Hollywood premiere of Angelina Jolie's new film Maleficent.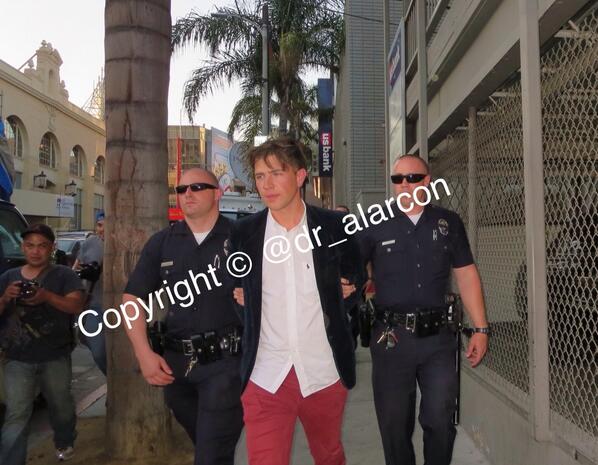 Witnesses saw the assailant jump over a barrier onto the red carpet where he attempted to attack the 50-year-old actor before being wrestled to the ground by security guards.
Pitt, unhurt, immediatey resumed signing autographs, reports said.
Hollywood A-listers Brad Pitt and Angelina Jolie were among the stars on the red carpet for the premiere of Disney film Maleficent.The Tomb Raider actor and Oscar winner Jolie plays the title role in the family fantasy.
The film also features US child star Elle Fanning, and British actor Juno Temple - the daughter of director Julien Temple, and is due to be released later this month.
Brad Pitt, Meryl Streep and Chiwetel Ejiofor were among the stars that got stuck into some pizza during the Oscars.
Host Ellen DeGeneres brought in a pizza delivery guy and offered the tasty treat to the star-studded audience, who gladly got involved.
Angelina Jolie said she is "feeling great" following her preventative double mastectomy.
Speaking at the premiere of her partner Brad Pitt's movie World War Z in Leicester Square, Jolie said she was "very happy" to see the discussion about women's health since revealing she had undergone the surgery:
Load more updates