Youngest survivor of 1985 Bradford City fire makes claims of 'coincidence' of blaze and others at businesses connected to the then chairman.
Read the full story ›
Former QPR chairman Gianni Paladini is in talks with Bradford over a possible takeover, according to Bantams joint-chairman Mark Lawn.
Read the full story ›
Advertisement
Bradford chairman Mark Lawn says the fan arrested for allegedly racially abusing Reading winger Garath McCleary faces a lifetime club ban.
McCleary made the complaint just before half-time, at which point a supporter was arrested and ejected from the ground by police.
"I heard about that and when we find out who it was we will take action," Lawn told Press Association Sport.
"I understand the police are prosecuting so we can't do anything at this stage, but if that person is found guilty we will take action.
"There is no place for that in the game, it is unacceptable.
"I would think we're looking at a lifetime ban if he's found guilty but that decision can only be made after consultation with the club's board."
The Football Association will contact Reading and Bradford to seek their observations following the pitch invasion after Monday's FA Cup quarter-final replay at the Madejski Stadium, Press Association Sport understands.
Reading fans ran onto the pitch after the final whistle in their 3-0 win over the Bantams which secured an FA Cup semi-final clash with Arsenal at Wembley.
A supporter also invaded the playing surface during the game and the FA will speak to both clubs to collect their views.
Garath McCleary was the target of alleged racist abuse during his side's 3-0 win over Bradford.
The winger reported an incident to the assistant referee after he'd gone to collect the ball to take a corner just before half-time.
Reading confirmed they had reported the matter to the police. who confirmed a man gad been arrested.
An incident was reported to the match officials just before half time, who in turn told Reading staff. A man was then arrested and ejected during the half-time interval.
– Reading statement
Reaching an FA Cup semi-final will be a bigger achievement than making it to the League Cup final, according to Bradford City boss Phil Parkinson.
The Bantams take on Reading for a place in the final four, which could see Parkinson and his men return to Wembley, having made it to the League Cup final in 2013.
"The FA Cup is obviously a level above the Capital One Cup. If we can do it this time it will be the first time since 1911 and this group of players will be remembered.
"This is what being involved in football is all about, and the big teams from the Premier League will be casting very envious eyes on ourselves and Reading playing in an FA Cup quarter-final on Saturday."
Advertisement
League One Bradford claimed another Premier League scalp to book their place in the FA Cup quarter-finals for the first time in 39 years
Read the full story ›
Bradford are at it again, taking a 1-0 lead over Premier League opponents Sunderland at Valley Parade, with only three minutes on the clock. Billy Clarke appeared to be the scorer, but Black Cats defender John O'Shea might yet be credited with an own goal.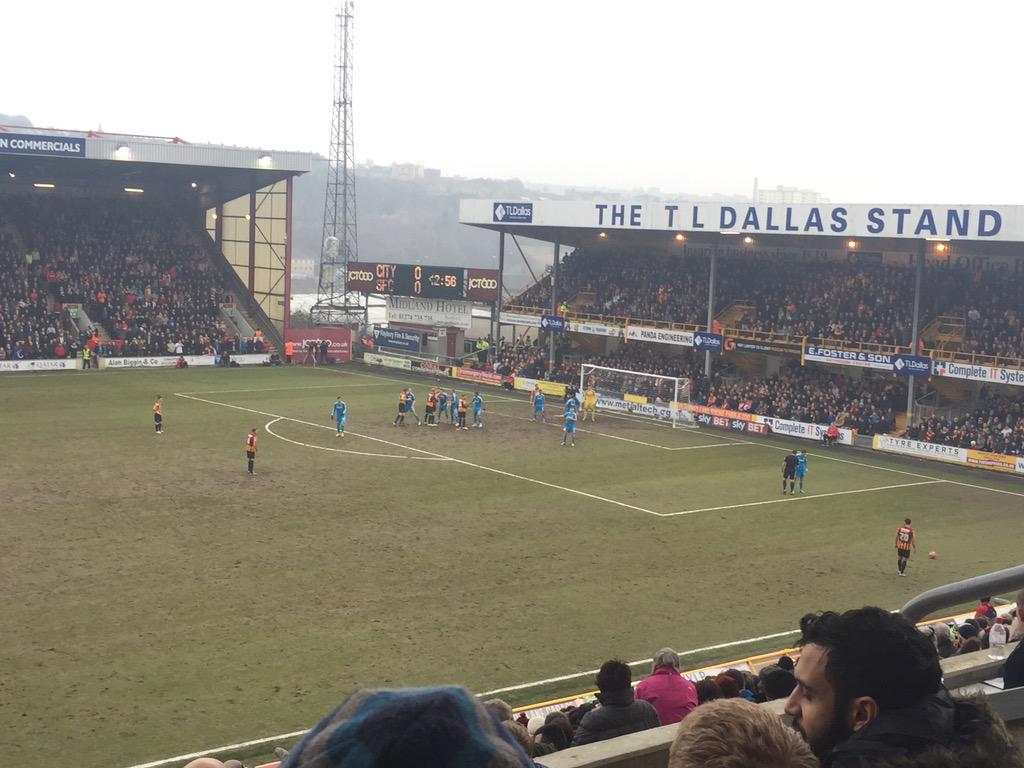 Bradford City co-chairman Mark Lawn says he would like to face Manchester United in the FA Cup for his wife Yvonne who is battling cancer.
Read the full story ›
Load more updates