Police who investigated the 1985 Bradford City fire knew who dropped the cigarette thought to have started the deadly blaze, a new documentary claims.
Retired Detective Inspector Raymond Falconer said officers worked out that an Australian man called Eric Bennett, who has since died, accidentally started the fire that killed 56 people.
A decision was taken at the time not to release his name, Mr Falconer told the BBC documentary - Missed Warnings: the Bradford City Fire.
Mr Falconer said: "He was obviously troubled. And I felt extremely sorry for him. And this would be weighing on his mind for the rest of his life."
The official inquiry into the tragedy on May 11 1985 concluded that it was an accident and was probably started by a spectator dropping a cigarette into rubbish that had accumulated under an old timber stand.
The documentary will be shown on BBC One in Yorkshire and Lincolnshire tonight at 22.45pm and on BBC Two nationally at 23:20pm tomorrow.
Peter Jackson feels it is time for the whole nation to unite and pay its respect to the 56 fans who lost their lives in the Bradford fire
Read the full story ›
Advertisement
Youngest survivor of 1985 Bradford City fire makes claims of 'coincidence' of blaze and others at businesses connected to the then chairman.
Read the full story ›
Bradford's FA Cup fairy tale carried on as they earned a quarter final replay with a 0-0 draw at home to Reading
Read the full story ›
Chris Dawkes at Valley Parade
The last time Bradford City were in the quarter finals of the FA Cup was in 1976 and the Valley Parade pitch was like a throwback to those times.
Needless to say the opening exchanges were scrappy with neither side able to put any meaningful passing moves together on the uneven surface.
The crowd at least were lively even though the football wasn't with City fans encouraged to bring their scarfs to the game to create a unique sea of claret and amber around 3 sides of the ground.
Both sides were guilty of committing a number of needless fouls which interrupted the flow of the game and it wasn't until 24th minute when Jamie Mackie's cross come shot was deflected into the arms of Ben Williams that either side remotely came close to opening the scoring.
However just 2 minutes later Mackie again burst free down the right. His cut back was controlled by Pavel Pobrebnyak, but the big Russian's shot rebounded off the post and bounced to safety.
10 minutes later it was Bradford's turn to scrape the paint off the woodwork - Gary Liddle's cross evading everyone but the post once again denying the opening goal.
It remained goalless until the referee signalled the end of the first 45 minutes. In a half with very few goalmouth incident posts at either end denied both Bradford and Reading the advantage in this quarter final.
CITY XI (vs Reading) Williams, Darby, McArdle, Davies, Meredith, Liddle, Morais, Knott, Clarke, Hanson, Stead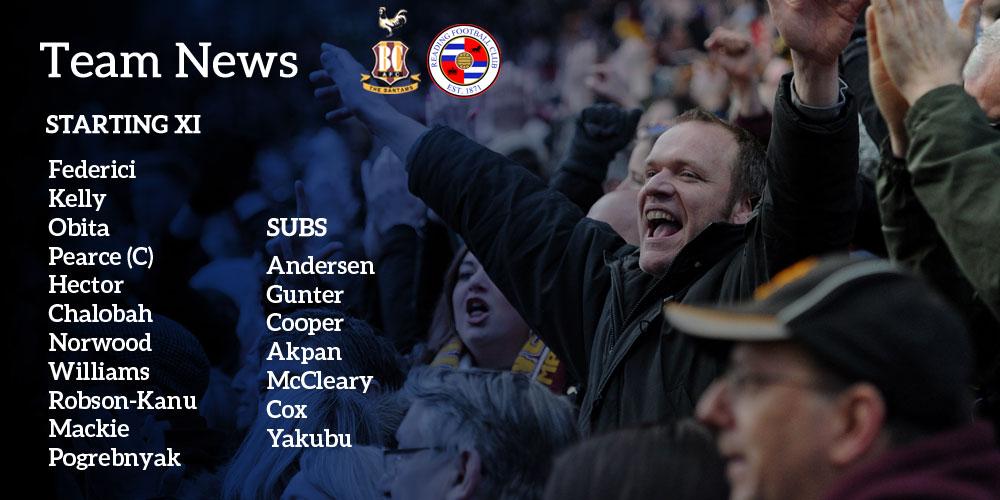 Advertisement
Bradford expect midfielder Filipe Morais to be fit for Saturday's FA Cup quarter-final against Reading after recovering from a knee injury
Read the full story ›
Just days before her death Debbie Purdy said legal guidelines on assisted dying did not go far enough to prevent people "dying badly".
Read the full story ›
Right-to-die campaigner Debbie Purdy had stopped eating in the final days of her life in order to hasten her death, the head of campaign group Dignity in Dying revealed.
Paying tribute to her "valued campaigner and friend", Sarah Wootton said:
Debbie wanted choice and control over her death should she consider her suffering unbearable. Ultimately she was seeking peace of mind that her wishes would be respected, but also crucially that her decisions would not result in the potential imprisonment of her husband.

She rejected the option of travelling abroad to die, and instead, wanting to die in this country, chose to hasten her death by stopping eating.

Debbie rallied against the hypocrisy of the current law, which turns a blind eye to people travelling abroad to die, whilst seeking to protect them by threatening the imprisonment of their loved ones after their death. For over a decade Debbie was a huge presence at Dignity in Dying; from stuffing envelopes to leading her legal challenge, she was an integral part of the campaign and a friend. We will miss her greatly.
– Sarah Wootton
Omar Puente, the husband of right-to-die campaigner Debbie Purdie, said her last year was "peaceful and dignified".
Thanking the staff at the Marie Curie Hospice in Bradford where she died before Christmas, he told the BBC:
We would like to thank the Marie Curie Hospice in Bradford for the care the staff gave her, which allowed her last year to be as peaceful and dignified as she wished.
– Omar Puente
Purdy's legal victory led to new guidelines on assisted suicide being issued by Keir Starmer QC, the then director of public prosecutions, in 2009.
He said the motives of those assisting suicide would be at the centre of the decision over whether they should be prosecuted.
In 2010 she told an inquiry on assisted dying that if she had not won the backing of the Law Lords she would have gone to the Dignitas clinic in Switzerland to end her own life as her condition was deteriorating.
She had argued that it would be a breach of her human rights if she did not know whether her husband would be prosecuted if he travelled with her to the Swiss clinic.
Load more updates