British Airways has said that it is continuing to check in passengers at the UK's two biggest airports after an IT failure at check-in desks which is causing delays at airports around the world.
The carrier asked customers to check-in online to help reduce the backlogs in the system as some angry passengers said they had been delayed for hours.
We are checking in customers at Heathrow and Gatwick Airport this morning, although it is taking longer than usual.

We would encourage customers to check in online before they reach the airport.> We are sorry for the delay to their journeys.
– BA statement
Spokesmen for both Heathrow and Gatwick airports declined to comment.
We are checking in customers as normal at Heathrow and Gatwick this morning.
Passengers at San Francisco airport said they had been waiting for at least three hours at British Airways check-in desks as the airline tried to fix a problem that affected their global check-in system.
Alex Kintzer, who was waiting to check-in last night, posted several videos to his Twitter account showing long queues and frustrated passengers.
Sorry, this content isn't available on your device.
If you can't view the video above, please click here.
Advertisement
Passengers flying out of Britain's busiest airport face long delays after British Airway's check-in system has failed.
Photos on social media show long queues at Heathrow and confused passengers waiting to check in as the airline tries urgently to fix the issue.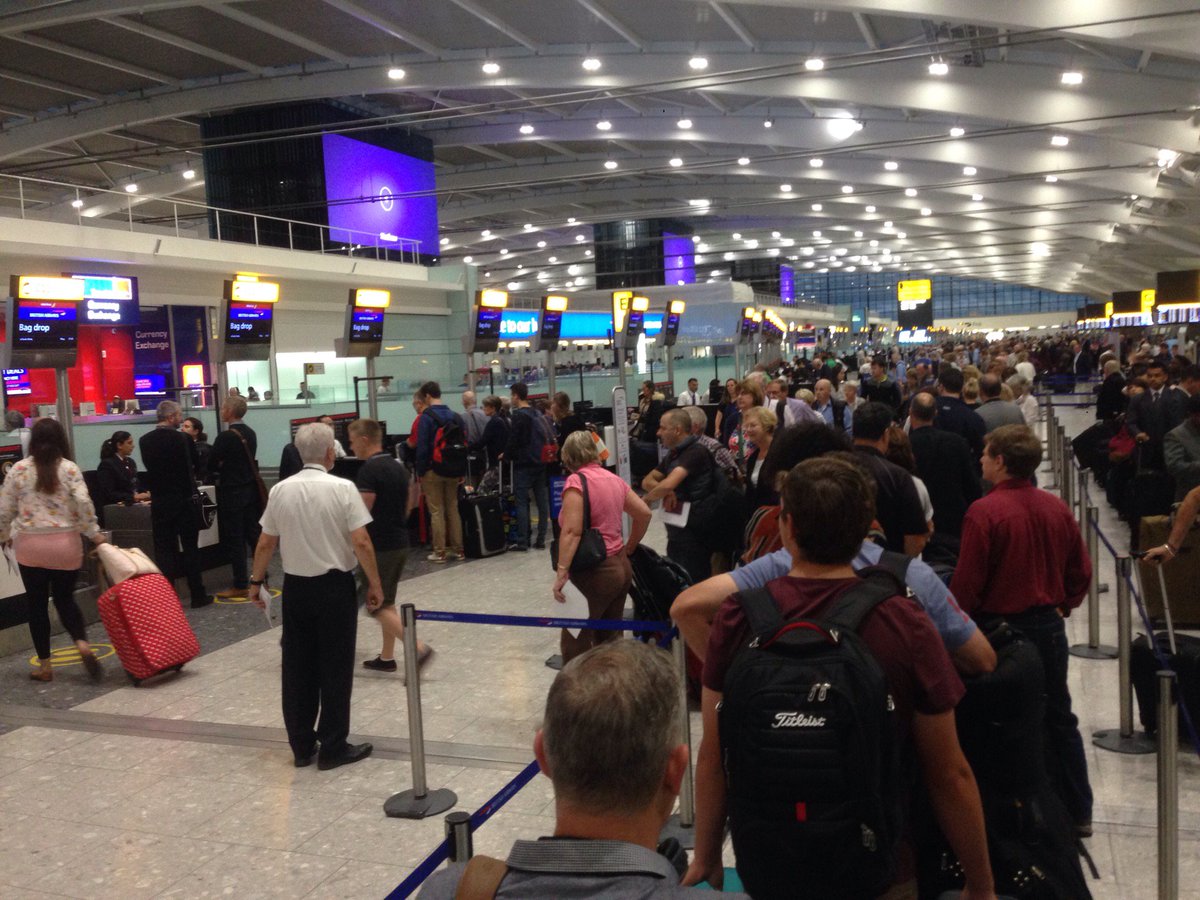 A British Airways system check-in failure has caused long delays for passengers at airport terminals around the world.
Read the full story ›
British Airways flights direct to Tehran, Iran, from London are set to resume after a four-year gap.
Read the full story ›
The airline will no longer provide two meals to economy travellers on flights lasting less than eight-and-a-half hours.
Read the full story ›
Advertisement
Passengers complained of a foul smell, reportedly something like cannabis, on the flight to Crete after take off from Gatwick.
Read the full story ›
British Airways has pledged to do everything it can to help concerned passengers due to travel to or from Nice following the deadly attack in the city.
The airline said people due to fly in the next few days will be able to fly on a different date or to a different destination.
A BA spokeswoman said: "Following the tragic events in Nice we are contacting customers to give our support and offer to change their flight if they wish.
"We'd encourage customers in Nice to get in touch with us if they want to make a change to their booking and we will do everything we can to help. Our deepest sympathies are with the loved ones of the victims."
Travel trade organisation Abta urged holidaymakers already in Nice to follow the latest official advice on travel to France.
British Airways halted flights to the Egyptian resort in November 2015 after the bombing of a Russia-bound plane.
Read the full story ›
The Boeing 777 was reportedly intercepted by two Hungarian Air Force Gripens after it lost contact with air traffic controllers.
Read the full story ›
Load more updates