If you're travelling to/from London Heathrow, Gatwick or City airports today (23 Dec), pls check your flight status http://t.co/rgkkJ9tnF3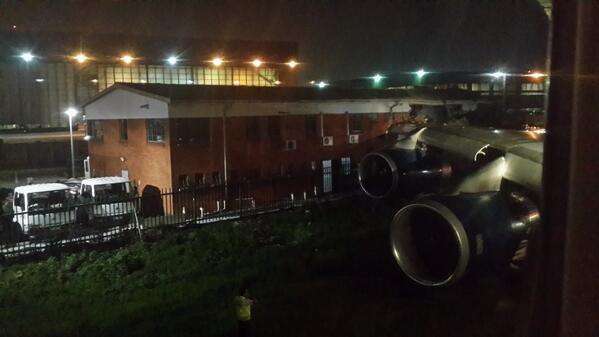 None of the 180 passengers on board the plane were hurt but four ground employees in the damaged building sustained minor injuries.
The Airports Company South Africa (ACSA) has launched an investigation.
Advertisement
A British Airways plane bound for London clipped its wing on a nearby building as it was preparing to take off from Johannesburg on Sunday, South Africa's airports authority said.
The Boeing 747-400 carrying about 180 passengers was taxiing on the runway at O.R. Tambo International when its wing hit the building.
No one on the plane was hurt, but four ground employees who were in the building sustained minor injuries, the Airports Company South Africa (ACSA) said, adding that an investigation was underway.
British Airways is allowing passengers to use handheld electronic devices throughout their flight.
From today, BA is letting passengers use devices from when they board to the moment they disembark, after the airline received clearance from the UK's Civil Aviation Authority.
BA's flight training manager Captain Ian Pringle said, "The easing of restrictions will provide an average of 30 minutes additional personal screen time."
A Frenchman who was stranded in the United States because he was too heavy to fly has now been refused travel by Eurostar officials.
Kevin Chenais, 22, who weighs more than 35 stone, had been in the US since May 2012 after undergoing treatment for a hormone imbalance, but his plans to return home last month were thwarted after British Airways refused to accept him on to a flight.
After being rejected by the Queen Mary 2 cruise ship in his bid to sail across the Atlantic, Mr Chenais was finally accepted onto a Virgin Atlantic flight to Heathrow.
The Frenchman was greeted at the airport yesterday by French consular staff who arranged for the 22-year-old and his family to board a Paris-bound Eurostar train.
However, Eurostar refused entry to Mr Chenais as his lack of "mobility" did not coincide with their regulations for evacuation procedures.
British Airways has given one of its a planes a unique face lift as part of the launch of its new service to China.
The panda plane, a Boeing 777 will travel between the UK and Chengdu, the location of China's famous panda breeding programme.
Advertisement
British Airways has apologised to a customer, whose father's luggage was lost, after he bought a promoted tweet that urged passengers not to fly with the airline.
Hasan Syed, who uses the Twitter handle @HVSVN, wrote on the social networking site: "Don't fly @BritishAirways. Their customer service is horrendous."
He purchased the promoted tweet through the site's self-service ad platform and followed up his initial message with a series of posts criticising the loss of the luggage and the airline's delayed response.
British Airways responded to Syed's tweet, which now appears to be deleted, by asking him to message his bagging reference to them.
A spokesperson for the airline said: "We would like to apologise to the customer for the inconvenience caused. We have been in contact with the customer and the bag is due to be delivered today."
A British Airways pilot who was found dead after being charged with child abuse offences used his position to target scores of children in African schools and orphanages, it has been claimed.
First Officer Simon Wood, 54, is alleged to have molested youngsters during stopovers in Kenya after claiming he was carrying out charity work for the airline.
He was due to appear in court last Friday charged with separate child abuse offences in the UK but was found dead on August 18 after being struck by a train.
British Airways said it was "shocked and horrified" to learn of the allegations. The airline contacted Scotland Yard after BA's own investigation team uncovered information in Kenya which gave the company "cause for concern", it said.
Lawyers representing the alleged victims in Kenya said they are now considering legal action against the airline.
British Airways have apologised to Heathrow-bound customers who had to return twice to a Saudi Arabian airport due to a faulty plane.
The Boeing 747 plane first had to turn back to Riyadh on Wednesday due to a problem with the wing flaps. Then the same plane took off yesterday following repairs, but soon into the flight the same problem occurred, so it again returned to Riyadh airport.
Only one BA staff member attended the needs of more than 300 irate passengers, some of who were reportedly sick and emotional. A BA spokesperson said:
"We apologise to customers for their experience, and we sent a replacement aircraft to fly them to the UK. Our customer service teams are contacting customers directly to offer compensation, expenses and complimentary tickets as a gesture of goodwill.
"The safety of our customers and crew is always our first concern and due to a technical problem, the decision was taken to return the aircraft to Riyadh.
"Our crew and customer service teams did everything they could to care for customers, and we provided overnight hotel accommodation."
British Airways engineers are examining a 747 that had to return to Heathrow after experiencing a "minor technical problem" less than three hours into its flight to Hong Kong.
A British Airways spokesman said: "One of our aircraft experienced a minor technical problem and because of that returned to Heathrow as a precaution.
"Nobody was in danger at any point.
"At the moment our engineers are examining the aircraft. The exact nature of the fault is being looked at."
The flight - BA 0025 - had just started on its 12-hour journey when the problem was spotted.
Load more updates