The 10-year deal to produce equipment will save the Armed Forces money and give inmates valuable employment skills, the Government said.
Read the full story ›
The British army is setting set up a specialist brigade that will be expert in the use of social media in the digital age, according to reports.
The new brigade, which will be made up of reservists and regular troops and based in Hermitage in Berkshire, is expected to be officially operational in April following a recruitment drive in the Spring.
An Army spokesman said the unit would "play a key part in enabling the UK to fight in the information age" and that it "consists of more than just traditional capabilities".
He added: "77 Brigade is being created to draw together a host of existing and developing capabilities essential to meet the challenges of modern conflict and warfare.
The new brigade is being named the 77th in tribute to the Chindits,a British guerrilla force led by Major General Orde Wingate against the Japanese in Burma during WWII, which used unorthodox tactics.
Advertisement
Former defence minister Sir Nick Harvey said the government is looking at ways to cut the army even further because of the credit crunch.
Read the full story ›
Ministry of Defence (MoD) officials are examining proposals for an army of 60,000 soldiers, former coalition defence minister Sir Nick Harvey has said.
Sir Nick said paper exercises were going on to examine further cuts to troop numbers due to the impending "financial crunch" faced by the MoD.
The Government's existing Army 2020 plans envisage a shrunken regular force of 82,000 with the number of reservists rising to 30,000.
Sir Nick told MPs: "There are already paper exercises going on in looking at what an army of just 60,000 would look like because of the financial crunch that the department is going to be facing."
The Liberal Democrat MP was speaking in the Commons during a debate on Trident renewal.
Major Judith Webb, the first woman to command an all-male field force squadron in the British Army, has told ITV News that physical differences between men and women mean that they should not fight together on the front line.
"We're talking about a lowering of our combat effectiveness," she said.
A military historian has spoken out against the MoD's recommendation to lift the ban on female soldiers fighting on the front line.
Colonel Mike Dewar, who served in Cyprus, Borneo, and Northern Ireland, told the BBC that senior generals he has spoken to think the move is "complete and utter and total madness" and is "politically driven."
The senior military sources cited by Mr Dewar also insist that "99.9% of women do not have the upper body strength to pass the infantry physical examination or carry an injured soldier from the battlefield."
Defence Secretary Michael Fallon has announced his hopes to open up ground close combat roles to women in 2016. http://t.co/Qj2JD49fOK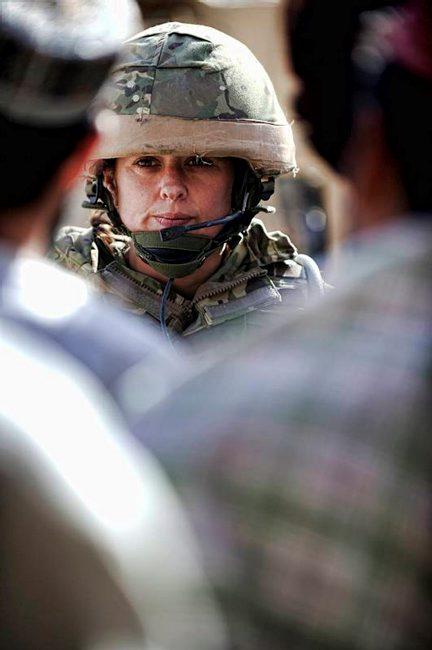 However, a war photographer who served with the RAF in Iraq and Afghanistan said that gender does not matter in a firefight.
Alison Baskerville, who is also a reservist photographer with the British Army, and is writing a book about women in the armed forces, described the decision as "a step forward" which could be "the start of a new era for British infantry".
Advertisement
Labour has welcomed the Government's recommendation to end a ban on allowing women to fight on the front line, pending further research.
The party's shadow armed forces minister Kevan Jones pointed out that many of the British Army's front line medics, engineers, intelligence officers, fighter pilots and submariners are women.
We should be proud of the role played by women in our armed forces.

Many of them already serve on the front line as medics, engineers, intelligence officers, fighter pilots and submariners.

Labour had called for the ban on women serving in combat roles to be examined with a view to it being ended, and any moves towards that are welcome.
– Labour MP Kevan Jones
A ban on female soldiers fighting on the front line could be lifted in 2016, the Ministry of Defence has announced.
Read the full story ›
An extra deployment of British troops numbering in the "low hundreds" will be sent to Iraq next month to help train local military units battling Islamic State militants, the Defence Secretary has announced.
Michael Fallon said details of the contribution to an international mission were still being finalised but would probably include a small protection contingent of combat-ready British soldiers at four US-led "safe" centres.
RAF planes have been heavily involved for several months in air strikes and reconnaissance missions across Iraq which have forced IS fighters to switch tactics and lay low in towns and villages - requiring a ground offensive, Mr Fallon told the Telegraph.
The move represents a significant swelling of the 50-strong British force presently engaged in preparing Iraqi and Kurdish fighters for a new phase of the fight to retake swathes of territory seized by the jihadis.
A big element of the UK contribution will be passing on the experience gained during the 13-year war with the Taliban in Afghanistan in dealing with roadside bombs and other explosive devices, Mr Fallon suggested.
A former Army major whose bravery saved lives in Afghanistan has been stripped of his Military Cross in what is believed to be the first time the Queen has withdrawn a gallantry medal from a serviceman.
Major Robert Armstrong received his honour in March 2009 for "consistent bravery and inspirational leadership".
But he was arrested later that year as part of a probe into allegations of false battle write ups and will now have his award formally cancelled and annulled.
A Ministry of Defence spokesman said: "The MoD can confirm that an investigation has concluded into the circumstances surrounding the award of a gallantry medal relating to an incident in Afghanistan."
Maj Armstrong was attached to the 1st Battalion The Royal Irish Regiment in Helmand Province in southern Afghanistan in 2008.
He was reportedly dismissed from the Army in 2012 for storing secret documents at home following a court martial in Colchester, Essex, and was also given a one-year suspended prison sentence.
Load more updates