ITV News Deputy Political Editor Chris Ship, who is at David Cameron's PM Direct event, wrote on Twitter:
Cameron got cheer & standing ovation BEFORE his talk here. Either they are all Tories or they really like the Budget http://t.co/4QPa0ThMBC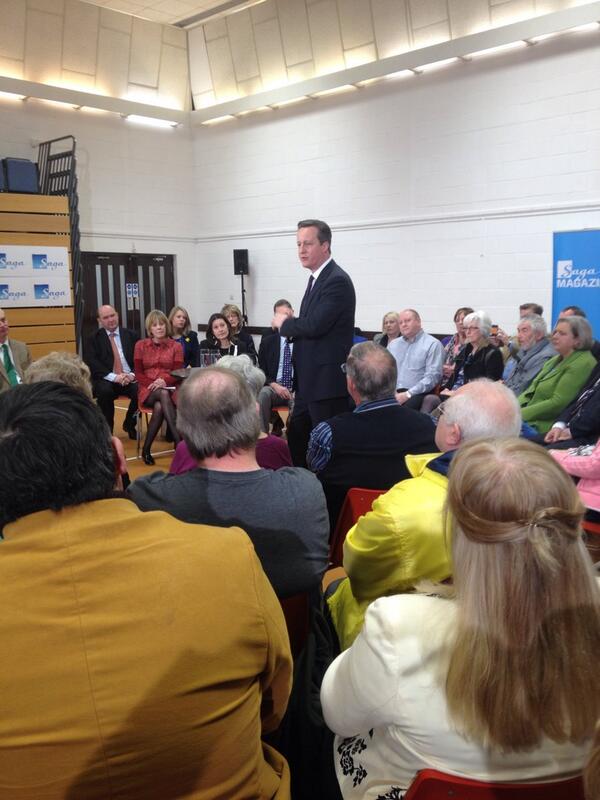 Advertisement
David Cameron held a PM Direct event in Brighton this morning where he answered questions from the audience.
This event has now finished:
The Tories are neck and neck with Labour after a post-budget poll bounce, prompting senior figures to urge Ed Miliband to sharpen his policies and stop speaking like a "Hampstead academic".
Today's YouGov poll for The Sunday Times (£) puts the Conservatives on 36%, just one point behind the opposition, the smallest margin in five months, with chancellor George Osborne's personal approval ratings surging.
Positive reaction to last week's budget has helped the Tories force down Labour's lead and has raised the party's hopes it could even win an outright majority.
UKIP comes in third in the poll with 11%, and the Liberal Democrats on 9%.
The Conservative Party enjoyed a boost after George Osborne's Budget narrowing Labour's lead to just one point, according to a new poll.
Ed Miliband's party were on 35%, up 1% on their rating in January, while the Tories surged by 4% to 34%, research by Survation for the Mail on Sunday suggested.
The shift appears to have been at the expense of Ukip and the Liberal Democrats, who were both 3% lower on 15% and 9% respectively.
The online survey of 1,000 adults was carried out on Thursday and Friday, after the Chancellor delivered his well-received package including a major pensions and savings shake-up.
Baroness Warsi tells Tom Bradby on tonight's edition of The Agenda that she wants to see the Tories return to the "very core conservative principles" of allowing people to keep more of what they earn.
The Conservative peer said: "That means first of all focusing on the poorest first and making sure that they get the first bite of the cherry, but also looking at other people and looking at how we can bring the tax burden down. But we've got to balance that against the public finances."
The Agenda with Tom Bradby is on ITV tonight at 10.35pm.
Other guests on the show are TV historian Dan Snow, comedian Katy Brand, and columnist Jonathan Freedland.
Advertisement
The British public would overwhelmingly rather buy a home than rent one, according to the ITV News Index poll carried out by ComRes.
The poll suggests 81% would rather buy their own home, compared to just 10% who disagreed.
Meanwhile 71% said they felt it is important to own the home they live while 19% disagreed with that statement.
Almost half of Britons believe the Government's Help to Buy scheme has been successful in helping people buy homes who previously could not afford it, the ITV News Index poll suggests.
According to the results:
47% agree the scheme has been successful
15% disagree
39% said they did not know
However, 41% believe the scheme is contributing to the increase in house prices.
One in three (32%) Brits worry they will never be able to afford to buy a home, according to an ITV News Index poll carried out by ComRes.
Of the 2,058 British adults surveyed, 71% said it is "harder than ever" to buy a home today.
What George Osborne is offering is hope. Less clear is whether it will be enough to provide the strong growth the economy still needs.
Read the full story ›
Load more updates