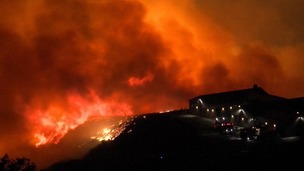 A Southern California wildfire burning through coastal wilderness has nearly doubled in size, growing to more than 28 square miles.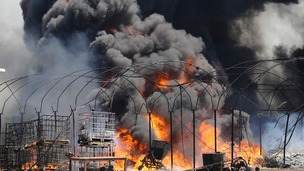 Hundreds have been forced to flee their homes as wildfires rage near California coast north of Los Angeles.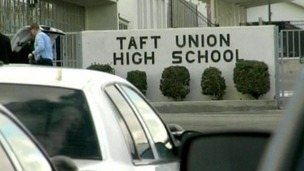 A student shot and injured a 16-year-old student in a high school in California. A teacher received minor head wounds.
Live updates
US wildfire 60% contained
Fire officials evacuate more homes in US wildfire
A huge wildfire in Southern California has burned through coastal wilderness to the beach and back through canyons toward inland neighbourhoods when winds reversed direction.
The wind shift forced fire commanders to order a new evacuation of homes in a Thousand Oaks neighbourhood along a two-mile stretch of road overlooking smoke-filled coastal canyons.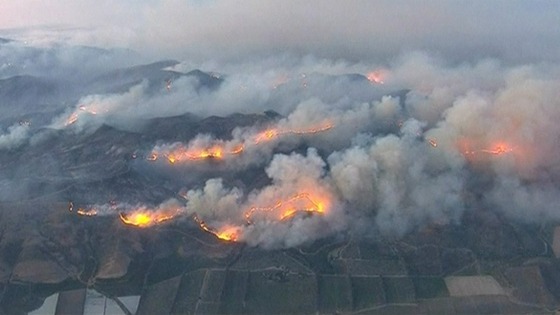 Fears arose after gusty Santa Ana winds from the northeast faded and ocean breezes from the southwest pushed inland.
Ventura County fire spokesman Bill Nash said: "In the perfect scenario we'd just hope for the wind to go away but what happened is the wind just turned around.
He added that the "worst-case weather scenario" sent flames ripping through fresh fuel just to the east of where the blaze charred wildlands a day earlier.
US wildfire 60% contained
NASA captures image of California wildfire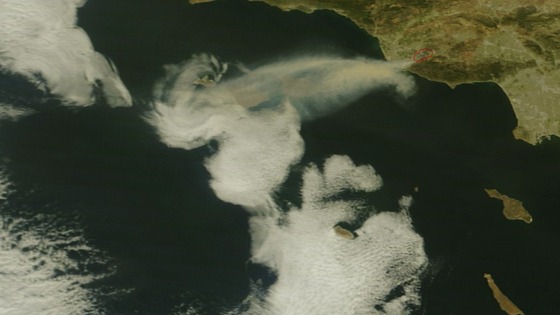 NASA has captured this satellite image of a thick pool of smoke spewing from the California coastline and merging with the clouds over the Pacific Ocean.
Advertisement
US wildfire 60% contained
Immediate evacuations issued as California fire rages
The Ventura County Fire Department has issued immediate evacuation orders as the so-called Springs Fire rages on in California:
Update - IMMEDIATE EVACUATIONS! South side of Potrero Rd. from Reino Rd. east to 930 W. Potrero Rd., including Hidden Valley Rd. south.
From
@VCFD
on Twitter:
UPDATE - The air attack on the Springs Fire now consists of 8 water-dropping helicopters and 6 fixed-wing air... http://t.co/vyYV4ezzsL
From
@VCFD
on Twitter:
US wildfire 60% contained
Around 4,000 homes threatened by California wildfire
A fierce wildfire continues to rage along the California coast northwest of Los Angeles, threatening around 4,000 homes and a military base.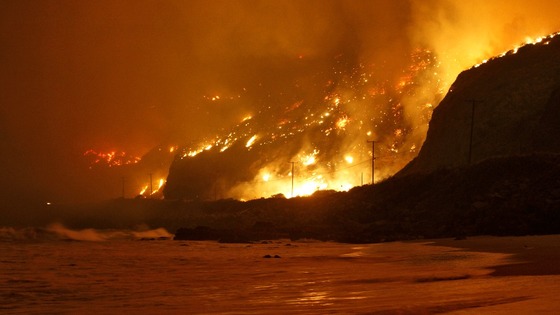 More than 900 firefighters have managed to contain around 10 percent of the inferno, which has scorched some 10,000 acres (4,047 hectares) of brush since it began yesterday morning.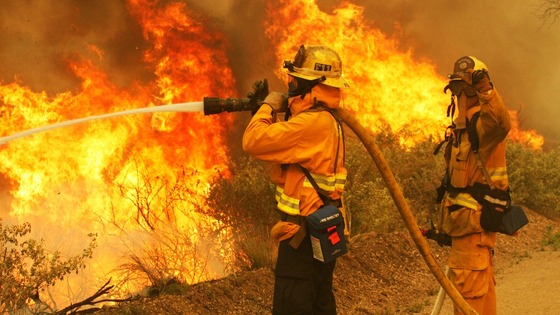 Fire officials at the Ventura County Fire Department said 15 homes have been damaged so far, though no residential structures were destroyed and no injuries have been reported.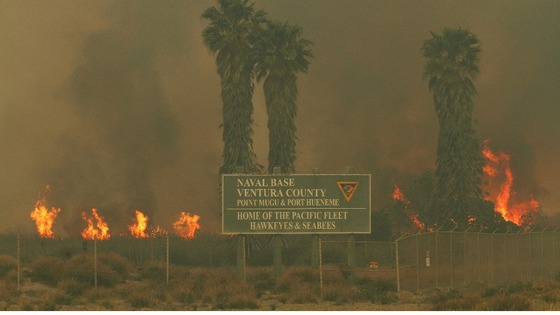 The so-called Springs Fire has brought an abrupt start to a California fire season that weather forecasters predict will be worsened by a summer of high temperatures and drought.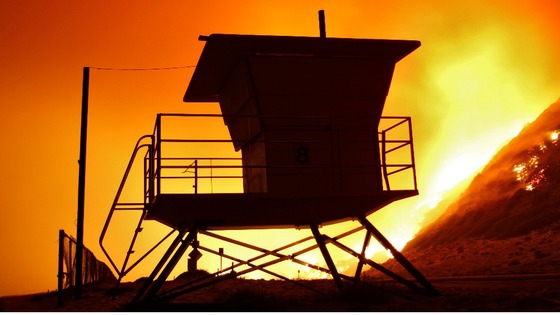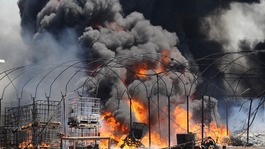 Hundreds have been forced to flee their homes as wildfires rage near California coast north of Los Angeles.
Read the full story
Deftones bassist Chi Cheng dies after four year coma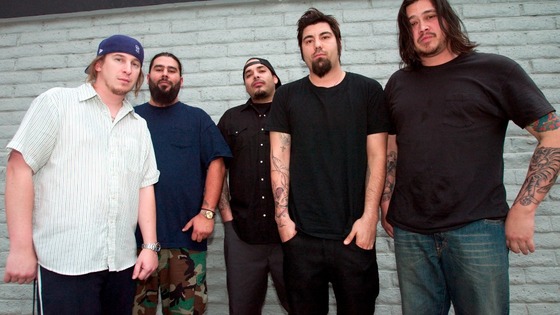 Deftones bassist Chi Cheng has died after struggling to recover from serious injuries he suffered in a car crash more than four years ago.
Cheng's mother told fans on the OneLoveForChi.com website that the 42-year-old was taken into the emergency room at 3am Sunday morning (11am GMT) when his heart stopped.
The bassist ended up in a coma after he was thrown from a car that collided head-on with another vehicle in Santa Clara, California, on November 4 2008.
Cheng played on five albums by the Grammy-winning rock band Deftones. A candlelight vigil will take place in his memory at Sacramento's Cesar Chavez Plaza.
Advertisement
5.1 magnitude earthquake shakes southern California
An earthquake with a preliminary magnitude of 5.1 has shaken southern California, according to the US Geological Survey.
The epicentre was 16 miles from the city of Palm Desert, and some 143 miles south-west of Los Angeles. It struck just before 10am local time (5pm GMT).
There are no immediate reports of damage.
MC Hammer claims arrest due to 'racial profiling'
Rapper MC Hammer has claimed that his recent arrest in California was the result of racial profiling.
In a series of tweets after his release the 50-year-old said;
"Chubby elvis looking dude was tapping on my car window, I rolled down the window and he said 'Are you on parole or probation?
"While I was handing him my ID he reached in my car and tried to pull me out the car but forgot he was on a steady donut diet."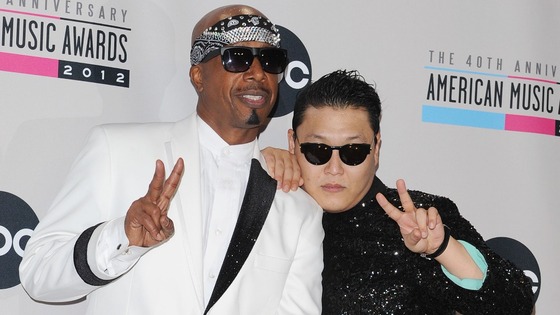 The performer whose real name is Stanley Kirk Burrell added;
"I will now answer his question, contrary to his personal beliefs, all people of color are not on parole or probation fat boy"
According to TMZ, the Dublin Police Department has yet to release a statement about the arrest.
At least four dead after carjackings in California
At least three people were killed by a gunman during a series carjackings in multiple locations in southern California, NBC News reports.
The gunman later killed himself as he was pursued by officers.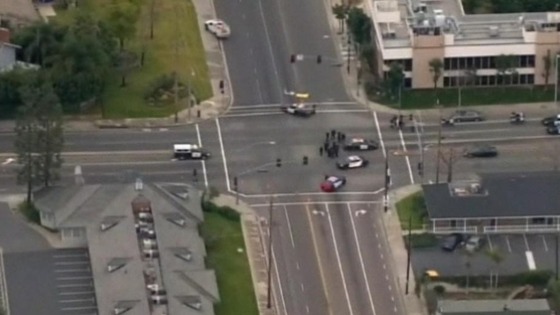 A spokesman for the Orange County Sheriff's Department said police had responded to six different crime scenes during the gunman's deadly rampage.
Jim Amormino told KNBC-TV, "There are no other shooters and there is no threat to the community".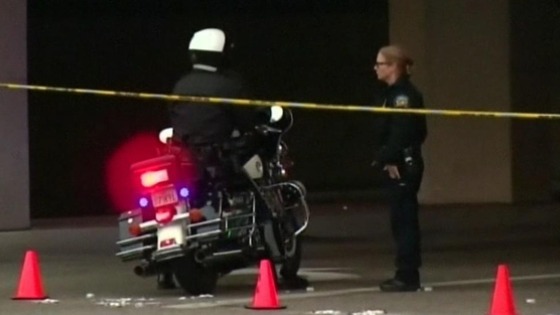 Report: Multiple deaths in California shooting
At least several people are reported to have been killed after a shooting spree in California, US media reports.
According to KTLA.com, Orange County sheriff's spokesman Jim Amormino said one female was pronounced dead at a home in Ladera Ranch.
Two other people are said to have been found dead at other nearby locations.
Mr Amormino said authorities do not believe there is any immediate threat to the community, but could not provide additional details.
Load more updates
Back to top