A 5.1-magnitude earthquake struck the Los Angeles area on Friday night for more than an hour, after a smaller quake shook the area.
Broken glass, gas leaks, water main breaks and a rockslide were reported near the epicenter.
Trader Joes supermarket also took a direct hit to its wine department, where hundreds of bottles were broken.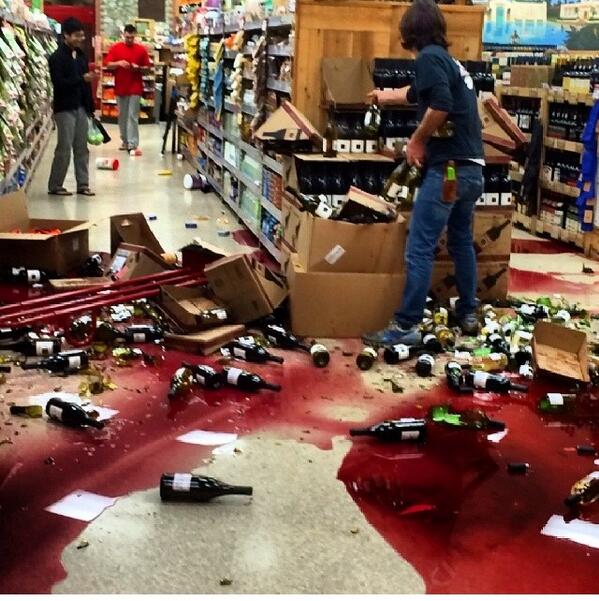 Los Angeles Mayor Eric Garettis reported that there has been no damage after an earthquake measuring 5.1 hit the area.
Second earthquake in two weeks, reminds us to be prepared. http://t.co/FSgjp6pX45 So far no damage reported in City of LA.
Advertisement
A magnitude 5.1 earthquake struck the Los Angeles area in southern California , the US Geological Survey said.
The quake, initially reported as a magnitude 5.3, was very shallow, only 1.2 miles (2 km) deep, with its epicentre located just 2 miles (3 km) east of the town of La Habra and some 27 miles (43 km) from Long Beach. It was not immediately know if the quake had caused any damage.
A magnitude 5.3 earthquake has struck southern California, the US Geological Survey has reported.
News anchors on the local KTLA station in Los Angeles were shaken live on air by a small earthquake that hit California this morning.
The US geological survey said the quake measured at magnitude 4.4, 10km north-west of Beverly Hills.
No injuries have been reported so far.
A matchmaking service in American wants to fly New York women over to San Francisco to find love.
Read the full story ›
Advertisement
A California couple found a stash of rare gold coins worth more than $10 million (£6 million) as they walked their dog in their garden.
The 1,427 gold pieces, dating from 1847 to 1894, were discovered buried in eight metal cans on the couple's property in April last year.
The pair are choosing to remain anonymous to stop people descending on their property in the search for more gold, a representative said.
Some of the rarest coins could sell for as much as £1 million dollars (£600,000) apiece, a coin expert claimed.
US Customs and Border Protection has grounded its drone fleet after a crew was forced to crash a pilotless craft off the coast of southern California, a spokesman said.
The crew operating the malfunctioning drone deliberately downed it in the Pacific Ocean last night after a mechanical problem.
The drone and systems on board were worth $12 million (£7.2m), the official said.
A CCTV video has revealed how close a Scottish couple came to walking headlong into a wild bear while on holiday in California.
Read the full story ›
The former Terminator star became 'Howard Kleiner' as he went undercover to give fitness tips to Gold's Gym members for charity.
Read the full story ›
Load more updates