Multiple people have been injured after an industrial explosion in Sarnia, Ontario, the Canadian Broadcasting Corp reported.
The broadcaster said it was unclear exactly what caused the explosion.
The body of Canadian soldier Corporal Nathan Cirillo has been taken from an Ottawa funeral home to his hometown of Hamilton.
Cirillo was murdered on Wednesday as he stood guard at the Canadian National War Memorial in Ottawa.
Hamilton police and members of Cirillo's regiment, the Argyll and Sutherland Highlanders, joined his family to accompany his casket home.
Advertisement
Security alerts have been declared in the Turkish city of Istanbul after the consulates of five western countries were sent packets of unidentified yellow powder, Reuters has reported.
Sixteen people were taken to hospital as a precaution after the suspicious deliveries to the consulates of the United States, Canada, France, Germany and Belgium, including 10 from the Canadian consulate.
The packets were treated as a heightened potential threat following the militant attacks in Canada this week with other consulates and embassies reviewing their security measures.
Tests on the powder will be delivered on Monday.
The woman who tried to resuscitate Nathan Cirillo as he lay dying at the Canadian National War Memorial has given an emotional radio interview about her experience.
Barbara Winters told CBC Radio she hoped Cpl Cirillo's parents would be comforted to know he had not died alone.
Sorry, this content isn't available on your device.
A woman who tried to save the life of Cpl Nathan Cirillo after he was shot in Ottawa has revealed what she told the soldier moments before he passed away.
Lawyer Barbara Winters was at the National War Memorial when Cirillo was gunned down by Michael Zehaf-Bibeau.
"I told him he was loved and that he was a brave man and that he was a good man," she told CBC radio.
"I hope that's some comfort to his parents that he didn't just bleed alone on a sidewalk."
The blockade on the Tomb of the Unknown Soldier in Ottawa has been lifted, allowing mourners and well-wishers to leave floral tributes to Cpl Nathan Cirillo.
Cpl Cirillo was shot dead by gunman Michael Zehaf-Bibeau on Wednesday.
Zehaf-Bibeau was himself then shot and killed by Canada's Sergeant-at-Arms, Kevin Vickers.
Advertisement
Police now say they believe Michael Zehaf-Bibeau did act alone, in other words this was the classic lone wolf attack that is so difficult to prevent and to anticipate.
Zehaf-Bibeau was not one of the 93 so-called aspirational jihadist who was actually under active surveillance but he had applied for a passport and that application had been denied.
Police are now saying that it may have been that setback that actually triggered the attack on parliament. In other words it was an act of fury for not being able to join the jihadist struggle in the heartland of Iraq and Syria.
But for counter terrorism officials and for police far beyond Canada, the question is how many others may still try and emulate what Zehaf-Bibeau did here yesterday.
A picture of two dogs owned by Cpl Nathan Cirillo, who was shot and killed at the War Memorial in Ottawa yesterday, shows the pair looking sadly out at the press outside his home.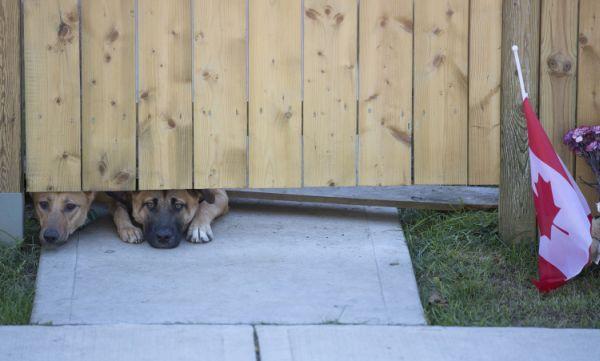 Police have released CCTV showing the movements of Ottawa gunman Michael Zehaf-Bibeau after he shot and killed soldier Cpl Nathan Cirillo.
People can be seen running from the War Memorial where Cpl Cirillo was killed before Zehaf-Bibeau arrives.
Zehaf-Bibeau then runs out of a car towards the parliament building, there he carjacks a car from the area where MPs park their vehicles.
In this second car Zehaf-Bibeau drives almost to the door of the parliament building before running inside pursued by police.
He was shot and killed inside the building.
The man that police say was responsible for yesterday's Ottawa attack was not one of the 90 high-risk travellers that the Royal Canadian Mounted Police was investigating.
Police said that Michael Zehaf-Bibeau was a Canadian citizen, but may have had dual Libyan citizenship and had hoped to travel to Syria and acted alone.
Despite the Ottawa attack being the second terror related incident in the country this week police say they have no information linking the two.
Load more updates