Jenna Vecchio accused the gym of 'body shaming' after staff said her breasts were too big for her tank top.
Read the full story ›
Justin Trudeau thanked the emergency services for their 'incredible efforts' to save the city.
Read the full story ›
Advertisement
Fort McMurray, the Canadian city ravaged by a huge wildfire, has largely escaped unharmed, officials have confirmed.
Read the full story ›
Chad Morrison of Alberta Wildfires told reporters it was not uncommon to fight infernos in forested areas, like the one raging in Alberta's oil sands city of Fort McMurray, for months.
The blaze forced 88,000 people to flee their homes and destroyed 1,200 properties and it had been hoped people would be able to return home within weeks not months but reports suggest it is still not under control.
Alberta premier Rachel Notley said: "In no way is this fire under control."
A wildfire engulfing Alberta remains "out of control", according to a government official.
So far the blaze, which has been raging in Canada since last Sunday, has forced 88,000 people to flee their homes and has destroyed 1,200 properties.
According to the official, firefighters had had some success in tackling the blaze in parts of Fort McMurray, which has suffered severe damage.
Emergency services are hoping to get a "very good handle on the fire" within the community over the next two months.
And already plans are in place for people to return to oil sands city Fort McMurray within weeks as opposed to months.
Convoys of evacuees stranded by a wildfire raging in and around the Canadian city of Fort McMurray have fled on the only highway out of the area.
Earlier on Friday, the convoys had been temporarily stranded due to heavy smoke but officials said the majority of vehicles had already passed through town by then.
They have warned the blaze in the oil town, the largest of 40 wildfires burning across the province of Alberta, could soon double in size.
Nearly 250,000 acres (101,000 hectares) have been engulfed in Fort McMurray since the fires broke out last Sunday.
More than 1,600 homes and other buildings have been destroyed and the entire population has fled.
Advertisement
A raging wildfire in Alberta which has forced tens of thousands of people from their homes could double in size on Saturday, according to officials.
Investigators have not figured out what sparked the wildfires that erupted in the heart of Canada's oil sands region last Sunday which so far have forced 88,000 people to flee.
More than 1,600 homes and other buildings have been destroyed so far in the city of Fort McMurray.
"I do expect that there's a high potential that this fire could double in size by the end of the day tomorrow," Chad Morrison, of Alberta Agriculture and Forestry Division, said on Friday.
"We have not seen rain in this area for the last two months of significance. This fire will continue to burn for a very long time until we see some significant rain".
A raging wildfire in Alberta has now spread to 210,000 acres following dry and blustery conditions, coupled with high temperatures and low humidity.
Bill Patzert, a climatologist at NASA, told CBS: "The flames are moving so fast that they are nearly impossible to fight. In a way, it's a perfect storm."
The Alberta government have confirmed 1,100 firefighters, 145 helicopters and 22 air tankers were currently tackling 49 wildfires across the western and southern parts of the state.
According to local media, over the past 24 hours a further 25,000 people have been evacuated including 8,000 by air.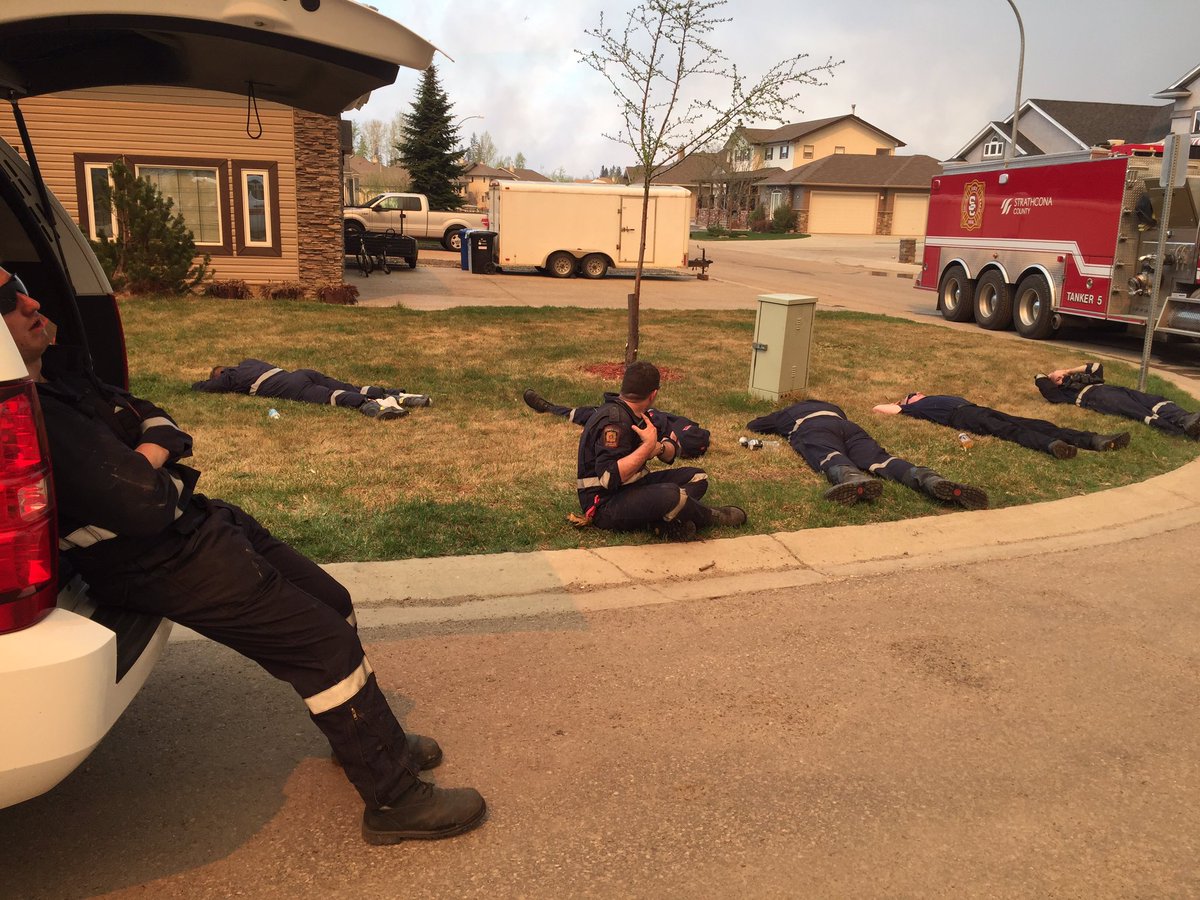 Seven firefighters in the Canadian town of Fort McMurray have been snapped taking their first rest in almost a day.
Posted online by the Strathcona Fire Department, the firefighters are pictured in an apparently safe area, lying on the grass with houses seemingly unaffected from the devastating wildfires that have engulfed other parts of the state.
Alberta firefighters are currently tackling one of the worst bush fires in Canadian history with over 90,000 people - including whole towns 30 miles away - evacuated.
Wildfires raging out of control in Fort McMurray in Alberta, Canada, have forced a new round of evacuations and threatened more homes to the city's south.
Residents sheltering in camps to the north of the city were cut off by flames and warned they would have to move out for a second time as fire fighters struggle to contain the blaze.
Meanwhile, the communities of Anzac and Gregoire Lake Estates about 50 kilometers (31 miles) south of Fort McMurray were "under extreme threat," late Thursday, as the flames spread to the southeast.
More than 1,600 homes and business have been destroyed by the fires. Authorities have warned that the situation remains "extreme" with a total of 49 wildfires still burning on Thursday night, seven of which were considered out of control.
The Alberta premier Rachel Notley has warned it may be some time before residents can return home.
It is simply not possible, nor is it responsible to speculate on a time when citizens will be able to return. We do know that it will not be a matter of days.
– Rachel Notley
Load more updates