The woman who tried to resuscitate Nathan Cirillo as he lay dying at the Canadian National War Memorial has given an emotional radio interview about her experience.
Barbara Winters told CBC Radio she hoped Cpl Cirillo's parents would be comforted to know he had not died alone.
Sorry, this content isn't available on your device.
A woman who tried to save the life of Cpl Nathan Cirillo after he was shot in Ottawa has revealed what she told the soldier moments before he passed away.
Lawyer Barbara Winters was at the National War Memorial when Cirillo was gunned down by Michael Zehaf-Bibeau.
"I told him he was loved and that he was a brave man and that he was a good man," she told CBC radio.
"I hope that's some comfort to his parents that he didn't just bleed alone on a sidewalk."
Advertisement
The blockade on the Tomb of the Unknown Soldier in Ottawa has been lifted, allowing mourners and well-wishers to leave floral tributes to Cpl Nathan Cirillo.
Cpl Cirillo was shot dead by gunman Michael Zehaf-Bibeau on Wednesday.
Zehaf-Bibeau was himself then shot and killed by Canada's Sergeant-at-Arms, Kevin Vickers.
Police now say they believe Michael Zehaf-Bibeau did act alone, in other words this was the classic lone wolf attack that is so difficult to prevent and to anticipate.
Zehaf-Bibeau was not one of the 93 so-called aspirational jihadist who was actually under active surveillance but he had applied for a passport and that application had been denied.
Police are now saying that it may have been that setback that actually triggered the attack on parliament. In other words it was an act of fury for not being able to join the jihadist struggle in the heartland of Iraq and Syria.
But for counter terrorism officials and for police far beyond Canada, the question is how many others may still try and emulate what Zehaf-Bibeau did here yesterday.
A picture of two dogs owned by Cpl Nathan Cirillo, who was shot and killed at the War Memorial in Ottawa yesterday, shows the pair looking sadly out at the press outside his home.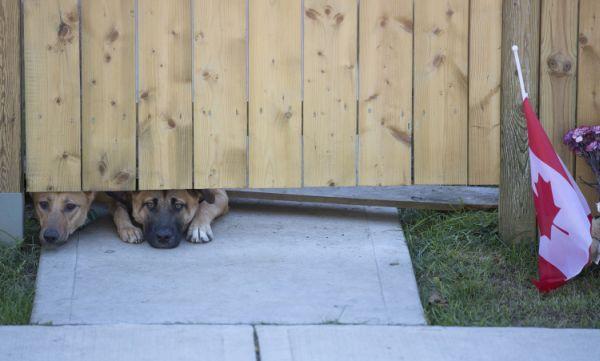 Police have released CCTV showing the movements of Ottawa gunman Michael Zehaf-Bibeau after he shot and killed soldier Cpl Nathan Cirillo.
People can be seen running from the War Memorial where Cpl Cirillo was killed before Zehaf-Bibeau arrives.
Zehaf-Bibeau then runs out of a car towards the parliament building, there he carjacks a car from the area where MPs park their vehicles.
In this second car Zehaf-Bibeau drives almost to the door of the parliament building before running inside pursued by police.
He was shot and killed inside the building.
Advertisement
The man that police say was responsible for yesterday's Ottawa attack was not one of the 90 high-risk travellers that the Royal Canadian Mounted Police was investigating.
Police said that Michael Zehaf-Bibeau was a Canadian citizen, but may have had dual Libyan citizenship and had hoped to travel to Syria and acted alone.
Despite the Ottawa attack being the second terror related incident in the country this week police say they have no information linking the two.
I am very touched by the attention directed at me following yesterday's events. However, I have the support of a remarkable security team that is committed to ensuring the safety of Members, employees and visitors to the Hill. Yesterday, during extraordinary circumstances, security personnel demonstrated professionalism and courage. I am grateful and proud to be part of this team.

I would also like to take this opportunity to thank the Speaker, the Hon. Andrew Scheer, for his leadership and calm demeanour throughout.

On behalf of all members of the House of Commons Security Services team, I would like to extend our deepest condolences to the family of Cpl. Nathan Cirillo. Our prayers are with you. Our thoughts are also with Constable Samearn Son, who has been with the House of Commons Security Services for 10 years. Constable Son suffered a gun shot wound to the leg. He is in stable condition and expected to make a full recovery.

As this is an ongoing investigation, I unfortunately cannot comment any further at this time.
– Statement from the Canadian Sergeant-at-Arms
According to police it does seem increasingly likely this was some sort of lone wolf style operation by the gunman. But we still don't know if he had a network of supporters and even whether he had an allegiance to the Islamic State.
Frustratingly he was on the radar screen of counter-terrorism officials. Not under active surveillance but we believe that he'd applied for a passport and been denied it.
Talking to MPs here today I got the sense, paradoxically, of relief, many thought that without the intervention of the Sergeant-at-Arms this tragedy would have been a great deal more serious.
The Canadian Sergeant-at-Arms can be seen striding through the corridors of parliament shortly after shooting the gunman in the Ottawa attacks in new footage.
The video shows Kevin Vickers still with his firearm in his hand, he has been hailed as a hero for his actions.
Load more updates