A raging wildfire in Alberta has now spread to 210,000 acres following dry and blustery conditions, coupled with high temperatures and low humidity.
Bill Patzert, a climatologist at NASA, told CBS: "The flames are moving so fast that they are nearly impossible to fight. In a way, it's a perfect storm."
The Alberta government have confirmed 1,100 firefighters, 145 helicopters and 22 air tankers were currently tackling 49 wildfires across the western and southern parts of the state.
According to local media, over the past 24 hours a further 25,000 people have been evacuated including 8,000 by air.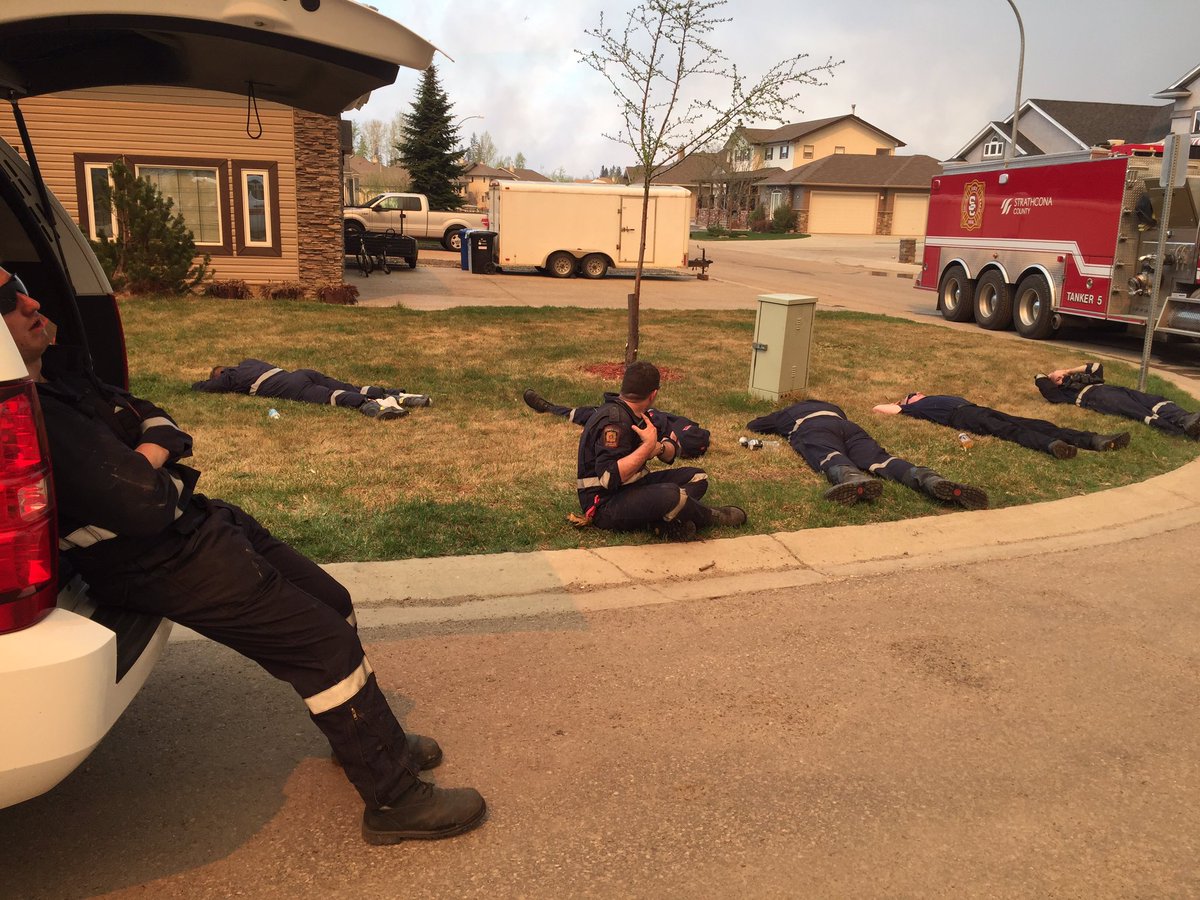 Seven firefighters in the Canadian town of Fort McMurray have been snapped taking their first rest in almost a day.
Posted online by the Strathcona Fire Department, the firefighters are pictured in an apparently safe area, lying on the grass with houses seemingly unaffected from the devastating wildfires that have engulfed other parts of the state.
Alberta firefighters are currently tackling one of the worst bush fires in Canadian history with over 90,000 people - including whole towns 30 miles away - evacuated.
Advertisement
Wildfires raging out of control in Fort McMurray in Alberta, Canada, have forced a new round of evacuations and threatened more homes to the city's south.
Residents sheltering in camps to the north of the city were cut off by flames and warned they would have to move out for a second time as fire fighters struggle to contain the blaze.
Meanwhile, the communities of Anzac and Gregoire Lake Estates about 50 kilometers (31 miles) south of Fort McMurray were "under extreme threat," late Thursday, as the flames spread to the southeast.
More than 1,600 homes and business have been destroyed by the fires. Authorities have warned that the situation remains "extreme" with a total of 49 wildfires still burning on Thursday night, seven of which were considered out of control.
The Alberta premier Rachel Notley has warned it may be some time before residents can return home.
It is simply not possible, nor is it responsible to speculate on a time when citizens will be able to return. We do know that it will not be a matter of days.
– Rachel Notley
Residents of Fort McMurray were restricted to salvaging only their clothes and pets as they were evacuated.
Read the full story ›
Video footage, apparently taken during the evacuation of Fort McMurray, shows drivers passing by wildfires that have engulfed the town.
A large plume of smoke and fire can be seen in the YouTube video, whilst drivers appear to move slowly out of the town.
Officials have predicted most of Fort McMurray will be destroyed.
Canadian Prime Minister Justin Trudeau has said the country's "thoughts are turning with friend's in Alberta," following the devastating wildfire that has engulfed parts of the state.
Speaking at a press conference, Mr Trudeau explained that the evacuation of Fort McMurray has been "extremely difficult," but those affected should be comforted by the messages of support from across Canada.
Advertisement
NASA have released a satellite image of the smoke caused by the wildfire currently raging in the Fort McMurray area.
They say the image shows an area the size of 19,000 acres.
According to local officials, the fire has so far destroyed 8,500 acres and a make-shift emergency centre has been opened in Lac La Biche, a town 250km south Fort McMurray.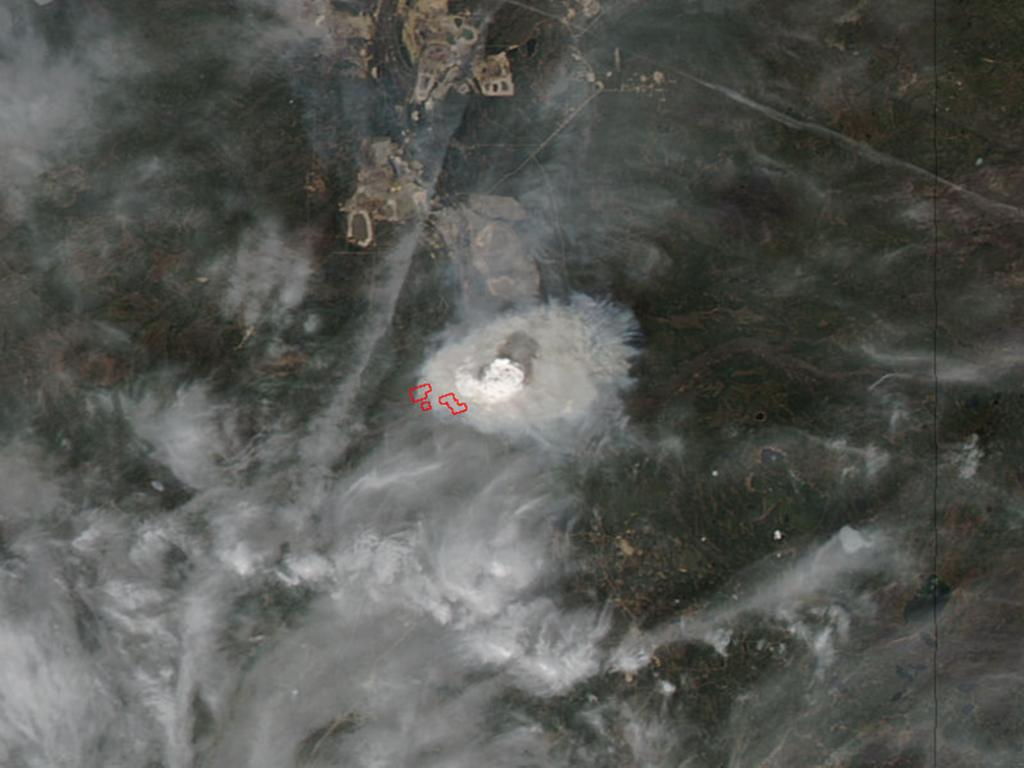 Dramatic footage has appeared to show the moment one motorist evacuates Beacon Hill as wildfires and smoke smother the town of Fort McMurray in Canada.
The dashcam video footage, uploaded to YouTube on Wednesday, purports to show some of the 80,000 people who were forced to evacuate the town following the spread of the blaze.
More than 1,600 houses have been destroyed and a state of emergency has been declared in Alberta.
A massive Canadian wildfire that has forced 80,000 residents to flee the town of Fort McMurray is now threatening the communities south of the town and its airport, authorities have said.
1,600 buildings have already burned down and worsening conditions on Wednesday led to authorities issuing mandatory evacuation orders for Anzac, Gregoire Lake Estates and Fort McMurray First Nation communities based 50km south of Fort McMurray.
Officials have been forced to abandon their make-shift emergency operation centre - the second time in less than a day - and have relocated to Lac La Biche, a town 250km south of Anzac.
The wildfire has charred 18,500 acres of land since it erupted on Sunday.
It is a possibility that we may lose a large portion of the town
– Scott Long, Alberta's emergency management agency
A state of emergency has been declared after a huge Canadian wildfire forced more than 80,000 residents to flee their homes.
Around 1,600 homes in the oil sands city of Fort McMurray, Alberta, have already been destroyed.
Officials said the flames were only being kept away from the downtown area by the "herculean'" efforts of firefighters.
No injuries or deaths have been reported.
All commercial flights in and out of Fort McMurray have been suspended.
Load more updates