Jose Mourinho has ruled out Andre Schurrle, Ramires and Diego Costa for Chelsea's Champions League tie against Maribor on Tuesday evening.
Top goalscorer Costa will again miss out after failing to recover from a hamstring injury in time for Saturday's Premier League victory over Crystal Palace.
Mourinho is likely to use both Didier Drogba and Loic Remy at some stage tomorrow night after revealing that Drogba is not fit enough to play a whole match.
"He's not in conditions to play for 90 minutes," Mourinho explained. "But he's fit to play, starting or not starting, Didier is in much better condition."
UEFA is set to reward winners of the big European leagues with top-seed status in the Champions League from next season.
Teams are currently seeded based on their performance in European competitions over the last five years, rather than domestic competitions.
UEFA general secretary Gianni Infantino said the group-stage change "will be approved" at the start of next year. The defending champions will also be awarded top-seed status.
"People had difficulties in understanding how the champion of a country is in a lower pot than the third-ranked in that country," Infantino said.
"This will give another dynamic with the draw and in the way the groups are composed."
Advertisement
The north London club could be fined by UEFA following crowd disturbances during Wednesday night's Champions League tie against Galatasaray
Read the full story ›
Police have confirmed that six arrests were made as part of their operation for the Arsenal v Galatasaray Champions League match
Read the full story ›
Roma captain Francesco Totti has thanked Manchester City for giving him extra motivation to score on Tuesday.
The 38-year-old striker was reminded through City's official twitter account hours before his team's Champions League encounter at the Etihad Stadium that he had never scored in England.
So Totti made sure to put things right when he cancelled out Sergio Aguero's opener to earn Roma a 1-1 draw.
We're looking forward to hosting you @officialasroma, and a legendary player such as Totti. He's never scored in England, has he? #CityvRoma
"City's tweet? It really brought me luck," Totti told the Gazzetta dello Sport. "It was a beautiful goal and a good performance.
"I really wanted to score as soon as possible as I had not found the back of the net this season.
"But above all, I am thrilled for my team because we have shown a lot of strength, which was not easy."
David Beckham was joined by Jay-Z and Beyonce in Paris on Tuesday evening, as he watched former club Paris Saint-Germain take on Barcelona in the Champions League.
The trio went home with smiles on their faces after watching the Parisian side record an impressive 3-2 victory.
Advertisement
A group of 55 Bayern Munich fans determined to watch their team's match in Moscow last night paid £5,400 for a high-rise office space overlooking the Luzhniki Stadium.
They were joined by reserve team player Tobias Scweinsteiger, who tweeted the image below, explaining: "Where there's a will, there's a way."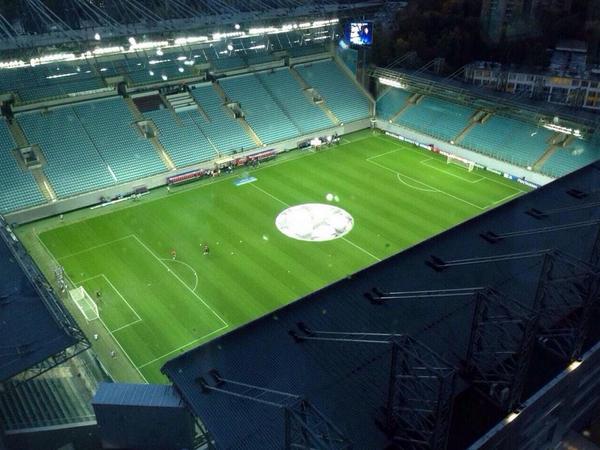 UEFA forced CSKA Moscow to play the Champions League match behind closed doors as punishment for racist chants by their fans during a match against Viktoria Plzen in December 2013.
The opportunistic group were rewarded for their troubles after Bayern collected all three points in a closely fought contest, thanks to Thomas Muller's first half penalty.
Bayern Munich Chairman Karl-Heinz Rummenigge was unaware the supporters had paid to rent the office space, but later agreed to cover all costs.
"This was not known to us and my colleague Jan Dreesen has indeed paid the rent for the game," he confirmed.
Celtic have been reinstated in the Champions League despite a humiliating 6-1 defeat on aggregate to Legia Warsaw - who played an ineligible player.
The Polish side brought on Bartosza Bereszynski, who should have been suspended, as a substitute with four remaining minutes in their 2-0 victory at Murrayfield.
Uefa ruled that Legia Warsaw must forfeit their second leg match and awarded Celtic a 3-0 victory - meaning the Scottish champions progress on away goals.
If a side fields a suspended player they must forfeit the match, according to Uefa rules.
Legia Warsaw have the right to appeal the decision.
Real Madrid have beaten rivals Atletico 4-1 to lift the Champions League trophy, after coming from behind to secure a dramatic win in extra time.
An equaliser in the final moments of the 90 from Sergio Ramos took the game into extra time after Diego Godin had put Atletico ahead.
Goals from Gareth Bale, Marcelo and Ronaldo then wrapped up the win with a scoreline that did not truly tell the story of a tense match.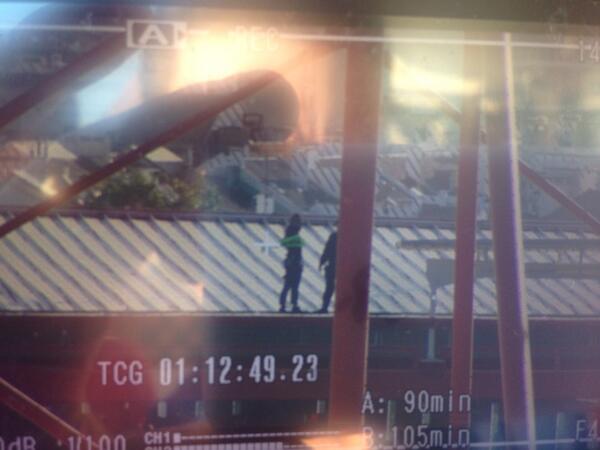 Ten Greenpeace campaigners have been arrested at the Champions League Final in Lisbon before they were able to attach a protest banner to the stadium roof.
CNN sports correspondent Alex Thomas tweeted these pictures from the event where Real Madrid are playing Atletico Madrid.
LATEST: 5 people on roof of Stadium of Light with #UCL Final kick off rapidly approaching. Could be a protest. http://t.co/dGQI0c6sUb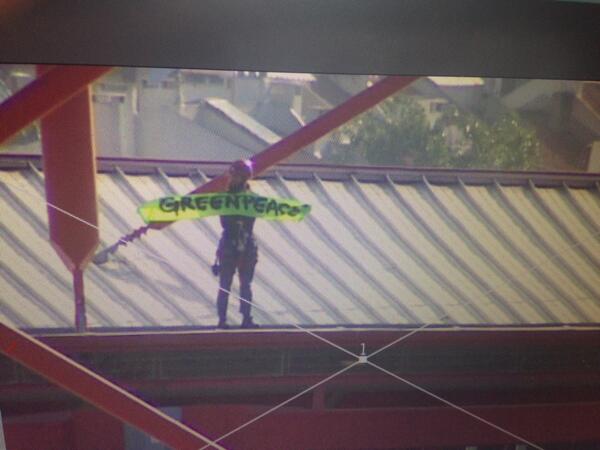 The activists lived inside a concrete tube at Lisbon's Estadio da Luz arena for three days before the stunt against Arctic drilling energy company Gazprom.
Last year Greenpeace campaigners had to be escorted from the pitch during another protest at the 2013 Champions League Final in Switzerland.
Load more updates