Mesut Ozil scored a dramatic late winner as Arsenal came back from two goals down to win in Bulgaria
Read the full story ›
UEFA has opened disciplinary proceedings against FC Copenhagen after the Danish club's fans set off fireworks during their 1-0 Champions League defeat at Leicester City.
European football's governing body has been cracking down on the use of fireworks, flares and smoke bombs by supporters, with Celtic, Liverpool and Manchester City among the clubs recently fined or warned.
A statement posted on UEFA's official website said FC Copenhagen had been charged for "the setting off of fireworks - article 16 (2) of the UEFA disciplinary regulations" on Tuesday night. UEFA will hear the case on November 17th.
Advertisement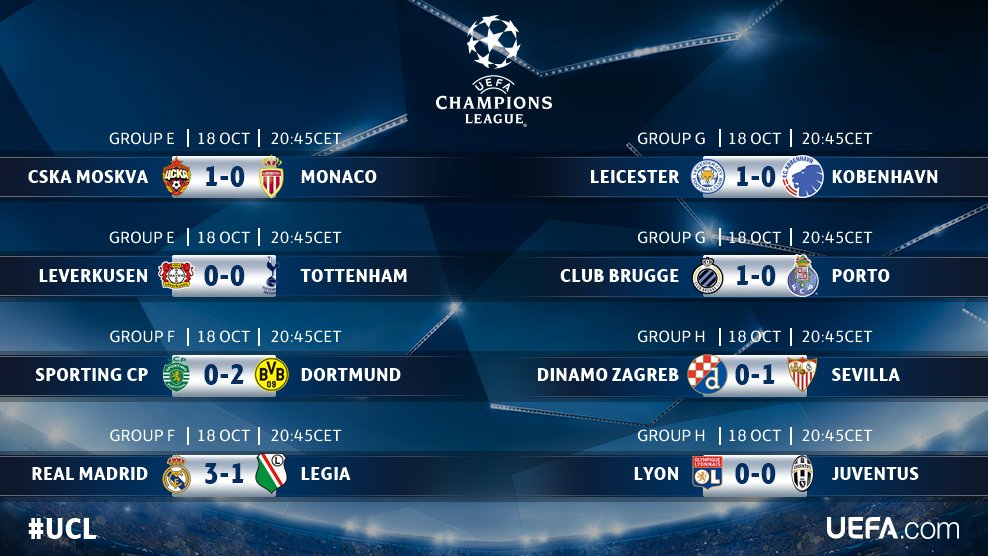 Kiev's Olympic Stadium will host the 2018 Champions League final, the Ukrainian football federation has announced.
The stadium was the venue for the Euro 2012 final where Spain beat Italy 4-0.
UEFA's executive committee met on Thursday morning to discuss the matter, but a spokesman for European football's governing body could not confirm if the Ukrainian federation's announcement was correct.
It would be the first time Ukraine has hosted a European Cup or Champions League final in the competition's history.
The Champions League group stages return this week and we have the perfect tonic to get you into the mood for some top European football
Read the full story ›
Atletico Madrid striker Fernando Torres has insisted he is ready for the game of his life as the Rojiblancos prepare to face Real Madrid.
Read the full story ›
Advertisement
Juan Mata admits Manchester United go into their rearranged final Barclays Premier League game with a bad taste in their mouths after missing out on a top four spot.
United needed neighbours City to lose their last game at Swansea on Sunday to have any hope of claiming a spot in the Champions League.
But City drew 1-1 at the Liberty Stadium meaning that, barring a improbable 19-0 win over Bournemouth at Old Trafford on Tuesday, United will have to make do with a place in the Europa League and Mata says the Red Devils didn't show enough consistency to warrant qualification for the UEFA Champions League.
They could still climb above Southampton from sixth to fifth but the players' attention may already been turning to Saturday's FA Cup final against Crystal Palace.
Writing on his blog on the club website, Mata highlighted injuries faced by the squad as one of the reasons for the lack of success this season.
We will have to close the Premier League season on Tuesday. It's going to be a bittersweet farewell to Old Trafford, now that we know we won't be playing the Champions League next season.

It leaves us with a bad taste because, even if we enjoyed good moments together throughout the season, we weren't consistent enough to qualify for the top European competition.

It's true that we found many difficulties along the way, especially if we talk about injuries (up to 15 players in several weeks, as far as I remember), but Manchester United must be ambitious and always fight for everything.
– Juan Mata
Bayern Munich will take a slender 1-0 lead to Portugal after an organised defensive display from Benfica
Read the full story ›
England will retain four Champions League places until at least the end of the 2017-18 season, European governing body UEFA has confirmed.
The Premier League had faced a challenge from Italy - which currently has only three spots - as a result of a fall in its rating in UEFA's coefficient system.
But the progress of Manchester City and Liverpool to the quarter-finals of this season's Champions League and Europa League respectively, while Roma, Juventus and Lazio have all been eliminated from European competition, has reversed the situation.
UEFA awards four Champions League places to the top three nations in its rankings. These allocations are determined a year in advance, meaning those for 2016-17 were set by the ratings at the end of the 2014-15 season. The countries in possession at this point were Spain, England and Germany.
However, the system is run on a rolling five-year basis and so for the 2017-18 allocations, points accrued during 2010-11 - which was strong for England and poor for Italy - were discounted from the reckoning. This saw England drop to third behind Germany, just three points ahead of Italy.
England's clubs therefore needed a better 2015-16 campaign than Italy to ensure four places would be retained. With all Serie A sides now out, this has been achieved.
Load more updates