Chelsea footballer John Terry has described the late actor Richard Attenborough as a "true legend and a real gentleman".
Attenborough was a dedicated fan of the club and Terry says he would "often come over after games and say 'hi' and 'well done' and 'congratulations'."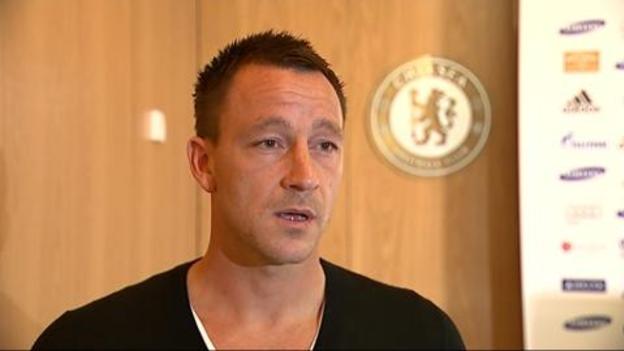 Norwich kept their hopes of Premier League survival alive while damaging Chelsea's ambition of winning the title in a hard won 0-0 draw at Stamford Bridge.
Advertisement
Chelsea are through to the Champions League semi-finals on away goals after drawing 3-3 on aggregate with Paris St Germain. The Blues won Tuesday night's second leg at Stamford Bridge 2-0.
Jose Mourinho has told Spanish media he will become the new Chelsea manager, his second spell in charge of the club, by the end of the week.
He told Spanish football TV show Punto Pelota that he is flying to London today.
"I'm going to London on Monday and at the end of the week I will be the manager of Chelsea," he said.
"I feel the people there love me and in life you have to look for that.
"Life is beautiful and short and you must look for what you think is best for you."
The two-year-old son of Chelsea's goalkeeper Ross Turnbull has scored his debut goal at Stamford Bridge. Seemingly undaunted by the occasion, and with only one minor stumble, Josh edged towards the goal, before a final kick - sending the ball over the line.
The crowd was impressed too, chanting 'Sign him up!'
Former Liverpool goalkeeper Brad Friedel has said he believes Suarez will remain at the club because of his talent and price tag:
Advertisement
Luis Suarez's multi-million pound sponsor Adidas has said it will "remind" the footballer of the standards it expects, according to a reporter for the Associated Press:
Luis Suarez has admitted on Twitter that Liverpool fined him over the biting incident, adding that he requested that the money be donated to the Hillsborough Family Support Group.
Chelsea defender Branislav Ivanovic is understood to have spoken to Surrey Police about the incident at the club's training ground in Cobham.
Press Association reports that a complaint was made to Merseyside Police which was passed on to their Surrey colleagues, who wanted to ascertain whether he had sustained any injury.
That was found not to be the case and Ivanovic told police he did not want to press charges.
A Chelsea spokesman has told ITV News that Rafael Benitez will be taking a training session today and that it is "business as usual" at the club.
Load more updates