Jose Mourinho has ruled out Andre Schurrle, Ramires and Diego Costa for Chelsea's Champions League tie against Maribor on Tuesday evening.
Top goalscorer Costa will again miss out after failing to recover from a hamstring injury in time for Saturday's Premier League victory over Crystal Palace.
Mourinho is likely to use both Didier Drogba and Loic Remy at some stage tomorrow night after revealing that Drogba is not fit enough to play a whole match.
"He's not in conditions to play for 90 minutes," Mourinho explained. "But he's fit to play, starting or not starting, Didier is in much better condition."
Diego Costa looks set to miss out on Chelsea's Champions League tie against Maribor on Tuesday after Jose Mourinho suggested the striker has "no chance" of recovering from injury in time.
The Spanish international sat out Saturday's Premier League victory at Crystal Palace and was unable to take part in training on Monday.
Costa has been struggling with niggling injuries, despite bagging an impressive nine goals in seven league matches this season.
Advertisement
Chelsea footballer John Terry has described the late actor Richard Attenborough as a "true legend and a real gentleman".
Attenborough was a dedicated fan of the club and Terry says he would "often come over after games and say 'hi' and 'well done' and 'congratulations'."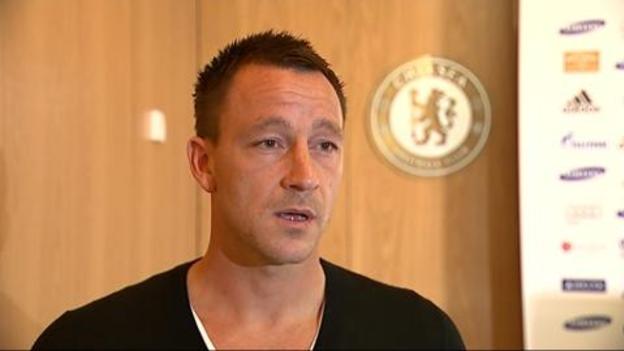 Norwich kept their hopes of Premier League survival alive while damaging Chelsea's ambition of winning the title in a hard won 0-0 draw at Stamford Bridge.
Advertisement
Chelsea are through to the Champions League semi-finals on away goals after drawing 3-3 on aggregate with Paris St Germain. The Blues won Tuesday night's second leg at Stamford Bridge 2-0.
Jose Mourinho has told Spanish media he will become the new Chelsea manager, his second spell in charge of the club, by the end of the week.
He told Spanish football TV show Punto Pelota that he is flying to London today.
"I'm going to London on Monday and at the end of the week I will be the manager of Chelsea," he said.
"I feel the people there love me and in life you have to look for that.
"Life is beautiful and short and you must look for what you think is best for you."
The two-year-old son of Chelsea's goalkeeper Ross Turnbull has scored his debut goal at Stamford Bridge. Seemingly undaunted by the occasion, and with only one minor stumble, Josh edged towards the goal, before a final kick - sending the ball over the line.
The crowd was impressed too, chanting 'Sign him up!'
Former Liverpool goalkeeper Brad Friedel has said he believes Suarez will remain at the club because of his talent and price tag:
Load more updates