A man who was stopped from boarding a Paris Metro train by Chelsea fans has said the episode has left him with a phobia of public transport.
Read the full story ›
Five men involved in incidents on the Paris Metro ahead of Chelsea's match against Paris Saint-Germain last month have been summonsed to appear in court, police have said.
The men will appear before Waltham Forest Magistrates' Court on March 25 "regarding a police application for football banning orders", Scotland Yard said.
Chelsea fans were filmed singing racist chants and apparently refusing to let a black man on a train ahead of their side's match against PSG on February 17.
News of the summonses comes on the same day the two sides meet at Stamford Bridge for the second leg of their tie.
Advertisement
Nemanja Matic will be fit for Chelsea's Champions League last-16 second leg against Paris St Germain despite suffering an injury while celebrating Sunday's League Cup win.
Midfielder Matic completed a two-match ban as Chelsea consolidated their advantage at the top of the Premier League with a 1-0 win at West Ham on Wednesday night.
But Mourinho revealed Matic would not have played even if he was free from suspension after the Serbian twisted his ankle in the aftermath of last Sunday's Wembley defeat of Tottenham.
He got an injury celebrating the cup. It's not a big injury, but if he was not suspended, he wouldn't play.

He twisted his ankle. On the pitch. He put on shinpads but he didn't put the tape on. He will play against Paris. On Saturday, Sunday, he will train.
– Chelsea manager Jose Mourinho
Jose Mourinho "wanted to kill" assistant first-team coach Silvino Louro for giving away the Man City score as Chelsea approached Wembley for the League Cup final on Sunday.
The Blues boss had hoped to keep Man City's Premier League result a secret from his players one way or another in order to prevent any distractions prior to the Wembley showpiece against Spurs.
Speaking to the media after Chelsea's 2-0 victory, Mourinho said:
I told them (the players) I didn't want any kind of manifestation or disappointment if City scored in the last minute, or Liverpool won. I wanted complete silence.

We were successful on that. But one member of my staff jumped up in the bus. Silvino (Louro, an assistant first-team coach). I wanted to kill the guy. He broke the rule.
– Chelsea manager speaking to the media after Chelsea's League Cup victory
Kurt Zouma was labelled "our new Marcel Desailly" by Chelsea boss Jose Mourinho after the League Cup final win but is playing down comparisons with the World Cup winner.
With Nemanja Matic suspended, Mourinho selected defender Zouma in midfield for his 17th Chelsea appearance and the 20-year-old Frenchman did not look out of place in the 2-0 Wembley win.
That brought further comparisons to his compatriot Desailly, who played 222 times for Chelsea, and was comfortable in both defence and midfield.
That is a lovely thing, what the boss said (But) it is too early to say that because Marcel Desailly is a legend of Chelsea. I have only played about 10 games and I am 20 years old. I loved to watch him play. He was an amazing performer and important for us.

I have to keep working hard. I have to improve every day. I have never met Marcel Desailly but one day I hope I will see him.
– Chelsea player Kurt Zouma
John Terry's emotions were stirred on hearing the national anthem at Wembley but the Chelsea captain has no plans to reconsider his retirement from England duty.
The 34-year-old scored his first major final goal in a 2-0 defeat over Spurs before lifting the League Cup on Sunday.
"I have missed it, playing in these big stadiums and in these competitions and I'm delighted to get back to Wembley," Terry said.
"They started playing the national anthem before the game and I was going then."
Asked if he was considering an England return, Terry, who earned 78 caps, added: "No. It's the simple answer, I don't want to go into it right now.
"Being back at Wembley, the atmosphere, the stadium, it's one of the best I have played in, but it's never crossed my mind.
"I have drawn a line under it and the England squad can move on now."
Advertisement
Chelsea manager Jose Mourinho has branded Ashley Barnes' tackle on Nemanja Matic "criminal" in a lengthy attack on refereeing standards and media coverage while appearing on Sky Sports.
Matic was sent off for his reaction to Barnes' tackle in the 70th minute, but the Burnley player went unpunished in the 1-1 draw at Stamford Bridge.
Mourinho had little to say in his post-match press conference after Saturday's 1-1 draw at home to Burnley, but was more forthcoming when appearing on Goals on Sunday on Sky Sports - a network he had strongly criticised for their coverage of Diego Costa's stamp on Liverpool's Emre Can last month.
When I finished at the game against Liverpool, I went to the dressing room and the first thing I saw on the big screen, reading non-stop - 'Diego Costa crimes'.

I would like to know how to you, Sky Sports, describe the actions of the Burnley player yesterday? My English is not good enough to find a word.

When you think 'Diego crimes' after he puts his boot on a hand, when this is 'Diego crimes', the minimum you have to say is 'criminal tackle'.

Did you apologise to Chelsea, to Diego or myself? You didn't. As an institution, Sky is so important in the Premier League, you never apologise.
– Chelsea manager Jose Mourinho
A Man City fan holds up a banner at the Etihad urging the authorities to jail the Chelsea fans guilty of racially abusing a black man on the Paris Metro on Tuesday.
Chelsea's troubled week ended in further controversy when Nemanja Matic was sent off in a disappointing draw against Burnley
Read the full story ›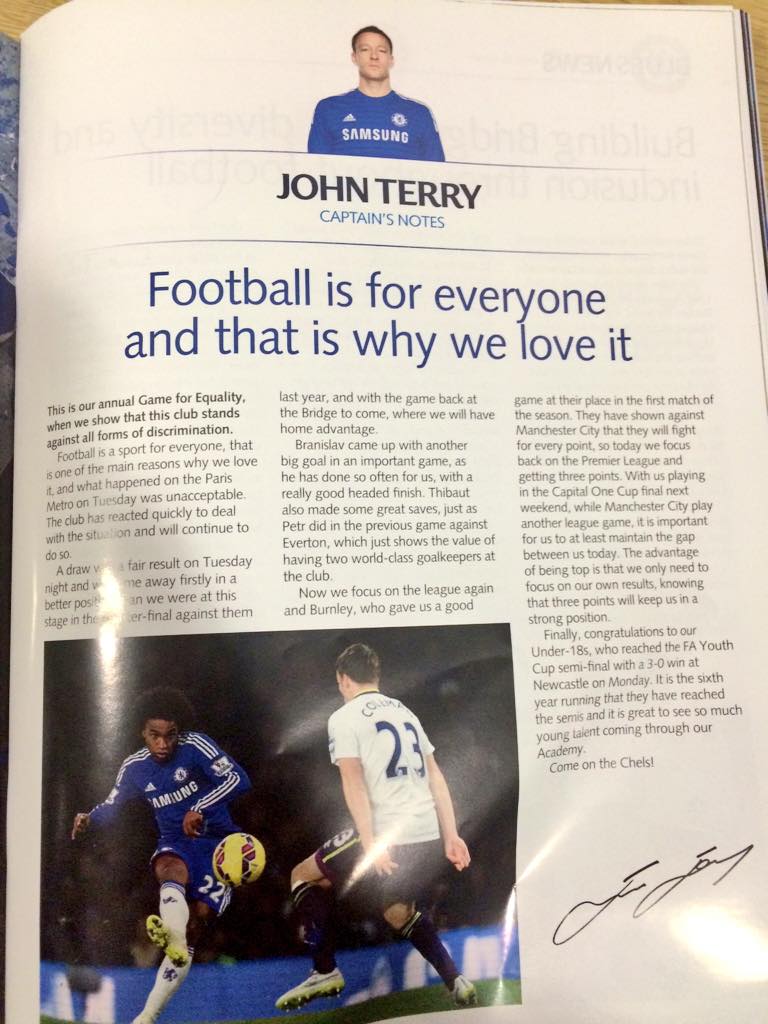 John Terry has used his programme notes to condemn the racist incident involving Chelsea fans in Paris, writing:
"Football is a sport for everyone, that is one of the main reasons why we love it, and what happened on the Paris Metro on Tuesday was unacceptable.
"The club has reacted quickly to deal with the situation and will continue to do so."
In September 2012, Terry was banned for four matches by the FA and fined £220,000 for racially abusing Anton Ferdinand.
Load more updates