Chelsea owner Roman Abramovich's loan to the club's parent company Fordstam has surpassed £1 billion, accounts show
Read the full story ›
Chelsea midfielder Eden Hazard has been voted the 2015 Footballer of the Year by the Football Writers' Association.
Read the full story ›
Advertisement
The nominations for the PFA Fans' Player of the Season award have been announced with the likely lads all in contention
Read the full story ›
Steven Gerrard will not be Liverpool's saviour this season after a 1-1 draw at Premier League champions Chelsea ended their top four hopes
Read the full story ›
Team to face Liverpool: Courtois; Ivanovic, Zouma, Terry (c), Filipe Luis; Mikel, Loftus-Cheek; Willian, Fabregas, Hazard; Remy #CFC
Today's subs: Beeney, Azpilicueta, Cahill, Ake, Matic, Cuadrado, Drogba. #CFC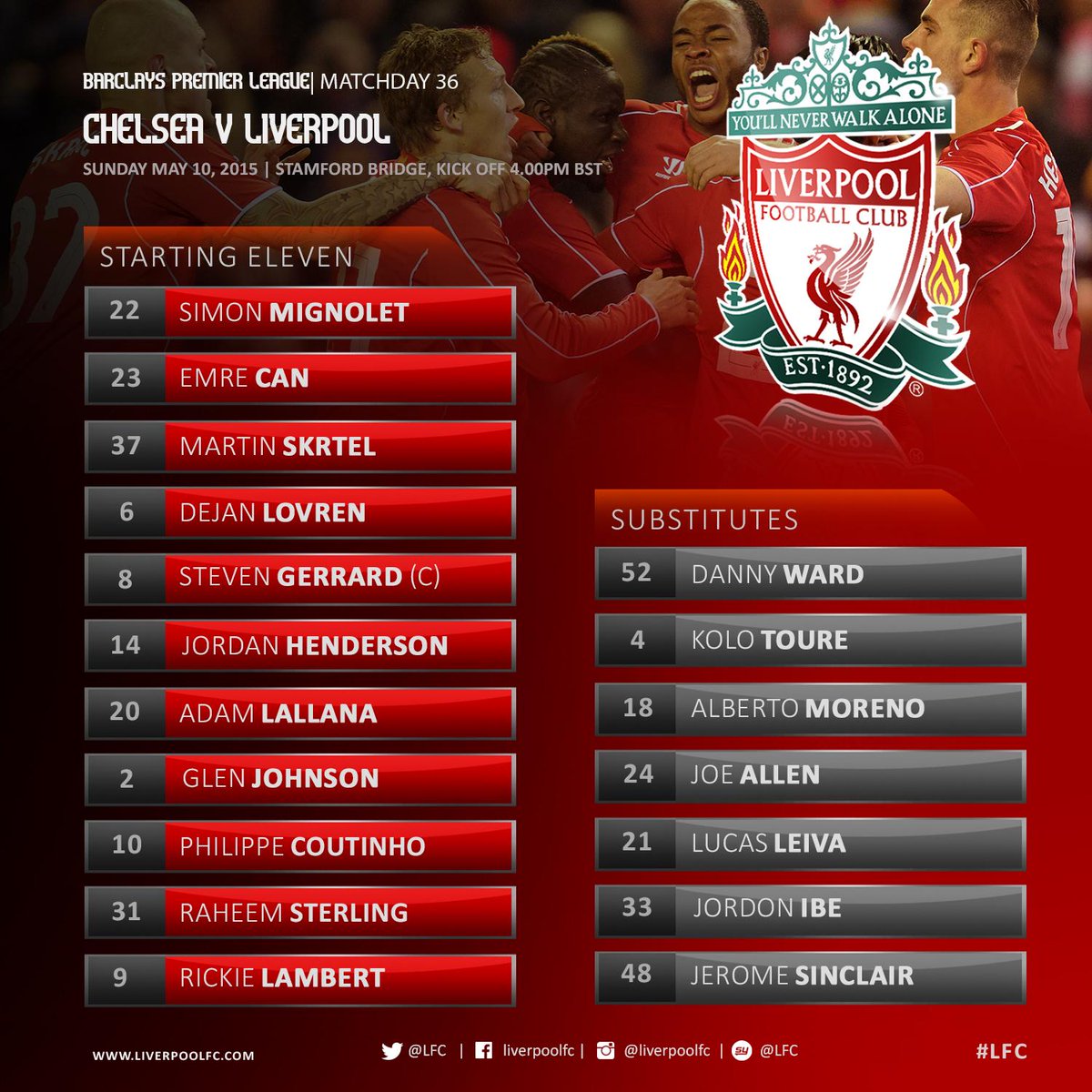 Liverpool vice-captain Jordan Henderson admits standing in a guard of honour for newly-crowned champions Chelsea should provide the players with all the motivation they need to be better next season.
Jose Mourinho's side won the title with victory over Crystal Palace last weekend and when they run out again at Stamford Bridge the visitors are expected to offer their congratulations, as has become the tradition over recent years.
Henderson admits it will not be a nice feeling having to applaud their rivals but there is a positive to be taken from it.
You have to respect the team because they have been the best team over the season. Of course it will be difficult doing that but you have to pay your respects.

If that (guard of honour) does happen you have to remember the feeling that it is what we want to achieve. You have to bottle that and make sure next season we can have a really good go and use it as motivation and drive to push on.
– Liverpool midfielder Jordan Henderson
Advertisement
The future of reported Chelsea and Arsenal target Paulo Dybala will be decided in the next two weeks, according to Palermo president Maurizio Zamparini.
Dybala is Palermo's leading scorer with 13 Serie A goals and is thought to have attracted the attention of top European clubs including Chelsea, Arsenal. Paris St Germain and Juventus. P alermo are keen to cash in on the 21-year-old after the Argentinian forward turned down a three-year contract extension in January.
"At least three teams are really interested in him," Zamparini told Italian newspaper Giornale di Sicilia.
"The apple is ripe and we are ready to pick it. I think in ten, or a maximum of fifteen days we will know his future. We will meet with the player and his agent to complete the deal. Those who understand football realise his potential."
Jose Mourinho has verbally agreed a two-year extension to his Chelsea contract, according to reports.
The 52-year-old Portuguese manager guided Chelsea to a first Premier League title in five years last weekend and looks set to be rewarded with a new deal.
Mourinho is halfway through a four-year contract which was signed on his return to Stamford Bridge in June 2013 having won two Premier League titles in his first spell - including in 2005, Chelsea's first championship in 50 years - before departing after little more than three years as manager.
Since his return after a six-and-a-half-year absence, Mourinho has often spoken of his desire to stay as long as owner Roman Abramovich wishes to keep him.
The Blues boss repeated that after Sunday's 1-0 defeat of Crystal Palace, which secured Chelsea's first title since 2009-10 and the eighth of his prolific career.
"As I was saying since the beginning of the season, I stay here until Mr Abramovich wants me to stay. The day he tells me to go, I go," said Mourinho, who has led something of a nomadic existence since leaving Porto for London in June 2004.
Chelsea want to make next season's Premier League title race more of a challenge by adding Rickie Lambert to their first team squad
Read the full story ›
Cesc Fabregas believes Jose Mourinho has an "edge" that goes above any other manager he has worked with in football, including Arsene Wenger.
The Chelsea midfielder woke up on Monday morning celebrating his 28th birthday and a Premier League title victory three games before his debut campaign at Stamford Bridge comes to an end.
It's a dream that Fabregas failed to fulfill during seven seasons under Wenger at Arsenal, and he has singled out Mourinho's winning mentality as a decisive factor in Chelsea's triumphant season.
Speaking to the Daily Mail, the Spanish international said:
He knows how to manage a team and how to get the best from you. That's what you want from a manager, 100 per cent. He can motivate a player every three days. Not easy when you play 60 games a season, trust me.

Everyone thinks that we have a big squad, but we don't. We've used 22 players, some of them from the under-21s, so it's not easy and he actually is doing a fantastic job.

He just loves winning. I'm not saying other managers I've played under don't, but he has some edge that goes above anyone else I have ever been with. The mentality shows in every single training session or game. I now understand why he has won what he has won in his career.
– Chelsea midfielder Cesc Fabregas
Load more updates