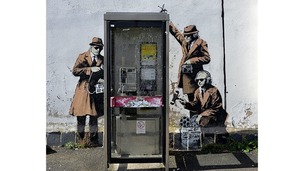 A Banksy-esque mural showing shady surveillance agents eavesdropping on a telephone box has appeared on a street in Gloucestershire.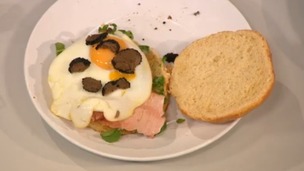 A small cafe in Cheltenham is serving up what could be, the world's most expensive bacon butty, costing £150.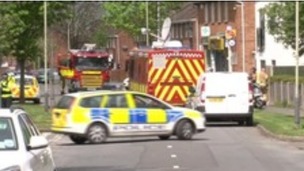 A series of controlled explosions have taken place in Cheltenham after two men were rearrested this morning on terrorism offences.
Live updates
Gloucestershire Police say it is highly unlikely families evacuated from their homes in Up Hatherley in Cheltenham will be able to return tonight.
A 200m police cordon was setup on Friday around a garage in Buttermere Close whilst an Explosive Ordnance Disposal team search the building.
We sincerely apologise to all of those affected by today's events. We know these are difficult circumstances but we ask for their patience and support.

This is a painstaking and methodical process in which everyone's safety is absolutely paramount. For this reason the specialist searches that are being carried out cannot be rushed.

Unfortunately this means that we are now almost certain we won't be able to clear the cordon this evening to allow people back into their homes."
– Assistant Chief Constable Richard Berry

Earlier a 52 year old and a 31 year old man were arrested during a planned police operation looking into the potential misues of explosives.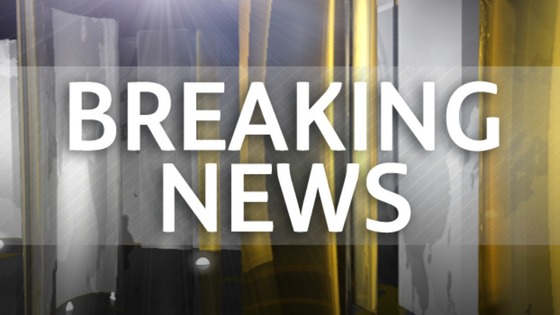 Fifty houses have been evacuated in Cheltenham after two man were arrested under the Explosives Substances Act.
A 52-year-old man was arrested as part of a planned policing operation. A 24-year-old man has also been arrested.
Officers have put in place a 100 metre cordon around a garage and nearby residents are being evacuated to a local community.
Gloucestershire Police has confirmed it is unrelated to an explosion at a house in the town last night.
For more on this story go to ITV West.
Advertisement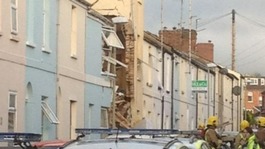 The street in Cheltenham has been evacuated after the house was reduced to rubble in a gas explosion.
Read the full story
Cheltenham gas explosion
Gloucestershire Correspondent Ken Goodwin has sent this report from the scene:
Cheltenham gas explosion
Police describe the damage after a gas explosion in Cheltenham.
Cheltenham gas explosion
Jon Hall, Chief Fire Officer for Gloucestershire (@GlosFireChief) has tweeted this picture from the scene of the gas explosion in Cheltenham: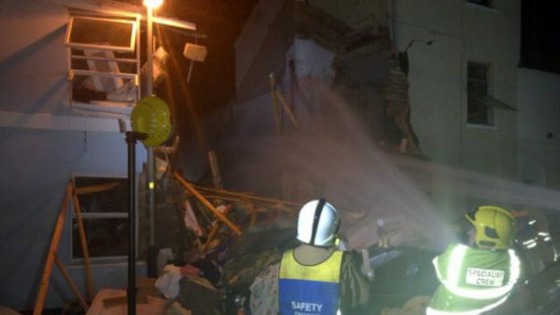 Advertisement
Cheltenham gas explosion
ITV West's Ken Goodwin is tweeting from the scene in Cheltenham.
He confirms that an elderly woman trapped in an adjoining building of the house that exploded in Rosehill Street, Cheltenham has been rescued.
Cheltenham gas explosion
Gloucestershire Police have given an update on the gas explosion in Cheltenham.
Homes have been evacuated in Rosehill Street in Cheltenham following a gas explosion at a home on the road.

Gloucestershire Police were alerted to the explosion at around 7.37pm.

The emergency services quickly responded to the incident and Gloucestershire Fire and Rescue thoroughly searched the area.

Officers located an elderly woman, who is believed to have been in the house at the time of the explosion. She is currently being treated by paramedics and will be taken to hospital.
Approximately 20 homes on the road have been evacuated and a structural engineer from the Council is in attendance as a number of houses appear to have been extensively damaged.

Both Rosehill Street and Hailes Road are anticipated to be closed for sometime whilst the emergency services work in the area.

The gas company are also in attendance to shut off the gas supply to the area.
– Spokeswoman for Gloucestershire Police
Cheltenham gas explosion
Houses either side of the property appear to be damaged by the explosion in Rosehill Street, Cheltenham.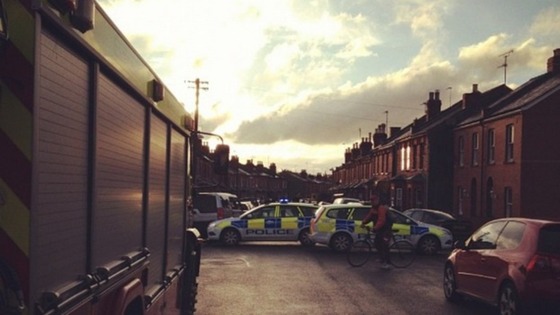 Cheltenham gas explosion
Emergency services are attending what is believed to be a gas explosion in a street in Cheltenham.
The property on Rosehill Street is seriously damaged and it is not known if there is anyone trapped inside yet.
Some local residents have been tweeting about the incident:
Gas explosion in a house not far from me and i could feel the vibrations..... Scariest thing going :S
Just been a massive gas explosion on our street about 7 doors down from us. Looks like everyone is ok but glass out all over.
We ran upstairs thinking kids wardrobe fallen on them. Just heard it was a gas explosion. That's where my mechanic is #fairview #cheltenham
Load more updates
Back to top