President Obama said he was "mortified" after a man walked up to him at a polling station and warned him not to touch his girlfriend.
Read the full story ›
A man tried to use the Chicago Marathon as cover to escape from police officers who were chasing him.
Read the full story ›
Advertisement
An observation platform, some 1030 feet off the ground, that can tilt out at a 30 degree angle has been built in Chicago, US.
Read the full story ›
A video purporting to show the moment a train derailed in Chicago, injuring over 30 people, has been posted online.
The clip shows two people talking next to escalators before the train overshoots the track and misses the bystanders by metres.
The cause of the derailment remains unclear but a Chicago Transit Authority official said "speed could be a factor."
Investigators have said they are still to determine what caused a commuter train to jump from the track and mount a platform escalator in a spectacular derailment at Chicago's O'Hare International Airport.
Chicago Fire Department Commissioner Jose Santiago said the operator was "walking and talking as we were investigating" the cause of the crash.
She was among the 32 injured who were taken to hospital after suffering minor leg injuries. It remains unclear whether the derailment was caused by mechanical or operator error.
The National Transportation Safety Board (NTSB), which has launched an investigation into the derailment of a train at Chicago's O'Hare station, tweeted:
Advertisement
More than 9,000 flights have been cancelled in the US in the past four days as a result of the severe weather and record low temperatures, Bloomberg reports.
Most of the cancellations were in the Chicago airport, with O'Hare International and Midway International accounting for 1,500 cancellations.
Temperatures on the East Coast of the US have plummeted, with Chicago hitting lows of -15 this morning. The previous record for the Windy City was -14 in 1988.
NBC affiliate NBC Chicago tweeted a picture of Lake Michigan that appeared to show steam covering the Great Lake.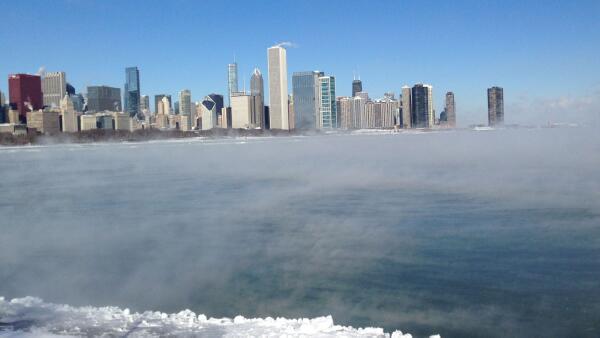 Chicago resident Jim Lakely posted a city-view picture that appeared to show the city's frozen river:
The anticipated 'polar vortex' is set to blast much of the country, with NBC reporting that "every state except Hawaii" is expected to face freezing temperatures today.
Load more updates