Live updates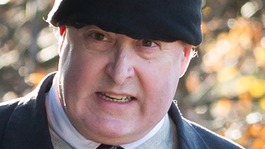 The alleged cannibal fetishist told a court he had fantasies of eating staff at kindergarten when he just six-years-old
Read the full story
MPs warning over child abuse
David Tucker, head of policy at the NSPCC, said the Home Affairs Select Committee report into the targeting of young white girls for sexual exploitation was a "damning indictment of systemic failure to protect vulnerable children and young people".
He continued:
Obvious signs of abuse were missed by a number of agencies and there is no excuse for the way these girls were let down, often by the very people who were meant to protect and care for them.

The victims in recent child sexual exploitation cases were too often ignored or treated as troublemakers.

There now needs to be a culture change among police, CPS, the judiciary, and all child protection professionals, so they better understand how grooming gangs operate, and how young people's behaviour could be a sign they are at risk of, or suffering, sexual exploitation.
There must also be tougher action against predatory sex offenders who deliberately target the most vulnerable children, including sentences that reflect the seriousness of the crimes committed and act as a strong deterrent to anyone thinking about sexually exploiting children and young people.
Advertisement
MPs warning over child abuse
The Home Affairs Select Committee said councils in Rochdale and Rotherham, which has also seen similar serious claims of child abuse grooming, were "inexcusably slow" to realise that sexual abuse was taking place on their doorstep.
Both councils had a "woeful lack of professional curiosity" and must be accountable for the "appalling consequences of their indifference to the suffering of vulnerable children".
The Committee called on the Ministry of Justice to put in place a number of reforms to court processes such as introducing specialist courts for child exploitation cases.
In addition, sufficient funding must be ensured for prevention and intervention for children at risk of sexual exploitation.
MPs warning over child abuse
A model of Pakistani-heritage men targeting young white girls for sexual exploitation does exist and authorities must be able to freely raise concerns without fear of being labelled racist, an influential group of MPs has concluded.
Police, social workers and others must acknowledge this issue, which featured in recent high-profile grooming cases in Rochdale and Oxford, the Home Affairs Select Committee said.
However, the Committee added that there was no simple link between race and child sexual exploitation and warned against stereotyping offenders.
After its inquiry into localised grooming, that is when a group of abusers target vulnerable children, the Committee said it believes there are still places in the UK where victims are being failed by statutory agencies.
Committee chair Keith Vaz said: "This has been a harrowing inquiry in which we have heard of children being treated in an appalling way not just by their abusers but, because of catastrophic failures by the very agencies that society has appointed to protect them."
Back to top