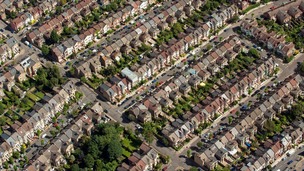 A detailed map reveals how every pocket of Britain is faring, ward by ward, almost street by street.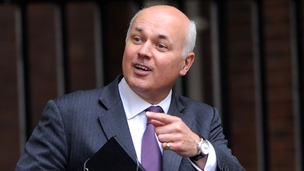 It's no secret that the Government is struggling to end child poverty. But Labour also found it difficult.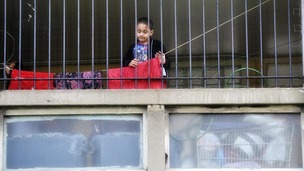 Save the Children's historic UK campaign raises political questions about the impact of the Government's decisions on the poorest.
Live updates
Government's child poverty strategy condemned
The Prime Minister's social mobility tsar has criticised the Government's child poverty strategy saying it "sidestepped" the fact that the situation has been "stagnating".
Alan Milburn, the chairman of the Government's Social Mobility and Child Poverty Commission, said independent projections expect child poverty to rise significantly by the end of the decade.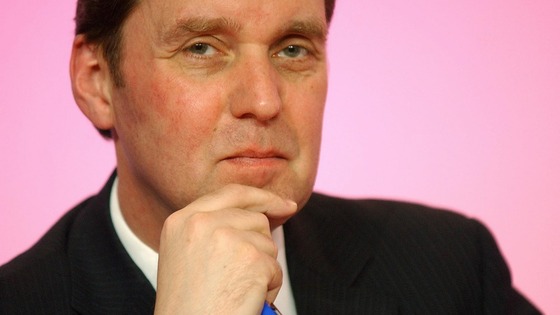 Writing in a blog on the commission's website, Mr Milburn called the new document "a list, not a strategy" that failed to engage with expectations that the 2020 target to eradicate child poverty "will be missed by a country mile".
He was joined in his condemnation by Labour MP Frank Field, who stressed the strategy "has learnt nothing from the mistakes of the past."
Mr Field said, "The bickering between the Chancellor and the Work and Pensions Secretary distracts from the crunch issue in tackling child poverty - what stops the poorest children from being up there with children from richer families when they begin their first day at school?"
Government's child poverty strategy condemned
Work and Pensions Secretary Iain Duncan Smith has released for consultation the Government's draft strategy to tackle child poverty over the next three years.
The strategy reiterates the Government's commitment to end child poverty by 2020 and promises to "tackle poverty at its source".
The new document lists a range of existing policies which might help children living in poverty, including:
Reforming the welfare system through Universal Credit
Providing free school meals for all infant school children from September 2014
Cutting tax for 25 million people by increasing the personal tax allowance and cutting income tax for those on the minimum wage by almost two thirds
Reducing water costs by capping water bills of low-income families with three or more children on a water meter
Reducing fuel costs by reducing the typical energy bill next year by around £50 on average
Advertisement
Government's child poverty strategy condemned
Child poverty figures released by the Government in June 2013 show:
In 2011/12, 2.3 million children in the UK were classed as being in poverty
That means 17% of children were in poverty (before housing costs)
After housing costs were taken into account, 3.5 million children were in poverty
That amounts to 27% of children in the UK
There was no percentage change from the 2010/11 figures on both scales (before and after housing costs).
Government's child poverty strategy condemned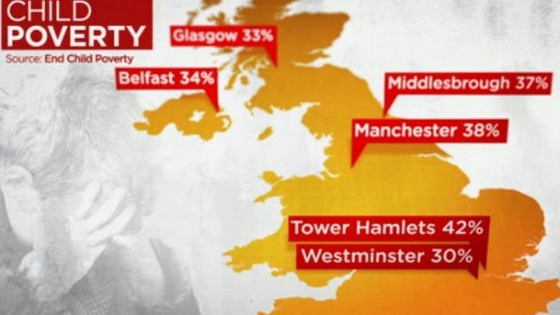 Over a third of children in Manchester, Middlesbrough, Belfast and Glasgow are thought to live in poverty, according to data.
End Child Poverty also pointed to six London boroughs, including Tower Hamlets and Westminster, as being rated in the 20 worst areas for poverty.
Government's child poverty strategy condemned
Some "60% of cuts" implemented by the Government hit working low-income families, causing a swell in the number of children growing up in poverty, an expert has told Daybreak.
Child Poverty Action Group (CPAG) chief Alison Grantham said there was "a real challenge" facing working low-income families as they were struggling to make ends meat.
Government's child poverty strategy condemned
Liveable wages and early intervention are they key to helping families out of poverty, a children's charity has said.
Save the Children's director of UK poverty policy, William Higham, praised Government plans to cut energy bills for Britain's poorest families but urged more action to tackle child poverty:
With child poverty predicted to rise by a million by 2020, more children will be growing up without the basics we expect, like a warm home and a winter coat.

The proposed government action on energy prices and insurance will make a difference - but we can't just bail out families, we need to fix the leak.

Work needs to become a route out of poverty and we must intervene early to help the poorest families and make sure their children don't fall behind at school.
– William Higham
Advertisement
Government's child poverty strategy condemned
Government plans to tackle child poverty may include a £50 cut to energy bills, according to reports.
Draft measurers seen by the Observer newspaper include:
An extension of the £135 warm home discount, which is currently available only to older people.
Reducing water costs by introducing a cap on bills for low-income families on a water meter with three of more children.
Wider eligibility for free school meals and free school transport.
Building more affordable housing.
Introducing a cap on payday lending.
Government's child poverty strategy condemned
Work and Pensions Secretary Iain Duncan Smith's controversial plans to change the definition of poverty have been put hold with the Department of Work and Pensions due to put forward a strategy to tackle child poverty instead.
Read: Cuts 'increasing child poverty'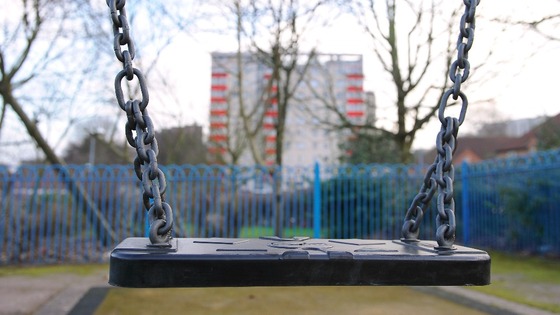 Unconfirmed reports suggest the Government's three-year strategy includes radical plans to cut water, food and fuel bills for low-income families as well as measure to tackle "worklessness" in the poorest households.
In an joint Guardian article with Chancellor George Osborne, Mr Duncan Smith said the Conservatives remained "committed to introducing better measures of child poverty - measures that drive the right action to bring about a real change in children's lives now and in the future.
Under Labour, "the wrong measures based on inadequate data and simplistic analysis drive misguided and ineffective policy", the pair added.
Read: Most families in poverty 'in work'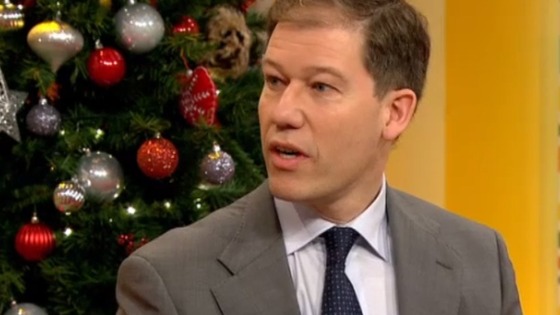 Christmas will be Dickensian for all the wrong reasons because "more and more families" relying on handouts to stay afloat, a charity head warned Daybreak.
Action for Children interim chief executive Jacob Tas said a survey of his charity's managers had exposed the alarming number of families relying on handouts.
"We are now in a time where at our children's centres, when we have surveyed our managers, and asked them, 'what is the situation on the ground?'
"They have responded - 2/3 of them have responded - that they send more and more families to food banks and clothes banks than ever before."
He continued: "These are families that have to make choices between paying the rent, paying for heating or paying for food, and their children are mainly effected."
Osborne: Growth figures 'significantly up'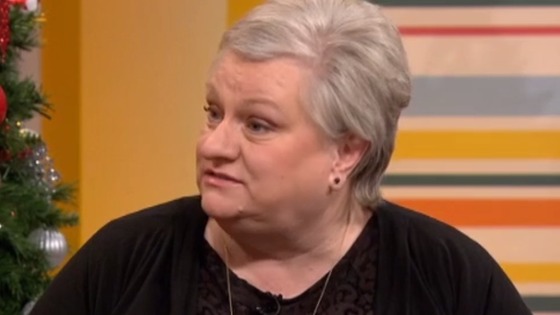 George Osborne could use the Autumn Statement to give poor families a break by increasing minimum wage, increasing child benefit and childcare, an anti-poverty campaigner told Daybreak.
Alison Garnham, the chief executive of the Child Poverty Action Group, warned the minimum wage had "fallen behind by 4%" and families with two parents earning £6.31 per hour still only had enough for "80% of their needs...and to look after their children".
Child benefit would have lost "15% of its value" by 2015 because it had been frozen for three years and then "pegged" to a 1% increase, she said.
Ms Garnham added: "The third thing is something more to help with childcare costs, because particularly low income working families have taken a big hit. The help they get was reduced in tax credit from 80% to 70%. "
Load more updates
Back to top