Buildings and mining facilities have been evacuated after a strong earthquake struck off the coast of Chile.
Local media and news agency reporters say there are no initial reports of casualties following the magnitude 8.3 quake.
Aftershocks of magnitude 6.2 and 6.4 have since been reported by the US Geological Survery.
@huella_digital posted this image to Twitter showing scores of people in the streets in Valparaiso, the coastal city nearest to the epicenter.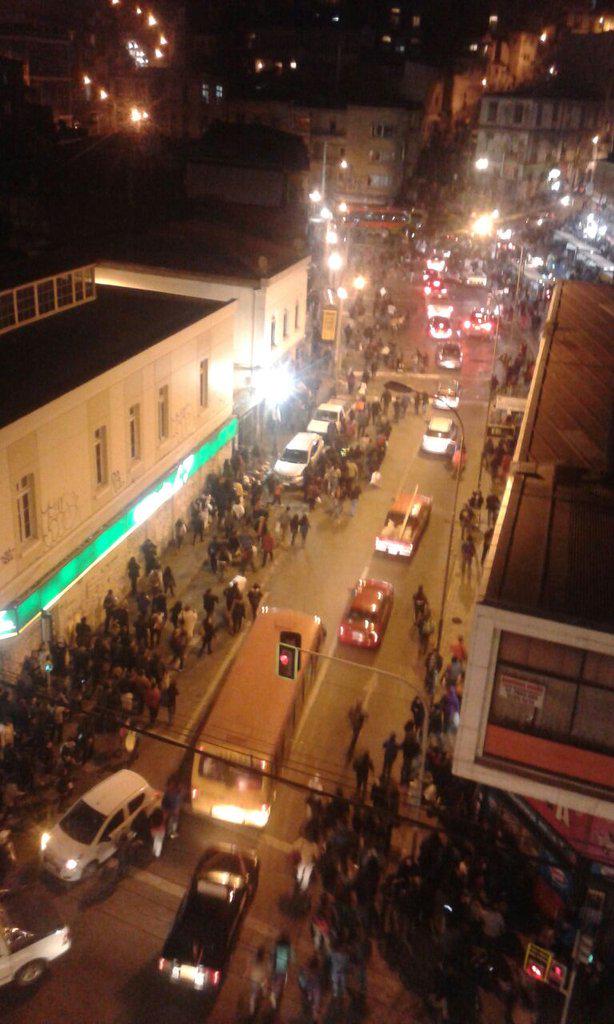 Chilean news anchor Hugo Chávez also tweeted this photo of Santiago airport being evacuated.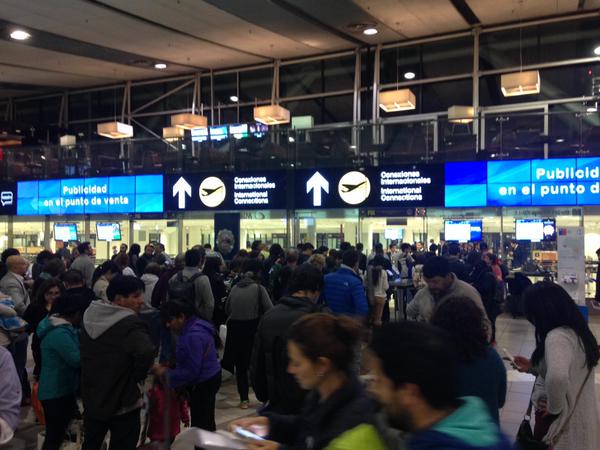 Hazardous Tsunami waves warning have issued for the Pacific island of Hawaii and coastal regions in parts of Peru and Chile.
A tsunami warning has been issued for the Pacific island of Hawaii following a magnitude 8.3 earthquake off the west coast of Chile.
Reuters report that tremors from the quake shook buildings in Chile's capital city Santiago.
There are no initial reports of injuries or damage, the news agency said.
Tsunami waves are also possible along the coasts of Chile and Peru, the Pacific Tsunami Warning Center said.
If tsunami waves reach Hawaii, experts have estimated the earliest arrival time to be 02:28 Hawaii Standard Time (12:28 GMT).
The US Geological Survey initially reported the quake at a preliminary magnitude of 7.9, but it was quickly upgraded.
Advertisement
Chile midfielder Arturo Vidal has issued a tearful apology after crashing his car following a night at a casino.
Read the full story ›
Juventus midfielder Arturo Vidal was detained by police in Santiago after he crashed his Ferrari.
Read the full story ›
Mexico and Chile cancelled each other out to share the points in the Copa America clash.
Former Manchester City striker Matias Vuoso netted twice, including a 66th minute equaliser, for Mexico with Raul Jimenez getting the other.
But neither team could ever boast of domination in the game as Arturo Vidal struck two for Chile either side of an Eduardo Vargas goal.
Chile's Calbuco volcano has erupted for the third time in eight days sending more plumes of thick smoke, black ash and hot rock into the air.
Chilean officials ordered a new evacuation of 2,500 people after the activity, mainly from the town of Ensenada.
Advertisement
The effects of a massive eruption in southern Chile have been felt far and wide, with ash even travelling across the country to Argentina.
Read the full story ›
Flights from Chile and Argentina have had to be cancelled after an ash cloud from volcano Calbuco in southern Chile erupted unexpectedly.
Read the full story ›
Around 4,000 people were evacuated after Volcano Calbuco erupted for the first time in five decades - creating dramatic scenes in the skies.
Read the full story ›
These stunning pictures show Chile's Calbuco volcano erupting for the first time in more than 42 years.
Authorities ordered the evacuation of 1,500 people as a huge ash cloud spread across the sparsley populated mountainous area.
The 6,500 ft Calbuco is considered one of the top three most potentially dangerous among Chile's 90 active volcanos but no hot rocks or lava have been seen this time.
Load more updates