Protests in Hong Kong will continue until China addresses citizens' calls for democracy, a former chief secretary in the Hong Kong government has told ITV News.
Asked what the consequences would be if the protests eventually failed, Anson Chan replied: "We are not anticipating failure. I think the people of Hong Kong will continue to fight for democracy.
"Never in my wildest dreams did I believe that Hong Kong police fully kitted out would fire at unarmed protests, many of whom are young people," she added.
Asked whether Beijing must also guarantee citizens in the former British colony the ability to vote freely, the Prime Minister said: "Universal suffrage doesn't just mean the act of voting, it means a proper choice."
Hong Kong was transferred to Chinese rule in 1997 under the promise of a "one country, two systems" formula with an eventual aim of free elections not enjoyed on the mainland.
However, protests erupted recently after China indicated it would vet candidates wishing to run for leadership in 2017.
Advertisement
ITV News China Correspondent Lucy Watson reports from Hong Kong: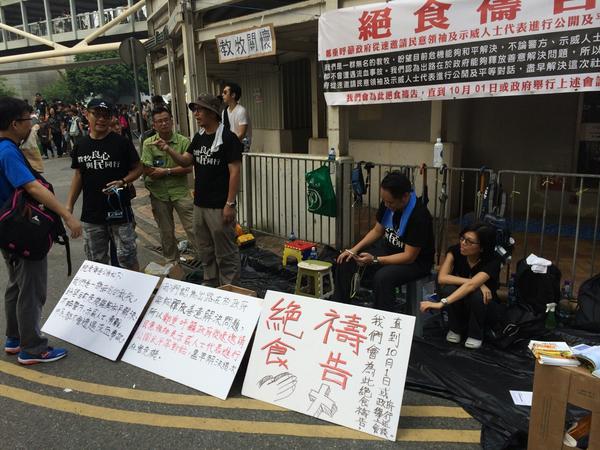 Messages of support for pro-democracy campaigners have been left on a bus in Hong Kong.
Demonstrations are showing no sign of subsiding, as protesters set up supply stations with water bottles, food and face masks.
It comes after Hong Kong's leader warned that China was not going to reconsider its decision to limit voting reforms.
ITV News China Correspondent Lucy Watson reports from Hong Kong: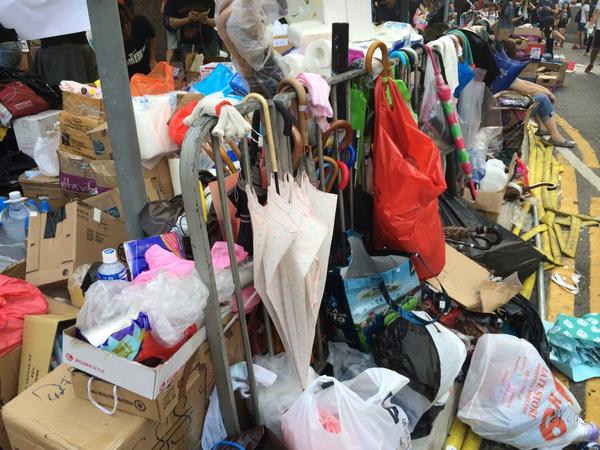 The 'black' uniform of democracy campaigners the day before China's 65th Anniversary of Communist Revolution. http://t.co/daTW2dg6Zi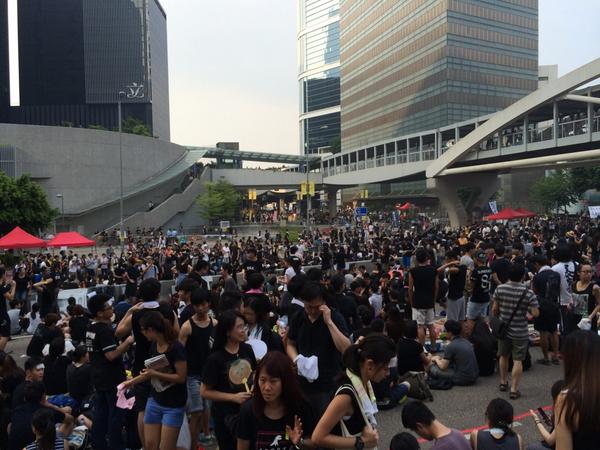 Hong Kong's leader has claimed China will not back down from its decision to limit voting reforms.
Beijing's decision to vet candidates for Hong Kong's leadership election in 2017 has sparked mass protests.
Thousands of activists have blocked streets as they demand full democracy and the resignation of the city's leader Leung Chun-ying.
"The central government will not rescind its decision," Chun-ying is quoted as saying.
Advertisement
David Cameron said he is "deeply concerned" about clashes in Hong Kong between riot police and pro-democracy protesters.
The Prime Minister told Sky News he felt a "deep obligation" to speak out about the situation in Hong Kong
Thousands of protesters have taken to the streets to voice their anger over China's refusal to give Hong Kong a free vote for its next leader with Beijing insisting candidates must be pre-approved.
China rules Hong Kong under the "one country, two systems formula", whereby the former British colony is guaranteed freedoms not enjoyed in mainland China.
"When we reached the agreement with China there were details of that agreement about the importance of giving the Hong Kong people a democratic future within this two systems approach that we were setting out with the Chinese so of course I am deeply concerned about what is happening and I hope this issue can be resolved," Mr Cameron said.
Tens of thousands of pro-democracy protesters extended a blockade of Hong Kong streets this morning, stockpiling supplies and erecting makeshift barricades ahead of what some fear may be a push by police to clear the roads before Chinese National Day.
Riot police shot pepper spray and tear gas at protesters at the weekend but withdrew on Monday to ease tension as the ranks of demonstrators swelled.
Protesters spent the night sleeping or holding vigil on normally busy roads in the global financial hub.
Throughout the night, rumours rippled through crowds of protesters that police were preparing to move in again.
As the sun rose many remained wary, especially on the eve of Wednesday's anniversary of the Communist Party's foundation of the People's Republic of China in 1949.
Tens of thousands of protesters in Hong Kong are defying demands from China's communist rulers to end occupation of the territory's big financial district.
It is early in the morning there now and the financial district is full of people, some of whom have been there for days. They are angry that, in the election of a new Hong Kong chief executive, they can only vote for candidates approved by the Chinese authorities.
Their protest has pushed down the Hong Kong stock market by almost two percent. China Correspondent Lucy Watson reports.
We should be paying more attention to the protests in Hong Kong, as they are against the threat of an undemocratic and growing global power.
Read the full story ›
Load more updates