She was going to the aid of a family member who got out of the car in the middle of the park and was dragged away by a different tiger.
Read the full story ›
Torrential rain and flooding has killed 87 people in China and forced tens of thousands from their homes, according to state media.
Read the full story ›
Advertisement
The UK and the EU will remain the "closest of allies" following the "divorce" between them, the president of the European Council has said.
Read the full story ›
Judges at an arbitration tribunal in The Hague have rejected China's claims to economic rights across large swathes of the South China Sea.
Read the full story ›
Animal rights activists say the polar bear is needlessly suffering in a Chinese shopping centre so visitors can simply take selfies.
Read the full story ›
China has become Africa's biggest trading partner - but amid accusations of exploitation, all is not well in this remarkable partnership.
Read the full story ›
Advertisement
At least 35 people including two children have died after a tour bus caught fire in central China, state media reported.
A further eleven passengers were hospitalised with injuries, four of whom are seriously hurt.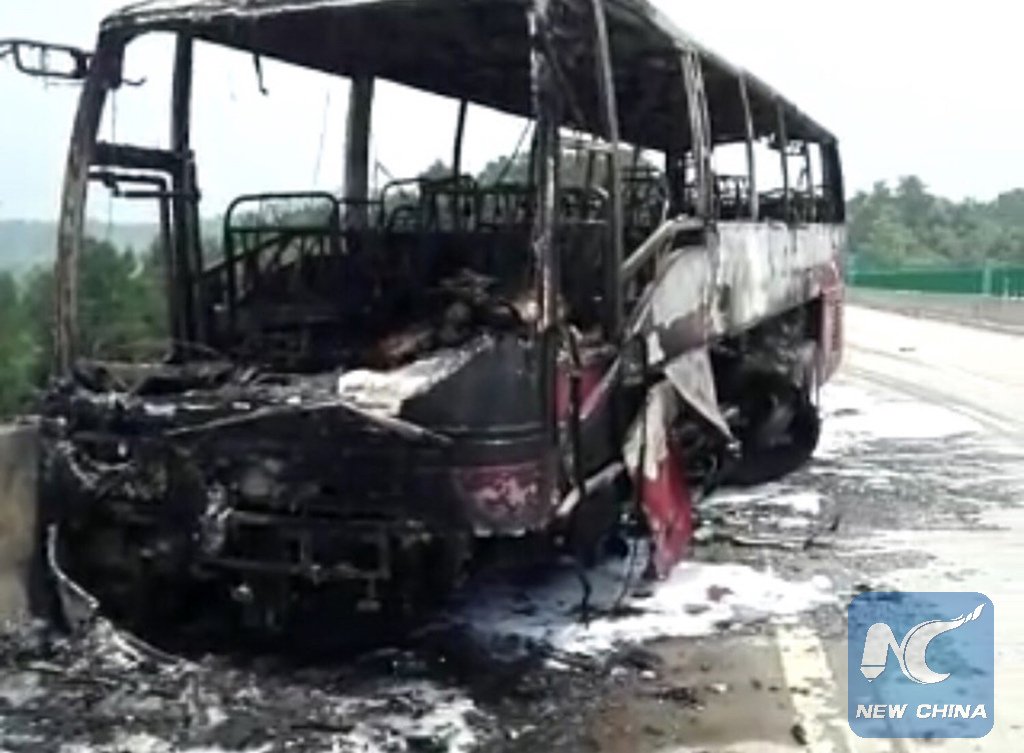 The bus had 55 people on board when it crashed into a guard rail and then set alight from an oil leak, Xinhua agency reported.
Police have detained the driver.
Chinese state media is reporting that dozens of people have died after a tornado and torrential rain struck Jiangsu province on Thursday afternoon.
It has been reported that 78 people have been killed, and around 500 people injured as storms battered the eastern coast of China.
It is believed that of those 500, around 200 people are seriously injured.
Many homes in Yangcheng city, which has taken the brunt of the storms, have been flattened.
Power and communications are down in some areas, and emergency supplies including a thousand tents have been sent to the scene, the civil affairs ministry said in a statement.
An annual dog meat festival has kicked off in China despite widespread condemnation from animal rights activists.
Read the full story ›
The President of the Shanxi Rural Credit Co-operatives branch has been suspended after a video of the 'punishment' was posted online.
Read the full story ›
Load more updates