The Duke of Cambridge today met youngsters at a school in Shanghai where premier league football coaches are working to promote the game among the students.
The Prince was shown around by Paul Hughes, a former coach at Reading, Millwall and Southampton football clubs, who is helping to coach the students under a British Council-run scheme called Premier Skills.
He went on to visit a Shanghai festival showcasing British design, ingenuity and technology before rounding off his day by meeting Paddington Bear at the Chinese premiere of the movie.
Twenty people have been killed and two are fighting for life in hospital after a passenger bus veered off a mountain road and tumbled down a cliff in China.
The bus, which had 33 members of an opera troupe on board, was travelling towards Linzhou city from Xinxiang city when it crashed off the highway late last night.
Eleven others needed hospital treatment for injuries suffered in the tragedy.
An investigation has been launched into the cause of the accident.
Advertisement
Prince William was on the receiving end of a double high-five today as one excited child came dashing across a football pitch to greet him during a Royal tour of a football training camp in China today.
The prince who was visiting a training camp in Shanghai, where schoolchildren learn football skills from coaches trained by England's Premier League, even stopped to kick a ball with the youngster following his enthusiastic greeting.
Relations between the Royal family and the Chinese have not always been friendly - but William's visit is helping build bridges.
Read the full story ›
Prince William has visited the Forbidden City in Beijing as he continues his tour of China.
The Duke of Cambridge is the first senior member of the royal family to visit the country since the Queen in 1986.
During his visit he will be taken on a tour of the landmark, which has been the imperial palace complex of Chinese emperors for centuries.
Prince William at the Forbidden City in Beijing. It's normally packed with tourists. Not today http://t.co/gdMJhEN9ba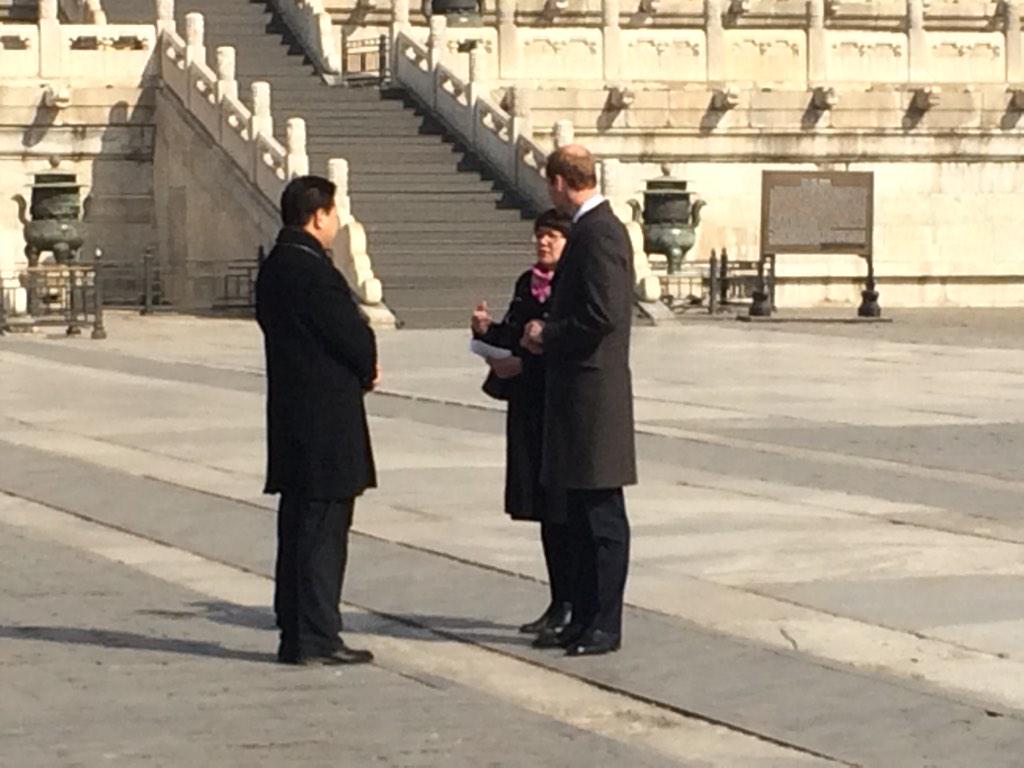 Prince William has arrived in China for a high-profile trip that will see him highlight the illegal wildlife trade, visit some of the nation's most famous sites and meet a rescued elephant.
William's flight landed in Beijing after he had spent the day in Japan hearing the harrowing stories of survivors of the 2011 tsunami.
The Duke's four-day trip to China is the highest profile visit by a member of the Royal Family since the Queen's 1986 state visit and will be viewed as an attempt to improve diplomatic relations with the country.
On Monday the Duke will tour Beijing's Forbidden City before flying to Shanghai where he will launch the three-day Great Festival of Creativity at the city's Long Museum.
William - who has campaigned strongly to end the illegal trade in ivory and other endangered animal products - will travel to Yunnan province on Wednesday where 250 wild Asian elephants still roam free.
He will give a speech at a regional wildlife and conservation conference after seeing rescued elephants and learning how local communities live alongside the large animals.
Advertisement
The Duke of Cambridge has heard the harrowing stories of Japanese tsunami survivors during a visit to communities devastated by the disaster.
William toured a coastal area that saw thousands killed and tens of thousands made homeless when the huge wage struck in 2011 after being triggered by an earthquake.
In the city of Ishinomaki he met Hiroyuki Takeuchi, the now-retired former chief reporter at the Ishinomaki daily newspaper which produced handwritten editions when the disaster struck.
The Duke was shown a muddy mark 8ft up an outside wall of a museum which showed how high the tsunami had reached in this part of the city.
Next he went upstairs to meet Shinichi and Ryoko Endo, who lost their three children, Hana, Kana and Kanta, all of them under 12. Mr Endo, a carpenter, has been closely involved in the work of reconstruction. They gave William a wooden charm against fire made out of tsunami rubble, including oak, as the national tree of Britain.
The Duke of Cambridge is now on his way to China after a three day trip to Japan.
Earlier Prince William visited a Japanese coastal city to learn how communities coped with the devastating 2011 tsunami.
William toured Ishinomaki where more than 3,000 died and around 22,000 lost their homes when the city was deluged by a 28ft wave.
Prince William showed off his juggling skills during his visit to Japan - and proved he was rather good.
The Duke of Cambridge was also pelted with plastic balls as he played with children at an adventure playground in Motomiya City, the smallest town in Fukushima.
Japan's Prime Minister Shinzo Abe accompanied the Prince on his visit.
Since the Fukushima nuclear disaster in March 2011 - the largest since Chernobyl - many towns which were evacuated remain empty.
But the Prince visited a charity called Smile Kids, which aims to make the air and water around Fukushima safe.
Prince William was greeted by screaming crowds eager to get a glimpse of him as he visited a bookshop on the third day of his Japanese tour.
Crowds held up pictures of William and Kate, while one woman showed off a painting of the royal couple and Prince George.
And even their dogs got into the British spirit.
Load more updates