Hazmat suits are in rapid production as China beefs up its defences amid fears it will pay a big price for £131bn business ties with Africa.
Read the full story ›
One driver's repeated clumsy attempts to reverse out of a parking space were captured on CCTV in China.
Read the full story ›
Advertisement
The superhero appeared to join pro-democracy protests in Hong Kong which have been going on for over a month.
Read the full story ›
This morning, calm has been been restored, and protesters remain on the streets. Talks between student protesters and the government are scheduled tomorrow and will be broadcast live. Student Woody Wong, one of those camped out overnight said:
I don't expect much from tomorrow's meeting, but I still hold some hope for the talks. I will keep doing this until the government listens to our voice.
– Woody Wong, 21-year-old student
More violent clashes erupted in Hong Kong overnight as pro-democracy protesters appeared increasingly willing to confront police.
The territory's 28,000-strong police force has struggled to contain a youth-led movement that has shown little sign of waning after three weeks of standoffs.
Demonstrators in the Mongkok district launched a fresh assault early on Sunday, putting on helmets and goggles before surging forward to grab a line of metal barricades.
Hundreds of police officers hit out at a wall of umbrellas that protesters used to fend off police pepper spray.
The clashes came hours after Hong Kong's pro-Beijing leader Leung Chun-ying said talks would be held on Tuesday and broadcast live on television.
Some runners in the 2014 Beijing marathon have been forced to give up the race due to serious air pollution in the city, the People's Daily, China has reported.
Some of the runners have given up in the 2014 Beijing Marathon due to the serious air pollution in Beijing. http://t.co/GoVpxcPcKH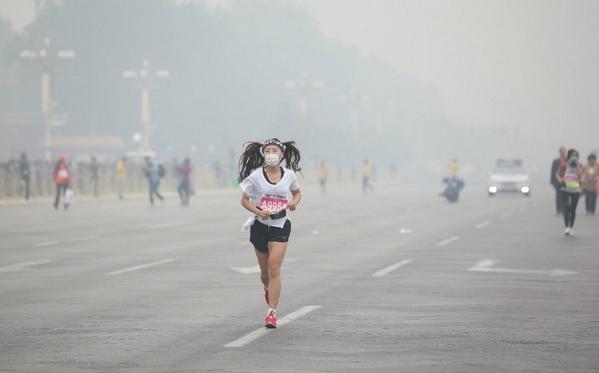 Advertisement
Pro-democracy activists in Hong Kong have retaken an area in Mong Kok following hours of clashes with police.
Police were forced to pull back after encountering thousands of protesters, who are angry at China's plans to screen candidates for elections in 2017.
Eighteen people were injured in the scuffles, with witnesses claiming that police used batons and pepper spray in a bid to defend the area.
The clashes come just hours after Hong Kong leader Leung Chun-ying offered talks with student leaders next week in an attempt to defuse the protests, which have raged on for three weeks.
The chief executive of Hong Kong, Leung Chun-ying has said he hopes talks between the government and student protesters calling for democratic change in the city can be held as early as next week.
He was speaking after more than two weeks of protests that have paralysed parts of the city.
The protesters are demanding free elections in 2017 and calling for Leung to step down, but Beijing insists on screening candidates first.
Video footage appears to show Hong Kong police officers taking a handcuffed pro-democracy protester into a dark corner before repeatedly kicking and beating him.
The man was one of a number of demonstrators knocked down by police armed around an underpass outside the government's headquarters in the early hours of this morning.
Hong Kong police arrested 45 pro-democracy protesters this morning amid violent scenes on a major road in the Asian financial centre.
Video footage shows police using pepper spray on protesters who refused to move and officers wrestling several demonstrators to the ground before taking them away.
Protesters have been demanding full democracy for the former British colony in the wake of restrictions placed by China on the city's next elections in 2017.
Load more updates