A train carrying what looks like coal has travelled from North Korea into China, if this is the case it would be breaching an embargo.
Read the full story ›
North Korea marked its annual celebration of its military today with live fire exercises.
With tensions continuing to mount over North Korea's nuclear weapons program there were questions over whether Kim Jung-un would carry out further nuclear tests.
A US Navy submarine, docked off South Korea, may or may not, have influenced that decision.
Advertisement
Ten people have died and four are missing after a bus veered off a highway and fell into a river in southern China.
Another five people needed hospital treatment after the 19-seat bus crashed off the road in Kaiyang county on Monday morning, reports the Xinhua News Agency.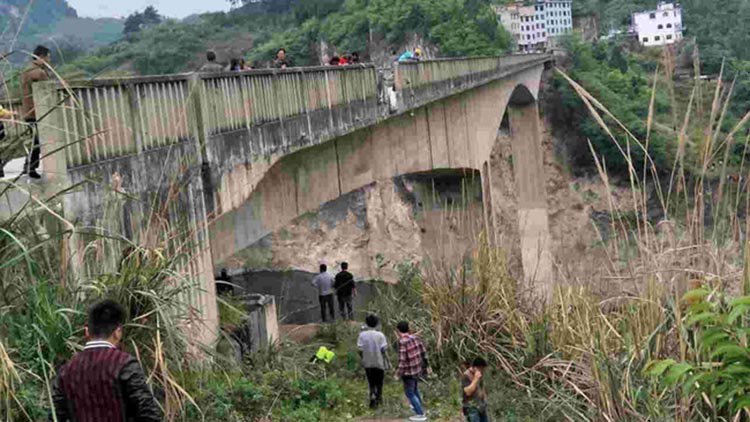 It is not clear how many were on board at the time of the accident or what the cause was.
Local authorities have confirmed they are investigating the circumstances of the crash.
Unlike other rental schemes, users can drop the bikes off anywhere they want - but not everyone is happy about this new booming business.
Read the full story ›
The Chinese Foreign Minister warned there would be 'no winners' if war broke out between the two nations.
Read the full story ›
The US leader warned he was "willing to solve the problem" of the rogue state alone as tensions in the region rise.
Read the full story ›
Advertisement
The US president, who lambasted China on the campaign trail last year, said he had developed an "outstanding" relationship with Xi Jinping.
Read the full story ›
Donald Trump has says the US will act alone to eliminate the nuclear threat from North Korea unless China puts more pressure on the regime.
Read the full story ›
The new system dispenses a two-foot section of toilet paper every nine minutes following a face scan.
Read the full story ›
US Secretary of State Rex Tillerson told the Chinese president Xi Jinping on Sunday that the US president looks forward to enhancing understanding with China, and the possibility of a visit in the future.
Xi said he was glad to see good progress from Tillerson's China meetings so far, and that he and Donald Trump expect a new stage of development in bilateral relations.
Tillerson and Xi met in Beijing's Great Hall of the People at the end of the Secretary of State's first visit to China.
Load more updates