Morrisons belatedly launches its online service. But all supermarket chains are facing greater competition in the delivery market.
Read the full story ›
As Morrisons online delivery gets going, Tesco tells me they have made a whopping 170 MILLION online deliveries since target started
Advertisement
Morrisons CEO Dalton Phillips has made the supermarket first online delivery in the Midlands.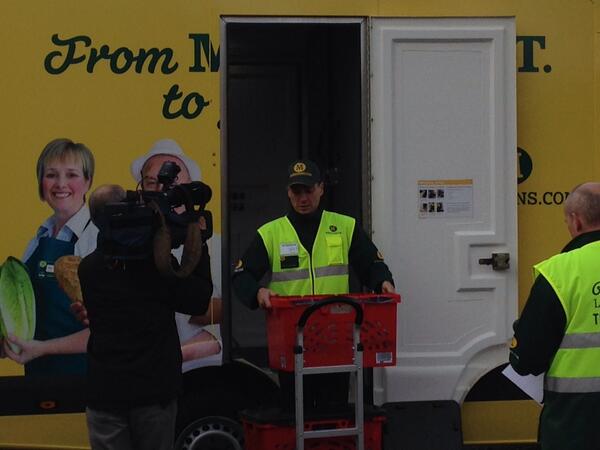 Online clothing sales accounted for 21.2% of sales in December - an increase of 3% from last year.
Furniture and flooring products bought online represented nearly a third of all sales.
Electrical goods and toys came in at 14.4%, a fall from November's 15.5%.
The drop in electrical goods sales was attributed to consumers searching early on the web for in-demand Christmas products to get hold of them before they went out of stock.
Online sales have become the "main driver for growth" in British retail, after Christmas sales figures showed how popular an option shopping on the internet has become.
David McCorquodale, head of retail at KMPG which is behind the figures, explained:
Whilst store sales continue to flatline, online sales remain the main driver of growth for the sector, contributing nearly three quarters of the uptick in non-food sales in the last quarter of 2013.

The winners this Christmas were those retailers with slick multichannel operations, who could offer consumers the flexibility to shop how, and when, they wanted to.
– David McCorquodale, KPMG
Advertisement
"One in five" non-food items bought this Christmas were purchased online, in what turned out to be a bumper year for festive internet sales, new figures have revealed.
Data from the British Retail Consortium (BRC) showed online trade represented 18.6% of total non-food sales in December, up from 16.5% the year before.
BRC director general Helen Dickinson said: "More of us clicked into Christmas than ever before, with online non-food sales growth putting in its best performance since March 2010 and accounting for nearly 20% of spending.
"The surge in the use of tablets and smartphones last year, together with the ever-faster delivery times achieved by an increasing number of retailers, has provided a new spur of growth to online shopping."
Compensation rates for households and businesses left without power over Christmas have been published by two energy firms.
Scottish and Southern Energy, which covers southern England, said:
Goodwill payments of £75 will be made to customers who lost power on Christmas Day, regardless of the length of the power cut
Anyone in their area who lost power for 48 hours or more would get £54, plus an extra £54 for every further 12 hours without electricity.
UK Power Networks, which covers south east England, said it would make:
Goodwill payments of £27 to £75 for customers who were without power for 48 to 60 hours including Christmas Day
Further payments will be made for each additional 12 hours without power up to a maximum of £432
Both firms will be writing to customers they believe will be eligible for compensation.
1,566 people spent part of Christmas Day submitting their tax returns online, HM Revenue and Customs has said.
It is a 1% rise on the numbers on the same day last year.
The peak time on Christmas Day was from midday to 1pm.
17,000 people managed to find time on Christmas Eve - a 19% increase on 2012.
But there was a 4% decline on Boxing Day, with 4,493 preferring to sort their finances out than spend more money at the sales.
A Santa Claus was reportedly told to stop entertaining children in an Essex town centre over fears they would be "traumatised" by the sight of two Father Christmases in the same high street.
The Friends of Concord Beach charity claim their chairman, Colin Letchford, was told to pack up by an official because of fears the arrival of Canvey Rotary Club's Santa sleigh could confuse and upset children.
In a letter to the Castle Point Echo newspaper, Barry and Dot Palmer, from Friends of Concord Beach - which aim to protect and maintain the sea water paddling pool in the town - described the incident as a "sad state of affairs".
"The biggest trauma was the one clearly visible on the faces of the children queuing to see Santa when the officials turned them away, coupled with the anger on the faces of their adults," they added.
Canvey Town council said they were looking into the incident which occurred on November 30.
Load more updates