The cockapoo was spotted in the Moray Firth at Cummingston, on the northeast coast of Scotland.
Read the full story ›
Emergency teams were dispatched to rescue more than 40 cadets "in difficulty" in the Mourne Mountains.
Read the full story ›
Advertisement
The car was driving 'at speed' before breaching the metal barriers and entering the water.
Read the full story ›
A rescue helicopter captures the moment five fishermen scramble onto the stern of their upturned vessel and are swept into the sea.
Read the full story ›
More than 200 people have been returned to shore after 87 sailing dinghies were hit by stormy weather in Strangford Lough, Northern Ireland.
The Bangor and Portaferry Coastguard Rescue Teams, the Portaferry and Newcastle RNLI lifeboats, the Irish Coast Guard helicopter along with the helicopter from RAF Valley were sent to the scene, along with PSNI and ambulance crews.
We have now been told by our rescue units on scene that everyone has safely returned to shore and that no one is missing. We believe 20 people ended up in the water after their boats capsized this afternoon, 10 of them requiring medical attention. The weather conditions on scene have been pretty treacherous, with winds gusting up to 60mph.
– Liam Colquhoun, Watch Manager at Belfast Coastguard.
Some 10 people were injured, with some of them showing signs of hypothermia.
Belfast Coastguard was contacted just before 2pm reporting that some of the boats had capsized, while others were struggling to cope in the strong winds and squally showers.
Advertisement
Newcastle RNLI has confirmed that all sailors caught in a squall in Strangford Lough have now been accounted for.
Everyone is accounted for and all units now stood down
Around 80 dingies in the water when the squall hit
97 people fell into the water
10 people were injured, most showing signs of hypothermia
6 people have been transported to hospital
(Source: South Eastern Health and Social Care Trust in Northern Ireland, Maritime and Coastguard Agency)
UTV report Judith Hill has just tweeted this image of Strangford Lough, adding that several ambulances have just left the scene.
A group of ambulances has just taken off with some casualties - rescue helicopter in the sky above lough http://t.co/zMKexpD3jU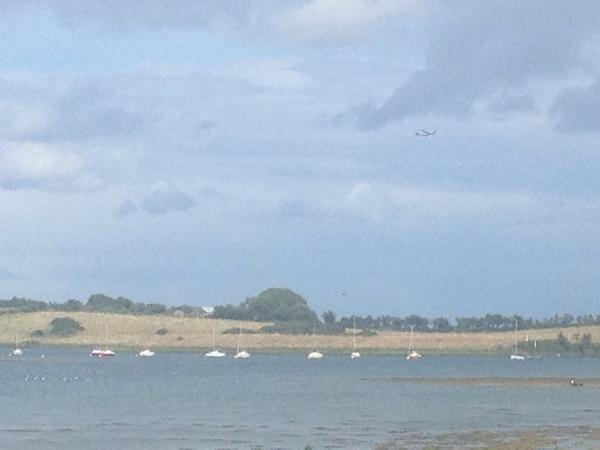 The South Eastern Health and Social Care Trust in Northern Ireland said that casualties were being brought to the Ulster Hospital (Dundonald).
A website tracking the movements of the Coastguard helicopter shows the part of the lough that is being targeted in the search and rescue operation.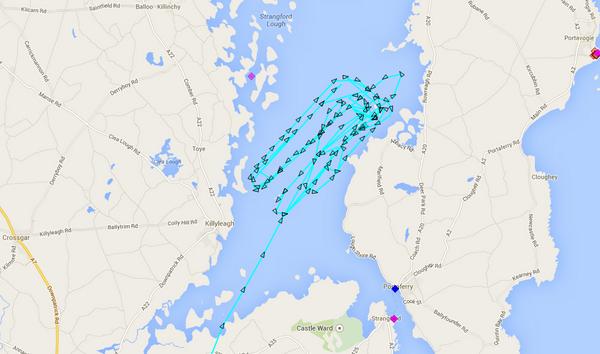 Load more updates