James Holmes has been found guilty of murder for opening fire inside a Colorado cinema during a Batman film in 2012, killing 12 people.
Read the full story ›
The jury has in the trial of James Holmes has reached a verdict after two days of deliberations.
27-year-old gunman Holmes has pleaded not guilty by reason of insanity.
He could face the death penalty if convicted of multiple counts of murder and attempted murder for opening fire inside a packed midnight premiere of a Batman film at a Denver area multiplex in July 2012, killing 12 people and wounding 70.
The verdict is expected to be delivered at 4.15pm local time (11.15pm UK time).
Advertisement
Colorado made roughly $2 million (£1.2 million) in taxes on marijuana in January, state revenue officials reported in the world's first accounting of the recreational pot business.
Colorado legalised pot in 2012, but commercial sale did not begin until January. Washington state sales begin in coming months.
The tax total reported by the state Department of Revenue indicates $14.02 million (£8.4 million) of recreational pot was sold from 59 businesses. The state collected roughly $2.01 million in taxes.
The Columbine High School in Colorado is on 'lock out' as police investigate a threat, a school district spokeswoman has said.
A 'Mile 420' sign in Colorado has been replaced to deter thieves who use the numbers as a code for marijuana or getting high.
Read the full story ›
A plane "exploded into flames" in a crash landing at Aspen airport, according to US actor and comedian Kevin Nealon, who witnessed the incident in Colorado.
Horrible plane crash here at Aspen airport. Exploded into flames as it was landing. I think it was a private jet.
Fire trucks and other emergency vehicles still at scene. No word on survivors or who was on jet but I can't imagine there are survivors.
Advertisement
A small plane has crashed at Aspen airport in the US state of Colorado, according to eyewitness and local media reports.
Various eyewitnesses, including the singer Leann Rimes, tweeted their shock from the scene of the reported crash while posting images of a plane on the snow-filled runway.
So sad! Horrible plane crash we just saw happen at the Aspen airport.
Seventeen-year-old Colorado student Claire Davis, who was shot in the head earlier this month by a gunman ather high school, has died at a hospital with her family at her side, the facility said in a statement.
Littleton Adventist Hospital posted on the facility's official Facebook page.
"Despite the best efforts of our physicians and nursing staff, and Claire's fighting spirit, her injuries were too severe and the most advanced medical treatments could not prevent this tragic loss of life,"
Ms Davis was the only person wounded by gunfire when Karl Pierson, an 18-year-old senior at Arapahoe High School in suburban Denver, entered the school on Dec. 13 and opened fire with a shotgun, police said.
She was shot in the face at point-blank range as she sat outside the library with a friend during in the 80-second rampage, police said.
Pierson committed suicide in the library as an armed deputy stationed at the school cornered him, police said.
"The Davis family would like to thank everyone who have sent their best wishes and prayers, and are grateful for the kindness and support of the community," the hospital statement said.
The teen gunman who shot himself dead after critically wounding a fellow student at their suburban Denver high school legally purchased the shotgun and ammunition he used in Friday's rampage at Arapahoe High School, according to Sheriff Grayson Robinson.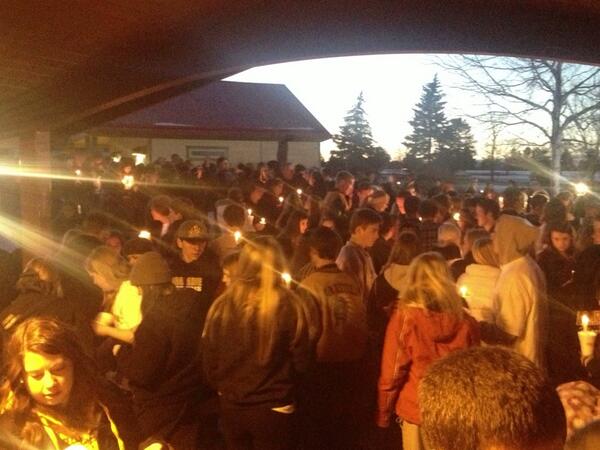 A vigil being held in Arapahoe for 18-year-old Claire Davis, who was critically injured in the school shooting.
The attack by Karl Pierson, 18, lasted less than a minute and a half, the sheriff said.
The gunman in yesterday's shooting at a Colorado school is believed to have acted in retaliation for disciplinary action against him by the debate club coach, according to Reuters.
Load more updates