Nicola Sturgeon would "pull the strings" in the event of a deal between her party and Labour, the chairman of the Conservatives has claimed as he unveiled the party's latest poster campaign.
The billboard depicts Sturgeon as a puppeteer and Miliband as a dummy, with the words "more taxes, more borrowing, more debt." underneath.
Speaking on the poster's launch, Grant Shapps said: "Labour are collapsing in Scotland. This means the only way that Ed Miliband might crawl through the gates of No10 now is if he's carried there by the SNP.
"Nicola Sturgeon would pull the strings and demand weaker defences, more spending and unaffordable welfare hand-outs. It would be a disaster for taxpayers."
Miliband has publicly rejected the suggestion of a deal with the SNP despite consistent overtures from the Scottish Nationalists, with Alex Salmond today putting renewed pressure on the Labour leader to consider a coalition.
David and Samantha Cameron - both wearing traditional dress - have joined Sikh celebrations at a festival in Gravesend, Kent.
Advertisement
The Conservatives are "increasingly panic-stricken" after underestimating Ed Miliband, the Labour leader's American election guru has claimed.
David Axelrod accused the Tories of being overconfident, saying the party's campaign had lost its energy and momentum.
He said personal attacks on the Labour leader had backfired and made the Tories look "desperate", specifically mentioning Defence Secretary Michael Fallon's comments in which he accused Mr Miliband of"stabbing his brother in the back" to gain leadership.
Mr Axelrod told the Guardian: "At the beginning it was 'Labour is profligate'. That did not work. Then it was a personal attack on Miliband and that did not work. The next attack was the £3,000 tax increase and then that proved not to be true.
"Now they have gone full circle and are making 11th-hour promises they have no way of funding since their budgets calls for the most extraordinary austerity."
Pensions campaigner Ros Altmann will become a government minister if the Conservatives are re-elected, David Cameron has announced.
The Prime Minister said Dr Altmann would be made a Tory peer and given responsibility for financial education and consumer protection.
Describing her as the "country's leading expert" on the issues, Mr Cameron said he wanted Dr Altmann "at the heart of government" helping give people "more power to save, to access their pension, to pass their pension on to their children".
"We've got millions more people saving for a pension because of auto-enrolment - having an automatic pension in your workplace - so there are many more people saving.

"There are also great new products like the flexible Isa, a real encouragement for savings with the single tier pension, and now at the heart of government, if we're elected, Ros Altmann - the country's leading pensions, savings, and financial education expert to make sure that we make the most of this great revolution in favour of savings and financial security for many in our country."
– David Cameron
Senior Conservative Michael Gove has ruled out a deal with Nigel Farage's Ukip party if the Tories fails to win an outright majority in the general election.
Speaking to the Daily Telegraph Mr Gove said: "I don't want to say anything disobliging about Nigel Farage or about people in Ukip, but I've got no appetite, interest or inclination towards doing a deal with anyone."
When pressed specifically on whether his party could make agreements with Ukip on a vote-by-vote basis, Mr Gove insisted: "No, no, no. There won't be. Firstly, I don't think there will be many Ukip MPs - if any - after the election...But we're not going into talks with them, no.
He added: "I'll be perfectly civil with any member of Parliament from any party after the next General Election and if they want to vote for Conservative policies, then great. But we're not going to get into bed with them, no."
One of the key issues in today's campaigning was the economy as unemployment figures hit a seven year low.
David Cameron hailed it a "jobs miracle", claiming his government had created more vacancies in the last five years than the rest of the EU combined.
But Labour hit back saying most of those jobs were only part-time.
ITV News Editor James Mates is travelling with David Cameron and the Conservative campaign.
Advertisement
David Cameron has launched the Welsh Conservative manifesto in Powys ahead of the general election in May.
During the event in Builth Wells, Mr Cameron asked the audience: "Where is it written that Wales must always vote Labour?"
ITV News Europe Editor James Mates is there: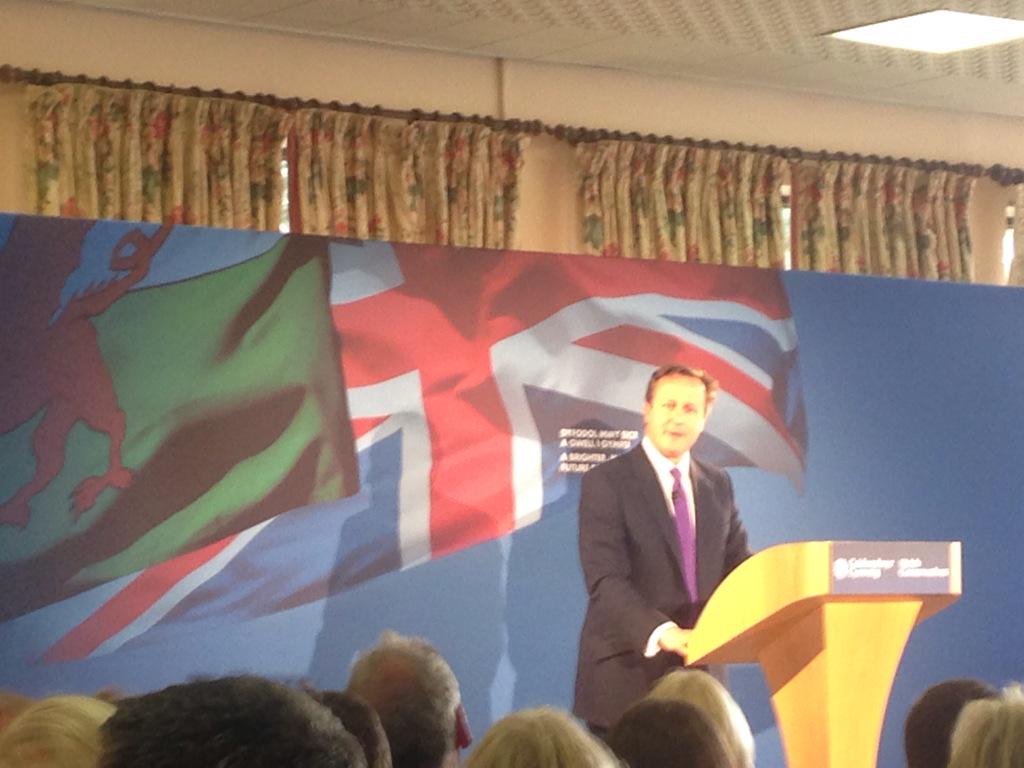 The PM also lambasted Labour's stewardship of the health service in Wales, contrasting it with his pledge to spend £8 billion a year more on the NHS in England by 2020.
The people of Wales already know more than most the damage that Labour can do. Cutting health spending and taking their eye off the ball over education. That is the way Labour treats the nation of Nye Bevan and Dylan Thomas.
– David Cameron
Ed Miliband has accused David Cameron of trying to "duck, weave and dive" his way back into power, claiming he was "gutless" for refusing to take part in a head-to-head showdown.
"I'm offering him a debate about leadership. I'm offering him a one-to-one debate about the future of the country," the Labour leader said.
"I have been saying week after week, anytime, anywhere, any place."
Miliband joked that he knew the real reason behind Cameron's absence at lat night's debate, saing, "I hear he was washing his hair".
Prime Minister David Cameron has welcomed figures showing employment is at a record high.
The Conservative leader warned that the progress would "all be put at risk" if Labour came to power after the election on May 7.
There are now two million more people in work than in 2010 - that's more families with the stability and security of a regular pay packet.

This is thanks to the hard work and the determination of the British people, and the Conservatives' strong leadership and clear economic plan.

It would all be put at risk with the chaos of a Miliband-SNP stitch-up, hiking borrowing, hurting the economy, and costing jobs - and it'll be hard-working taxpayers who'll pay.
– David Cameron, Conservative leader
David Cameron has claimed he was not invited to last night's televised leaders debate.
Asked by ITV News' James Mates why he had "ducked out" of the event, the Prime Minister said, "Last night was a 'challengers' debate'."
"It was the idea of the broadcasters to have a debate of the opposition parties, a debate to which Nick Clegg and I weren't invited," he continued.
Cameron was heavily criticised after he refused to sign up to the broadcasters' original plan of three debates.
Load more updates