The Plymouth Herald have tweeted this picture, reportedly of the scene of the serious coach crash in Cornwall that has left at least one dead.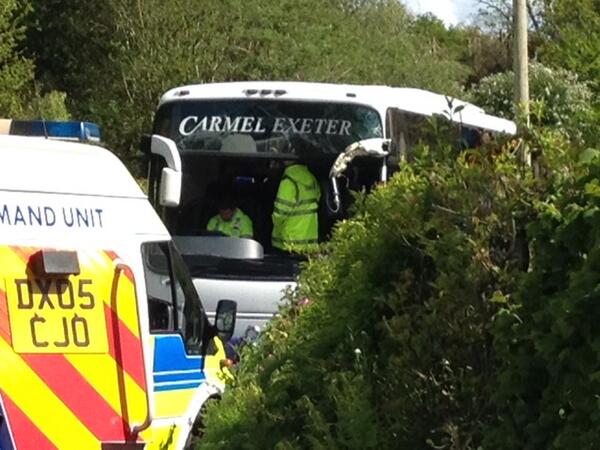 Advertisement
The Derriford Hospital in Plymouth has declared a major incident, according to its official Twitter feed.
We've called a major incident following the collision in Looe. Our major incident plan kicking in as it should.
The South West Ambulance Service is also attending the crash.
The Devon Air Ambulance has tweeted:
our 2 helicopters have taken patient each from major coach rtc this afternoon near #Looe to @derriford_hosp thoughts with all involved sb
Devon and Cornwall police have said that the coach crash in Looe, Cornwall which has left at least one dead and 40 injured, is "serious and on going".
Incident at Looe remains serious and on going. All emergency services on scene. Updates as soon as we get them.
A coach crash in Cornwall has left 54 casualties, with one dead, nine seriously injured and 40 walking wounded.
Two air ambulances, six ambulances, five rapid response vehicles, and a hazardous response vehicle are at the scene.
Advertisement
A coach has been involved in a serious crash in Looe, Cornwall, this afternoon, according to police.
It is not yet known how many passengers were onboard the vehicle or the amount of casualties, Devon and Cornwall Police said.
Emergency services were called to the scene at 1pm this afternoon after the coach hit a wall on the A387 at Morval.
A South American plant that is famous for ensnaring and killing sheep to feed off their carcasses has blossomed on a campsite in Cornwall.
The bristling puya chilensis plant, which is known for catching sheep in its native homeland in central Chile, flowers only every 15 to 20 years, the Royal Horticultural Society said.
Its sharp barbs are known for entangling sheep, which then starve to death. The plant is believed to then feed off the rich 'fertiliser' of the decomposing animals.
Ron Lyne, who discovered the bloom at his campsite, Henry's, at The Lizard, south Cornwall, said: "I planted it about 15 years ago so this is the first chance it's had to flower."
Campaigners on the Cornish peninsular are celebrating after the people of the region received official minority status for the first time.
Campaigners on the Cornish peninsular are celebrating after the people of the region received official minority status for the first time.
Many on the peninsular have long argued the region deserves special measures - including economic concessions, such as reductions in fuel duty - in recognition of its geographical location and cultural heritage.
Half a million people signed a petition and thousands marched through Cornwall and Westminster in opposition to 2012's controversial VAT rise on hot pasties - dubbed the "pasty tax".
Dick Cole, leader of Cornish independence party Mebyon Kernow, said: "The detail is still to come out on what this might mean, but make no mistake that this is a proud day for Cornwall."
Load more updates