Although Coronation Street actress Anne Kirkbride was best known for her role as Deirdre, she was 17 when she landed her first profesional acting part.
ITV Granada correspondent Amy Welch takes a look back at Anne's career and how it all started in her home town of Oldham.
Her character was so woven into the national fabric, Tony Blair affectionately ordered his Home Secretary to investigate the case of the 'Wetherfield One.'
For 44 years, Anne Kirkbride portrayed the turbulent life and times of Deirdre Barlow in Coronation Street.
William Roache - her on-screen husband Ken Barlow - spoke movingly to ITV News reporter Damon Green, of a friend and colleague who was "always loving, always happy".
Advertisement
Former Coronation Street star Johnny Briggs paid tribute to "incredible" Anne Kirkbride.
Johnny - who starred as Mike Barlow, her lover and rival to her screen husband Ken Barlow - said, "everybody loved her."
She loved everyone and everybody loved her, that's the tribute I pay to her.

I've never heard anybody say a bad word about her and she has my admiration for that because, you know, when you're living in the limelight all the time it's difficult.

I hope there is (some kind of special tribute show), she certainly deserves it.

I think I will remember her by her glasses. You know her reading glasses? She wouldn't ever take them off.
– Johnny Briggs
Actress Julie Goodyear - Coronation Street's former pub landlady Bet Lynch - has paid a moving tribute to "amazing" actress and "firm friend" Anne Kirkbride.
Goodyear was already a regular on the cobbles whenKirkbride, then 18, joined as Deirdre in 1972.
Anne Kirkbride was one of the nicest and most professional actors I ever worked with during my time on Coronation Street. I was already in Coronation Street when Anne came into the Green Room - she was 18-years-old.

I gave her a hug and made her a coffee and showed her around.

I remember saying to her - 'We'll have to think of something special for your 21st birthday Anne'. She replied 'Oh, I won't be here then' - I said 'I'm sure you will' and of course she was. We became firm friends from that day onwards.
– Julie Goodyear
Goodyear, who bowed out of her beehive-wearing role in 1995, said: "She had a wonderful gift of a completely photographic memory. She could read an entire script just once and be word perfect. I'd never seen that before or since. Amazing."
She went on to send her thoughts to Anne's husband and family, saying: "To Dave and all Anne's family and friends, I would just like to say all my love, thoughts and prayers are with you at this time, and to Anne 'Angels guard you. Rest in peace'."
Kieran Roberts, ITV's Creative Director of Drama gives us his favourite 'Deirdre' storylines and moments
Read the full story ›
As a family we are still struggling to come to terms with the loss of my beautiful sister, Annie. She was the sort of person who brought light and laughter to everything she did, and she brought magic with her into the world.

She was without doubt the most kind, generous and loving person I have ever known, and her death has left an empty space in our lives that will be very hard to fill.

I'd like to thank everyone who has paid tribute to Annie in the press and on social media - it gave us a lot of comfort and made us feel very proud of her.

Annie was much loved by us all and was a big part of our lives, and she will be missed very much.
– John Kirkbride, Annie's brother
Advertisement
The Manchester Evening News have released a tribute issue of the 'Weatherfield Gazette' in honour of Coronation Street star Anne Kirkbride, who died yesterday.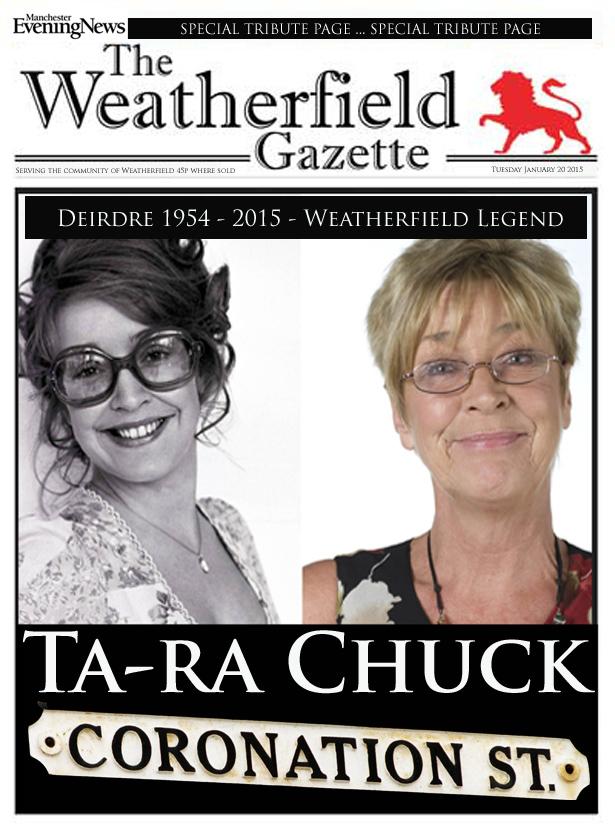 One of Coronation Street's longest-serving cast members has paid tribute to her "dear friend" Anne Kirkbride, describing her as "fun" and "a little bit eccentric".
Sue Nicholls, who plays Audrey Roberts, said while many people would miss Deirdre's presence in the show, it was the woman behind the character that she would miss most.
She added that one of the things she would miss most were her "jokey" nature, and small things such as running into Anne while out shopping.
Annie and I used to meet quite a lot, quite by chance, in the shops around Manchester.

We seemed to go to the same shops and it was always a joy to see her, and we would stand and chat for a bit.

So without being too trivial, I shall miss that. I shall miss that I won't ever see her then. But she will be in my heart and my head.
– Sue Nichols (Audrey Roberts)
A tearful William Roache has told how the cast and crew of Coronation Street are in mourning after the sudden death of his on-screen wife.
Speaking to ITV News, Mr Roache described Anne Kirkbride, who played Deirdre Barlow for 44 years, as a "truly beautiful person".
Speaking from the set of the show, he praised her for being a "superb all-rounder" as an actress, with "impeccable" comedy timing.
Meanwhile, creative director Kieran Roberts said his favourite of Deirdre's numerous headline-grabbing storylines was her 1998 wrongful jailing, which sparked a nationwide campaign to get the fictional conviction overturned.
Load more updates