India's Board of Control for Cricket will begin legal proceedings against the West Indies following the cancellation of the latter's tour
Read the full story ›
The West Indies have cancelled the remainder of their tour of India due to an ongoing dispute over player payments.
The Board of Control for Cricket in India has announced the news while the fourth of a scheduled five one-day internationals was ongoing in Dharamsala.
The fifth, in Kolkata on Monday, and the Twenty20 international and three Tests following have all been cancelled.
A BCCI statement read: "The West Indies Cricket Board (WICB) has informed the BCCI of its decision to cancel the rest of its ongoing tour to India because of a dispute with its players, and has advised the BCCI that its players will return home immediately."
Trouble had seemed imminent at the televised pre-match coin toss when Windies captain Dwayne Bravo, with his full team standing in the background, told broadcaster Ian Bishop: "Time to make a decision."
The team have been in dispute with the West Indies Players Association (WIPA) over sponsorship payments that would be reallocated to fund the wider professional game in the islands.
Advertisement
Former England all-rounder Andrew Flintoff will continue his cricket revival after agreeing to play for Brisbane Heat in Australia's Big Bash T20 competition.
The 36 year-old made a surprise comeback for Lancashire in the summer, and featured in the T20 Blast Final. There was almost a dream ending as he starred with two big sixes and a wicket with his first delivery, but Warwickshire eventually edged the contest.
According the Daily Telegraph, Flintoff has been in discussions with Brisbane Heat, coached by former Lancashire team-mate, Stuart Law, and will join Kevin Pietersen in the Big Bash, which begins in December.
Pietersen, who released his controversial autobiography last week, will play for Melbourne Stars.
David Collier has dismissed Kevin Pietersen's recent allegations of bullying in the England cricket set-up
Read the full story ›
Geoffrey Boycott has launched a stinging attack on the England and Wales Cricket Board (ECB) over the leaked document which portrayed Kevin Pietersen as a troublemaker in the England dressing room.
In his Daily Telegraph column, the former England batsman labelled some of the accusations "so trivial it beggars belief" and said that whoever leaked the document should lose their job.
"Kevin is a sinner but he has been sinned against by the ECB," Boycott said.
"For me, it reached its lowest point on Tuesday when a 'strictly confidential' ECB document was leaked to the media. The points it contained were pathetic and it was a crass idea to put together such a report to try to trash Kevin. It stinks.
"Whoever dreamt that up is not fit to lead English cricket. Kevin has been a fantastic batsman for England. He thrilled millions and helped win matches for the England team that enabled some people at the ECB to bask in reflected glory."
Pietersen called the document "a joke" earlier in the week.
Kevin Pietersen says he would play for the national side again but only if England and Wales Cricket Board chairman Giles Clarke left his role.
Pietersen was sacked by the ECB eight months ago and has caused controversy with his recent autobiography by saying there was a bullying culture in the England dressing room.
"What would have to happen for me to be recalled by England? Clearly, the boss would have to go," Pietersen told the Evening Standard.
"Clarke would have to go, and I've been hearing that could happen in the next few months.
"That's all hearsay, you never know. If there is a change at the top, there is potential, but we will wait and see."
Advertisement
Popular radio broadcaster Jonathan Agnew has quit Twitter after a row with Kevin Pietersen's pop star wife Jessica Taylor
Read the full story ›
Former England captain Kevin Pietersen has hit out at the England and Wales Cricket Board and Andy Flower.
Read the full story ›
Surrey have cancelled Kevin Pietersen's contract leaving the ECB unable to take disciplinary action against him ahead of new book release
Read the full story ›
Alastair Cook will captain England on their seven-match one-day international tour of Sri Lanka this winter.
Cook's position as ODI captain has been under scrutiny recently, with critics citing his mediocre batting strike-rate as a major concern.
But England's selectors have kept faith, naming him to lead a 16-man squad for the tour of Sri Lanka in November and December. Cook now looks certain to lead England in the World Cup in Australia and New Zealand early next year.
Eng squad: Cook Ali Anderson Bell Bopara Buttler Finn Gurney Hales Jordan Morgan Root Stokes Taylor Tredwell Woakes http://t.co/q2VojoQHFH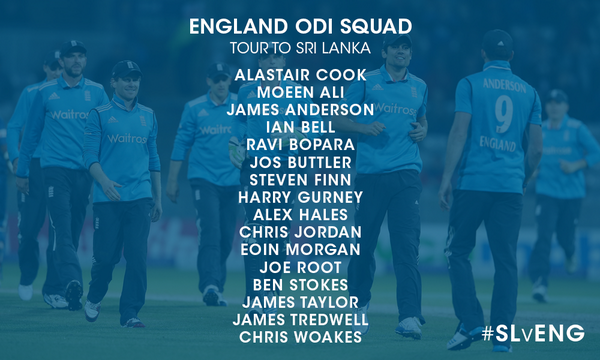 Load more updates