Alastair Cook will captain England on their seven-match one-day international tour of Sri Lanka this winter.
Cook's position as ODI captain has been under scrutiny recently, with critics citing his mediocre batting strike-rate as a major concern.
But England's selectors have kept faith, naming him to lead a 16-man squad for the tour of Sri Lanka in November and December. Cook now looks certain to lead England in the World Cup in Australia and New Zealand early next year.
Eng squad: Cook Ali Anderson Bell Bopara Buttler Finn Gurney Hales Jordan Morgan Root Stokes Taylor Tredwell Woakes http://t.co/q2VojoQHFH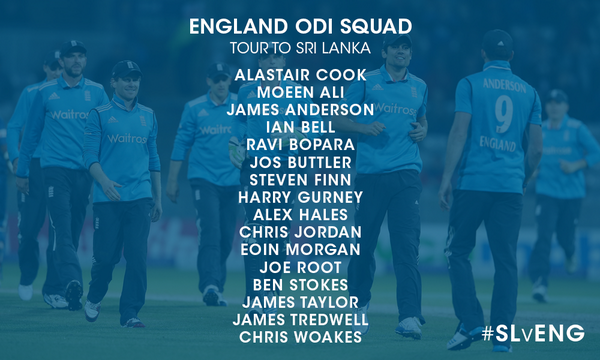 The Vatican's first-ever cricket side has received a private audience with the Pope before they begin a tour of England later this week
Read the full story ›
Advertisement
England thrashed India by an innings and 244 runs in the fifth Test at The Oval to wrap up a 3-1 series win in style.
Chris Jordan took four wickets as England dismissed the hapless tourists for 94 in their second innings, after Joe Root had hit an unbeaten 149 earlier in the day.
England bowler Stuart Broad claimed the wicket of India batsman Cheteshwar Pujara today despite playing with two black eyes.
He had been pictured in a team photograph yesterday with heavy bruising and bandaging on his nose.
Broad sustained the injury after being hit by the ball in the previous test at Old Trafford.
England batsman Moeen Ali is being investigated by the International Cricket Council (ICC) for wearing wristbands featuring the slogans "Free Palestine" and "Save Gaza" during the test match against India.
Moeen, who has raised funds for charities helping those affected by the three-week conflict with Israel, wore the bands during the second day of the third test.
But the off-spin bowler who plays county cricket for Warwickshire has the backing of the of the England and Wales Cricket Board (ECB).
A spokesman said: "As far as we are concerned, he has not committed any offence. It is now up to the ICC to decide whether he will face any action."
The ICC Code of Conduct states: "Players are not permitted to wear, display or otherwise convey messages through arm bands or any other items affixed to clothing or equipment unless approved in advance by the player or team official's Board."
England cricket captain Alastair Cook has resisted calls for him to resign, insisting he is "desperate" to turn around the team's fortunes after a string of poor results.
Speaking after defeat in the second test against India, Cook told Sky Sports 2: "It gets harder and harder the more we don't win and of course that heaps on you at the end of the day.
"Until that bloke taps me on the shoulder and says 'we don't want you to captain' I'm desperate to try to turn this around for England."
Advertisement
David Collier is to leave the role of chief executive of the England and Wales Cricket Board.
The 59-year-old has been in the post since October 2004, with the England team enjoying much success under his stewardship.
As well as three Ashes victories - including the first series triumph on Australian soil for almost 20 years in 2011 - England rose to the top of the International Cricket Council's world Test rankings and secured a first global limited-overs trophy at the 2010 World Twenty20.
He also controversially played a key role in the sale of television rights to a subscription-only broadcaster.
Disgraced former New Zealand cricketer Lou Vincent has admitted match-fixing and says he is prepared to accept any punishment he receives.
The 35-year-old was charged by the ECB last month after allegations of his involvement in the spot-fixing of dozens of matches.
"My name is Lou Vincent and I am a cheat," the former top-order batsman said in a statement today.
"I have abused my position as a professional sportsman on a number of occasions by choosing to accept money through fixing.
"I have lived with this dark secret for many years. I have shamed my country. I have shamed my sport. I lost faith in myself and the game. I abused the game I love. "Laying bare the things I have done wrong is the only way I can find to begin to put things right."
Vincent is expected to receive a life ban from the sport.
Two former Sussex county cricketers have been charged with match fixing by the England and Wales Cricket Board (ECB).
Lou Vincent is charged with 14 offences relating to two county matches in August 2011 - a Twenty20 match and a 40 over game - while Naveed Arif is charged with six offences relating to a 40-over game in the same month.
Both were charged under the ECB's Anti-Corruption Code and have been suspended from all activities related to the sport.
Peter Moores, the reappointed coach of the England cricket team, has clarified his pivotal disagreement with batsman Kevin Pietersen, saying "I never fell out with Kevin, Kevin fell out with me".
Mr Moores stood down as coach in late 2012 after a very public falling out with Mr Pietersen, who had become a controversial member of the England team.
Mr Moores fills the role vacated by Andy Flower in January, who coached England through a 5-0 series Ashes whitewash loss in Australia over Christmas.
Load more updates