Man City are preparing a world record bid for ex-Man United ace Cristiano Ronaldo if he decides to leave Real Madrid in the summer
Read the full story ›
Former Manchester United star Paddy Crerand has moved to shoot down what he regards as the biggest myth about Cristiano Ronaldo
Read the full story ›
Advertisement
Cristiano Ronaldo has received a two match ban from the Spanish FA after lashing out at Cordoba defender Edimar.
The Ballon d'Or winner appeared to kick out at the Brazilian with seven minutes remaining of last weekend's La Liga encounter.
He misses Madrid's upcoming encounters with Sociedad and Sevilla, but will be available to feature against Atletico Madrid on February 7th.
Ronaldo would have received a three match ban and missed the match at Vicente Calderon if the authorities had deemed his actions worthy of violent conduct.
Cristiano Ronaldo took to Twitter to apologise for his sending off in Real Madrid's 2-1 victory over Cordoba.
The Portuguese forward was dismissed after kicking out at opposition defender Edimar.
"I apologise to everyone and especially to Edimar for my thoughtless act in today's game," Ronaldo tweeted following the match.
Pido disculpas a todos y especialmente a Edimar por mi acto irreflexivo en el partido de hoy.
Cristiano Ronaldo was sent off for lashing out but Gareth Bale scored a late penalty to give a ragged Real Madrid side all three points from a 2-1 win at Cordoba.
The European champions fell behind to a penalty scored by Nabil Ghilas in only the second minute of the game but Karim Benzema leveled later on in the first half.
Cordoba had a number of chances to retake the lead in the second half but wasted them all, and Bale snatched the winner from 12 yards in the 88th minute after his free-kick was handled by Fede Cartabia, who was also sent off.
Ronaldo could have seen red minutes before he was dismissed for punching defender Ivan Crespo but the incident went unnoticed by Hernandez. However, the referee was in no doubt the next time Ronaldo was involved in an altercation and brandished a straight red card at the Portuguese for kicking out at Cordoba defender Edimar.
Advertisement
He's already the popular choice as the world's best player, but Cristiano Ronaldo has revealed that he's working hard to improve three areas of his game.
The Real Madrid superstar believes he has "not had a great deal of success" recently with his left foot, acceleration and direct free-kicks.
Speaking to France Football magazine, the 29 year-old said:
I'm currently trying to improve my left foot, my acceleration and my direct free-kicks. I've not had a great deal of success recently with them. I know that it will come back. It's just a question of having enough humility to know that without training hard, things won't progress. Working on my game is my guide.

I'm sure that the competition between us [himself and Messi] is a motivating factor for him too. It's good for me, for him and for other players who are keen to grow. Messi has four Ballon d`Or awards, I have three. This is all good for the world of football.
– Cristiano Ronaldo speaking to France Football magazine
Cristiano Ronaldo has confirmed his split with Russian model Irina Shayk with rumours he is now dating Real Madrid TV journalist Lucia Villalon.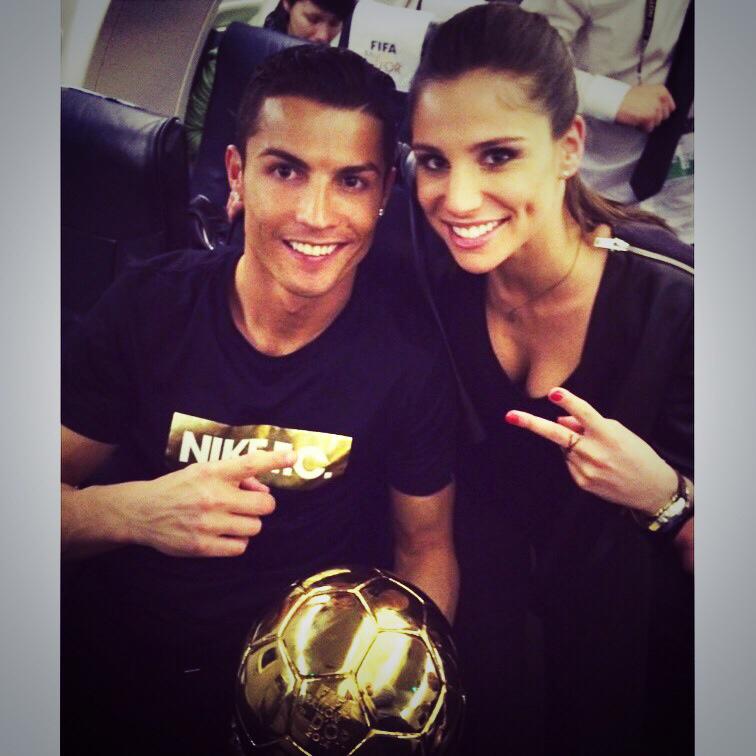 "After dating for five years, my relationship with Irina Shayk has come to an end," Ronaldo told the Associated Press. "We believed it would be best for both of us to take this step now."
He also wished his former lover Shayk "the greatest happiness" in the future.
Real Madrid TV journalist Villalon, 22, posted the selfie above with Ronaldo after last week's Ballon d'Or ceremony in Zurich, where the Portuguese forward celebrated his third world player of the year award.
Check out Mario Balotelli's impression of Cristiano Ronaldo. The Liverpool striker impersonates the Real Madrid star's reaction to winning the Ballon d'Or last week.
Sorry, this content isn't available on your device.
Real Madrid and Portugal star Cristiano Ronaldo has won the prestigious Ballon d'Or award for the third time.
He finished ahead of Barcelona's Lionel Messi and Bayern Munich goalkeeper Manuel Neuer.
Speaking after he was presented with the award, Ronaldo said: "I never thought that I would bring this trophy back home on three occasions.
"I want to become one of the greatest players of all time."
Load more updates