A father and two of his children have been killed after their car crashed into a lorry in Croatia. 37-year-old Erion Isufi, 15-year-old Richard Isufi and Ramela, who was 14 died near the village of Slano.
They were on their way to Dubrovnik when it's thought Erion lost control of their car. His wife Meri and youngest son, 9-year-old Clive were seriously injured.
The identities of three members of a UK family of five killed in a car crash in Croatia are not yet known but the British Embassy has been informed of the incident.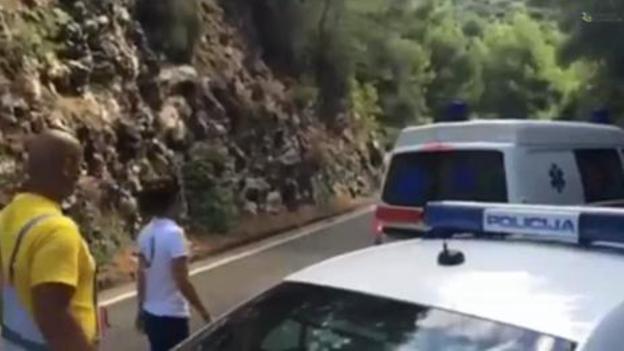 The family were travelling in a car with British number plates, indicating they had driven to the region from the UK.
The road where the crash took is a key route for tourists travelling to Dubrovnik and remains closed as police carry on the clean-up operation, a spokeswoman told Central European News.
Advertisement
Three members of a British family have been killed after a head on collision with a truck in south Croatia.
The incident, which happened on the Adriatic coast road on the way to popular tourist destination Dubrovnik, left two children and their father dead while the man's wife and another child are critically injured.
Both the woman and the child are in intensive care with doctors saying that the mother has the more serious injuries of the two.
The car the family were travelling in struck a concrete verge on the side of the road and veered into the path of a truck coming in the opposite direction, according to reports.
A spokesman for the Foreign Office said: "We are aware of an incident in Dubrovnik and we are in touch with the local authorities. We stand ready to provide consulate assistance".
A farmer from Croatia thought he was seeing double when his goat Sarka gave birth to an eight-legged baby, nicknamed 'octogoat'.
Vets believe the newborn's condition is the result of an under-developed twin sibling because it has both male and female reproductive organs.
Vets have said it is highly unlikely the goat will survive but if it lives past the first week, it may go on to live for two or three years.
Croatia defender Josip Simunic will miss the World Cup after being banned for 10 matches by FIFA for shouting a fascist chant following his team's play-off victory over Iceland last month.
Mr Simunic shouted a Croatian chant that was used during World War II by the fascist "Ustaše" movement.
He has also been ordered to pay a fine of 30,000 Swiss francs (£20,700) and banned from entering the stadium during for any of the country's matches.
"The committee agreed that this salute was discriminatory and offended the dignity of a group of persons concerning, inter alia, race, religion or origin," a FIFA statement said.
Croatia Football Federation executive chairman Damir Vrbanovic suggested Mr Simunic was being made an example of in order to send a message to others.
"We are shocked by the decision of FIFA with regard to penalties for Simunic, which endangers the player's representative career," he said
Croatia has become the 28th member of the European Union as midnight struck in continental Europe.
Revellers have been celebrating in Zagreb's central Ban Jelacic square, where EU flags flew from a stage.
The country of 4.4 million people is only the second of the seven states carved from federal Yugoslavia to enter the EU, following Slovenia in 2004.
Advertisement
Manchester City and Sweden striker John Guidetti has tweeted following news of the death of Croatian goalkeeper, Ivan Turina.
West Brom Albion and Sweden midfielder Markus Rosenberg has tweeted following news of the death of Croatian goalkeeper, Ivan Turina.
Croatian goalkeeper Ivan Turina, who was found dead in his apartment in Stockholm today, played for several clubs across Europe.
He began his career at Dinamo Zagreb in 1998 as a youth team player before gradually making his way into the first team.
He made over 70 appearances for the club and had various loan spells at other teams around Europe.
Turina, who was 32, won his only international cap for his country in a friendly match against Hong Kong in 2006.
He appeared for Dinamo Zagreb in a UEFA Champions League third round qualifying match against Arsenal at the Emirates Stadium later on that year.
Turina's current club, Swedish side AIK, confirmed his death in a statement.
Load more updates