Sam Allardyce has praised the contribution Andros Townsend has made towards Crystal Palace's revival and the way he has proved he can play alongside Wilfried Zaha.
The winger, 25, was instrumental in the way they recovered from two down in Saturday's 2-2 home draw with Leicester, using impressive speed and footwork to create Christian Benteke's equalising goal.
He has rediscovered the belief with which he excelled at Newcastle last season and which has been absent at Palace until the recent improvement that has taken them to the brink of survival, and Allardyce believes his influence cannot be overlooked.
Earlier in the season Allardyce's predecessor Alan Pardew omitted Townsend from his starting XI after the winger, having struggled on the left, asked to play in Zaha's favoured position on the right.
Under Allardyce he is again settled, playing largely on the left, and finally justifying the £13million they paid to recruit him and the faith placed in him when Yannick Bolasie was sold to Everton, leaving Allardyce to highlight the change in his game.
He's changed his attitude, to believing in himself and performing to his very, very best.

When he's in possession, he's starting to run at defenders, he wants to run at full-backs every time he gets the ball; he believes he can beat them inside, outside, and (against Leicester) he made a very important cross for the second goal.

It's all rubbish, that (the debate over his favoured wing). Why bother? If you want to come and play on the left, play on the left. If you want to come and play on the right, play on the right.

Go and do what you want: you can play down the left and the right. With the confidence he's in: a wide man should not be saying 'I can only play on this side'.

I'll play you where I want you to go and play your best. Why say 'I can only play this position'? 'If I play two positions, gaffer, that's two chances you've got to play me'.

And what does a player want to do? Play. So if you've got two positions to play in you've got a better chance of getting selected.
– Sam Allardyce
Crystal Palace came from two goals down to secure a draw with Leicester and take another step towards Premier League survival.
Read the full story ›
Advertisement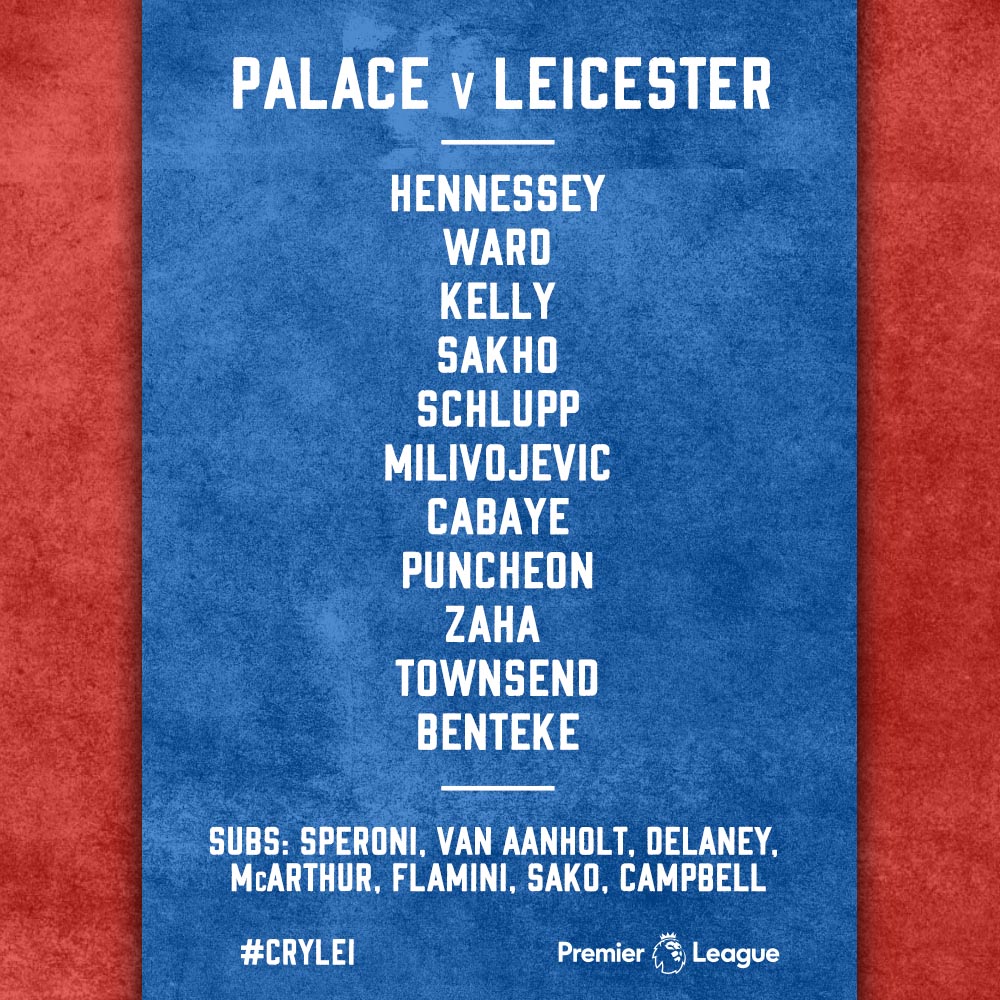 Today's starting XI: Schmeichel (c), Simpson, Benalouane, Huth, Fuchs, Mahrez, Ndidi, King, Albrighton, Ulloa, Vard… https://t.co/Xy7jB3Q9rS
Arsene Wenger has vowed to put things right at Arsenal but said talk over his future was "inconvenient" after their loss to Crystal Palace.
Read the full story ›
Crystal Palace manager Sam Allardyce believes striker Christian Benteke can be the "big catalyst" for their Premier League survival bid.
He has been frustrated, he hasn't been able to score but now he's put that right, the more he puts into the back of the net, the better for us.

He's got 13 goals now in a struggling season so he's the catalyst for us and a big reason as to why we have a chance of staying out of the bottom three.

To see him where he should be - which is on the move in the six-yard box and sometimes I've not seen him in those positions on the move, on the edge of the box, getting between those defenders against Southampton - is pleasing for me.

He's got his goalscoring head on again and that's going to be very important for us.

Going away and scoring two goals in Russia (for Belgium in March) has been a massive help for him.

It's given him a bit more confidence, you can see that confidence in the calm, composed way he took the Chelsea goal.

He didn't panic when the goalkeeper came rushing out at him, he just went to one side and chipped it into the net and Wednesday's goal, getting on the move and getting on the back of Andros' [Townsend] cross. His movement is getting better, his hold-up play is getting better.
– Sam Allardyce to reporters
Crystal Palace boss Sam Allardyce admitted that he does not coach his side on tackling ahead of their clash against Arsenal.
Palace host their London rivals at Selhurst Park on Monday night on the back of a 3-1 defeat against Southampton on Wednesday. The loss ended an impressive four-match winning streak as Palace look to avoid relegation from the Premier League.
Monday's fixture sees Allardyce resume his touchline rivalry with a familiar foe in Arsene Wenger. The men have clashed on numerous occasions, with the Frenchman not always keen on physicality.
But with the rules of the game changing, the former England boss Allardyce revealed that in recent years he has adopted a new approach from those teams he previously managed but remained defiant on the philosophy which earned him a reputation.
Well, we don't coach tackling any more because it's very difficult to get away with even a good tackle today.

We train players to intercept and stay on their feet rather than go around and tackle them like they used to.

We have to temper that side of it down because it's too easy for a player to get booked now and if that player continues to get booked then you lose him for two games.

We've got him (Arsene Wenger) complaining at times about the physical aspect. (But) it's difficult to bully a team now because of the laws of the game and the protection the players rightly get. Even a good tackle could get you a card because it's said to be over-aggressive.

I will never accept that in my entire life, that a player who takes the ball and then takes the man is over-aggressive, it's just nonsense.

But unfortunately FIFA brought that rule in, the referees have to try and assess what is over-aggressive but I don't think you can bully a team, perhaps like the earlier days when I first started as a manager.
– Sam Allardyce
Advertisement
Crystal Palace will be without midfielder Yohan Cabaye as their injury-hit squad prepare to host Arsenal at Selhurst Park on Monday.
Read the full story ›
Maya Yoshida and James Ward-Prowse spared Shane Long's blushes as Southampton hit two goals in as many minutes.
Read the full story ›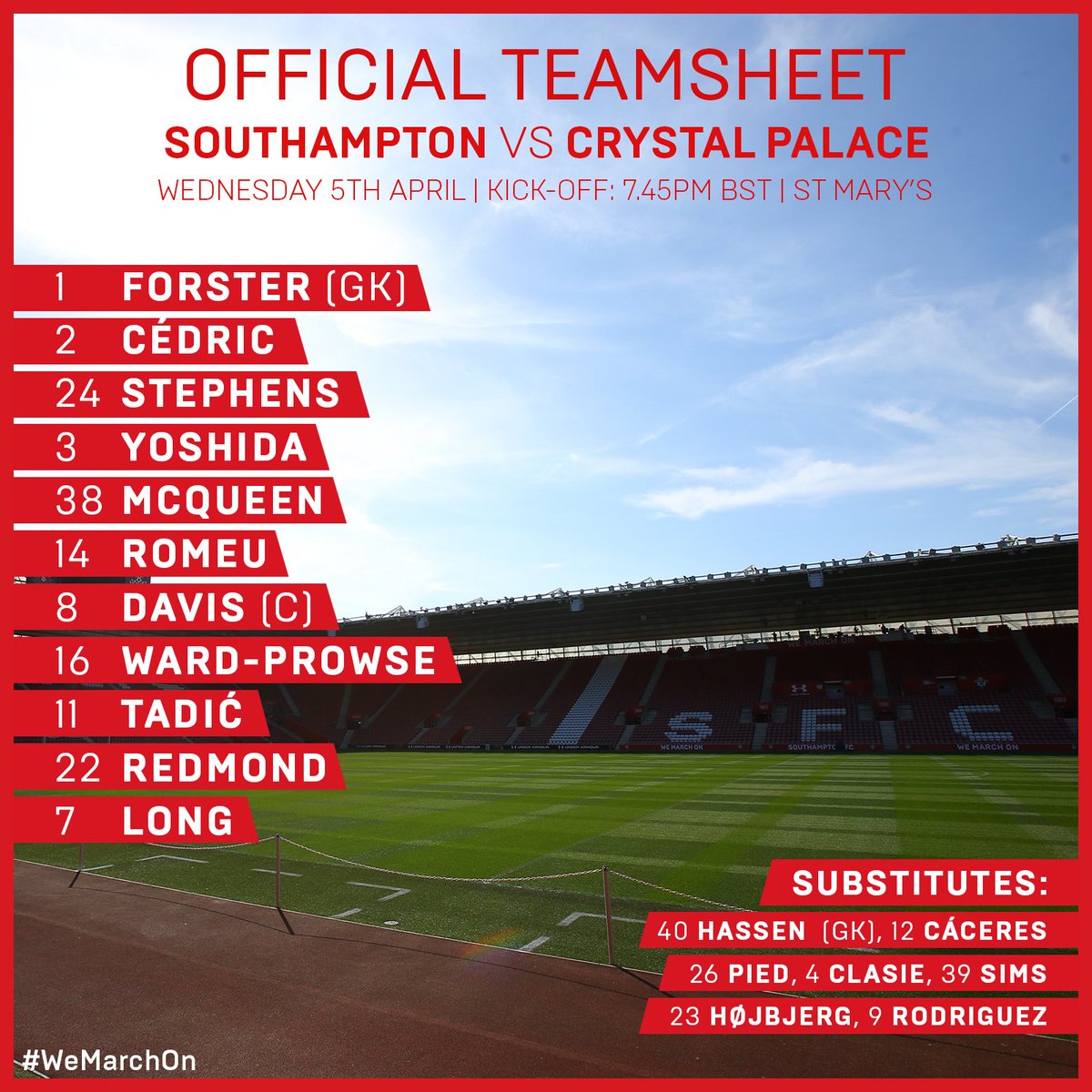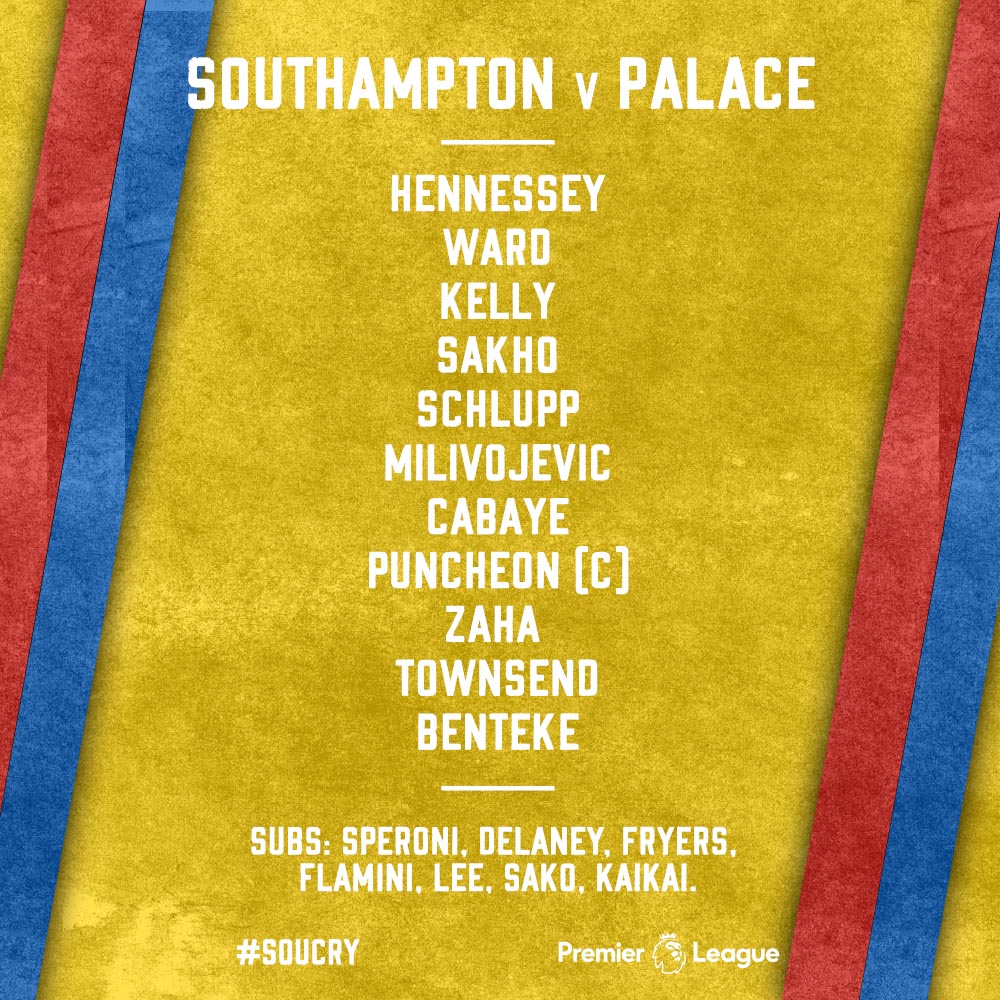 Crystal Palace manager Sam Allardyce has warned Wilfried Zaha of the need to retain his focus as his fine form attracts wider attention
Read the full story ›
Load more updates