Energy firm Cuadrilla is making a new application for its drilling site in Sussex at Balcombe, as its current one runs out at the end of the month. It is not withdrawing from site.
But like the current application they are not asking for permission to frack on the site yet - it is test drilling.
The row over fracking in the UK started in Lancashire, when a small earthquake in Blackpool was linked to the controversial practice.
Fracking in that area stopped for technical reasons. Some local communities are keen that it does not return, whilst politicians want proper regulation to ensure its safety.
Science Editor Lawrence McGinty brought together local residents and experts to discuss the issue, which many communities across the UK are currently facing.
Advertisement
Anti-fracking protesters will maintain a presence outside an exploratory drilling site following two days of direct action against the energy company carrying out the work.
The "mass civil disobedience" saw police officers arrest more than 30 people at the Cuadrilla site near Balcombe, West Sussex, including Green MP Caroline Lucas.
Nine people have been charged and will appear in court next month, four were cautioned and released, while the rest are due to answer bail at the end of August.
Sussex MP Francis Maude has released a statement following the protests outside his office yesterday.
He said: "I'm sorry that the genuine concerns and peaceful protests of Balcombe residents have been drowned out by illegal direct action by organisations who have no direct interest in the locality. "
My constituents in Balcombe are entitled to have their voices heard and their concerns addressed by the regulators. The company also have a right to carry out an activity which has been subjected to the full rigour of regulatory scrutiny. As for the demonstration at Gough House, this was one of the most pointless exercises I have come across. The only effect was to cause distress and hassle to our hardworking dedicated team, and to waste even more police time and precious resources."
– Francis Maude, Local MP for Sussex
Anti-fracking protesters were surrounded by police today as they linked arms in front of a lorry making its way to the gates of the Cuadrilla site in Balcombe, West Sussex.
The protest has so far remained peaceful, despite an earlier arrest of a woman.
Anti-fracking campaign group No Dash For Gas said they have no plans for a second day of action, although groups of people may protest outside the drilling site in Balcombe, West Sussex.
Today we are not taking action.

We are having meetings and deciding what to do next. But we will be coming back, it is not a sprint, it's a marathon.
– Ewa Jasiewicz, No Dash For Gas
Advertisement
Sussex Police has made an arrest during anti-fracking protests in Balcombe, West Sussex.
Officers have arrested a female in #Balcombe this morning for assaulting a police officer during yesterday's demonstrations.
Protesters have turned out for a second day of direct action at the drilling site in Balcombe, West Sussex, demonstrating against fracking.
Green Party MP Caroline Lucas was among more than 30 people arrested when anti-fracking campaigners staged a series of protests around the country on Monday.
One lorry has already entered the site at Balcombe in West Sussex, with demonstrators marching in front as it made its way down the road.
Sussex Police has responded to campaign group Frack Off, after it posted a picture of police dressed in riot gear at the drilling site in Balcombe, West Sussex.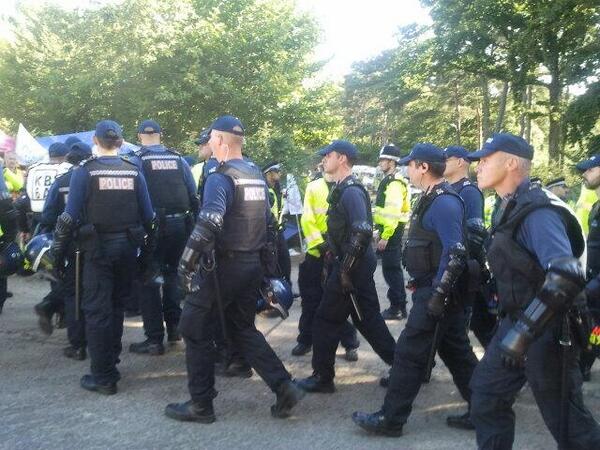 @frack_off As we have stated previously, our officers must be ready for any potential incident at the site.
Load more updates