A 17-year-old girl has died and two men have been seriously injured in a car crash on Christmas Eve.
Read the full story ›
The Government's emergency Cobra committee will meet on Christmas Day amid fears fresh flooding misery is ahead.
Read the full story ›
Advertisement
Campbell and Julie Hannah's family are spending the festive season in temporary accommodation.
Read the full story ›
Thousands of homes in the Republic of Ireland have been left without power as Storm Eva sweeps its way across the country.
Electricity provider ESB Networks confirmed it had received reports of 4,500 homes which had experienced power outages.
The power outages came as forecasters predicted that heavy rain and strong gusts of wind would sweep across the UK starting early on Wednesday evening.
Storm Eva has reportedly "knocked out" the power supply to homes across Ireland as it brought high wind speeds sweeping across the country.
According to the Achill Coast Guard, areas including the coastal town of Belmullet in County Mayo, were affected by the power outages:
#StormEva has knocked out power to some of our neighbours in Belmullet. Stay safe and have a torch handy.
#StormEva still gusting in the region of 130 kmh. Power network on Achill out in parts. Still expecting damaging gusts for some time yet.
Energy company ESB is also reporting on its power check website that almost 500 customers have been affected by power outages since shortly after 5pm.
Fresh flooding has taken flood victims "back to square one" as they deal with the aftermath of the River Eden bursting its banks once again amid fears that more rain is on the way.
Residents living in Cumbria were affected by fast rising waters yesterday, just weeks after Storm Desmond devastated the region, and now the Met office has issued weather warnings for the region over the Christmas period as Storm Eva now threatens yet more floods.
ITV News Correspondent Peter Smith reports:
Advertisement
A fearless sheepdog joins the flood rescue efforts in Cumbria by leaping into rising floodwaters to rescue a flock of stranded sheep.
Read the full story ›
Flood hit areas are bracing for further rain after the Met Office issued a severe weather warning ahead of the Christmas.
An amber warning is in place for Boxing Day across parts of Cumbria, an area hit by flooding three times in the last fortnight, with heavy rain and gale force winds expected.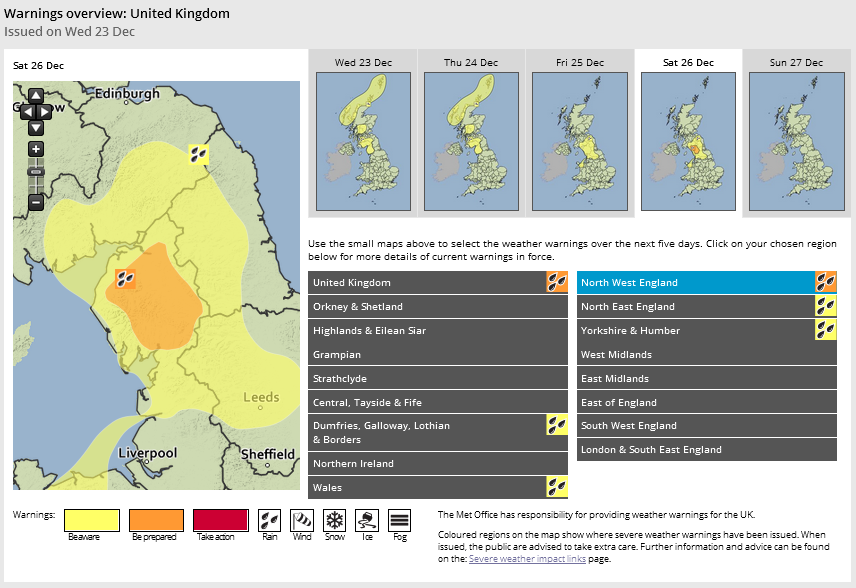 An emergency appeal to raise funds for Cumbria's flood victims has raised almost £3.5m.
Set up in the wake of Storm Desmond, the appeal aims to raise funds to assist individuals and families whose homes suffered "significant structural damage or flooding" as floods and storms swept across the country at the beginning of December.
A spokesman for the Cumbria Community Foundation, who set up the appeal, said: "We're blown away by the generosity of not only businesses that have donated but the tremendous support from people across the whole UK that have helped us raise £3.5 million. We're expecting to hit £5 million soon."
Money raised will be spent on helping with the clean up in the wake of the flooding, carrying out emergency repairs, and providing clothing, food and drink, heating and heating equipment, child care equipment and basic furniture.
The Environment Agency has announced it has taken extra precautions ahead of the oncoming Storm Eva.
This includes transporting 20 extra water pumps and two kilometres of temporary flood barriers.
Paul Mustow, Deputy Director in Flood and Coastal Risk Management at the Environment Agency, said:
The Environment Agency is also preparing for the possibility of further unsettled weather from Christmas Day into Boxing Day. More rain is forecast and this could lead to some disruption. In addition to Cumbria's existing flood defences, the Environment Agency has transported over two kilometers of temporary flood barriers and more than 20 extra pumps to the north of England. Four of these are high volume pumps capable of moving 1,000 litres of water per second (one metric tonne, or 219 gallons of water per second).
– Paul Mustow
Load more updates