The 2012 Tour de France champion is a multiple world champion on the track but at last he has his first world title on the road
Read the full story ›
Sir Bradley Wiggins rode brilliantly to dethrone German rival Tony Martin and win the gold medal in the Road World Championships individual time trial in Ponferrada, northern Spain.
Wiggins' exertions saw him collapse after he finished. When he recovered, the British rider dedicated the win to his family.
Wiggins collapsed on the floor in the finishers tent.
Wiggins: I don't know what to say. I knew I had the legs. It's been an up-and-down year. Dedicate this to my family. #Ponferrada2014
Advertisement
Sir Bradley Wiggins has just set off on his attempt to win the Road World Championships individual time trial in northern Spain.
Defending champion Tony Martin of Germany - Wiggins' only serious rival for gold - is the last man out of the gate, two minutes behind the British rider.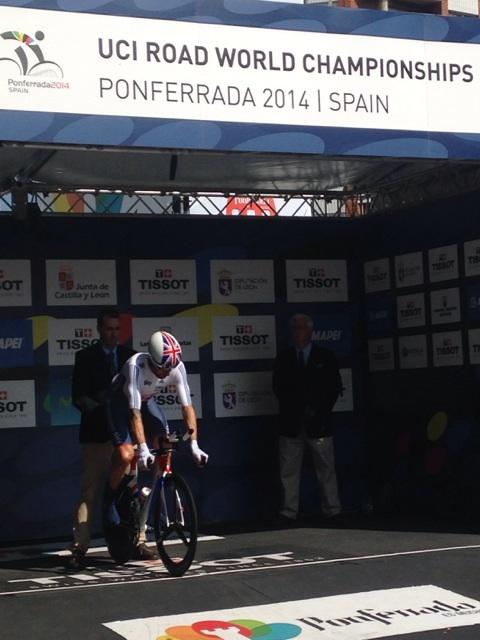 Bradley Wiggins fastest at 12-kilometre checkpoint, a second up on Chavanel. @ponferrada2014
Sir Bradley Wiggins, who is going for gold in the world championships time trial in Spain later today, has revealed he will attempt to break the world hour record in 2015.
"I want to prepare for it properly," Wiggins told the BBC. "It will give me something to get out of bed for in the winter."
Wiggins said he was inspired by Jens Voigt, the 43-year-old German who broke the record last week.
Sir Bradley Wiggins says he must ride a flawless time trial if he is to beat German rival Tony Martin to world championships gold in northern Spain.
"This year's course is a lot different to last year's, which was long and flat," Wiggins said.
"You have to think more on this course. There's no room for error.
"You need to have enough in the tank for the end. It's challenging, a true test of the time trial."
Wiggins goes for gold at 2.34pm (BST), two minutes ahead of final rider Martin. Essex-born rider Alex Dowsett, tipped for a top-ten finish, sets off at 2.18pm.
Watch the amazing moment a cyclist in Russia escapes being killed as a truck and car collide at high speed.
Read the full story ›
Advertisement
Cyclist Chris Froome has tweeted that it is "time for some R & R" after an MRI scan revealed he had fractured both his left wrist and his right hand.
Last year's Tour de France winner sustained the injury when he fell during this year's race.
MRIs done, confirmed fractures to the left wrist & right hand. Time for some R&R...
He decided to withdraw from this year's Tour after falling on three separate occasions.
The UK's governing body for cycling has said high levels of air pollution in some British cities are further evidence of the need to expand cycling.
It follows a study from the World Health Organisation that found nine British cities and towns had unsafe levels of air pollution.
Martin Key, campaigns manager for British Cycling, said: "With almost daily news stories about worrying levels of air pollution, it is clearer than ever that more cycling is the answer to many of the problems we face in Britain today."
"If local and national government put sustained and targeted investment into improving our roads and making them fit for cycling, we will without doubt create healthier, happier communities and more pleasant places to live," he added.
A British woman on a round-the-world cycle trip has been killed in South America after being hit by a van near Bolivia's border with Chile.
Sharon Bridgman, from Devon, had been cycling around the world since June 2012 with her husband Tim.
Robert Szembek, the chairman of Okehampton Cycling Club, which the couple belonged to, said they had been on what was meant to be a "a great adventure".
"It is not what you expect to hear, especially when they went right through Africa and rode through some doubtful areas known for problems and had taken precautions like not camping by the road," he said.
Mrs Bridgman, who is believed to be 38, was cycling a short distance either ahead or behind her husband and another couple when she was hit by the vehicle, Mr Szembek understands.
A Foreign Office spokeswoman said it was aware of the death and is providing assistance to the family.
Sir Dave Brailsford has left his role as British Cycling performance director, Press Association Sport understands.
Brailsford has led Britain's cyclists to an unprecedented period of success, with eight gold medals at the Beijing and London Olympics and has arguably been more influential than any other person in turning cycling into a mainstream sport in this country.
The 50-year-old Welshman also established Team Sky, winning the Tour de France through Sir Bradley Wiggins in 2012 and Chris Froome in 2013.
Now Brailsford has decided to concentrate on his role as Team Sky principal, leaving British Cycling looking for a new figurehead in the lead up to the Rio de Janeiro Olympics in two years' time.
Load more updates