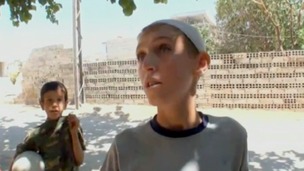 No-one disputes that hundreds died here. But as the world's nations squabble the crime remains unanswered, the killers unpunished.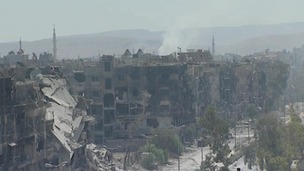 War emptied the suburb of Yarmouk in southern Damascus of its people. Assad's army holds it, but their prize is a ghost town.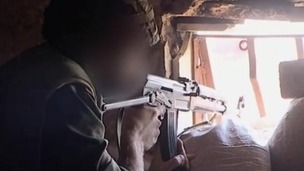 This is a war at close quarters with every junction deadly. The front line has not moved in months - but the war is about to change.
Live updates
Syria ready for US 'aggression'
UN weapons inspectors have been investigating an alleged chemical attack in Damascus for a third day.
This video, which was uploaded to a social networking website, purports to show the inspectors in the suburb of Zamalka east of the city.
ITV News cannot independently verify this video at present.
Read: The rebel strongholds targeted by a 'chemical attack'
Arab League backs UN action
UN inspectors need four days in Syria to conclude their investigation into last week's alleged chemical attack and analyse their findings, UN Secretary-General Ban Ki-moon has said.
"They are working very hard, under very, very dangerous circumstances," Ban said. "Let them conclude their work for four days, and then we will have to analyse scientifically with experts and then I think we will have to report to the Security Council for any actions."
Advertisement
West 'threatening Syria solution'
UN weapons inspectors in Syria have met people wounded in last week's attack as they look for evidence that chemicals were used by the Assad regime.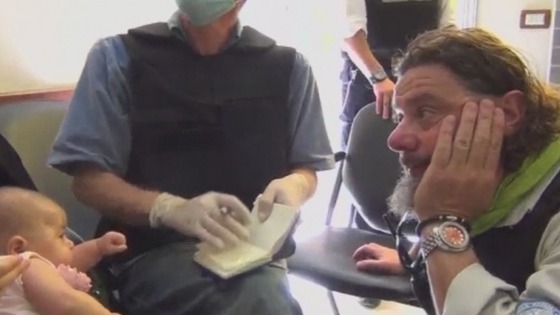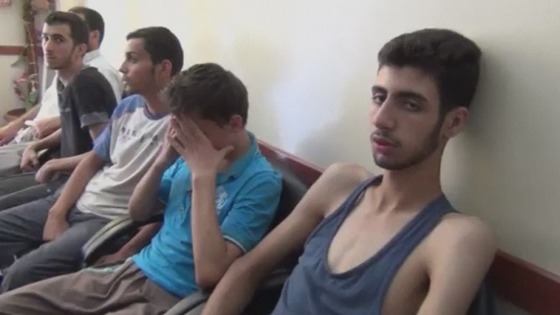 West 'threatening Syria solution'
A video posted online appears to show the moment a Syrian father is reunited with his young son who he had feared was killed in last week's alleged chemical attack in Damascus.
ITV News cannot independently verify this video:
The man is overcome with emotion as he is led through a corridor to where his son is waiting for him, where he falls to his knees and weeps as the boy is put in to his arms.
Later in the video the boy and his father sit on a couch and embrace and he tells the boy: "Don't cry my son, I am next to you now...thank God, thank God you are alive."
West 'threatening Syria solution'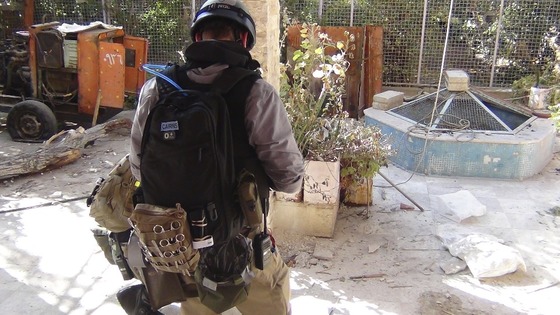 A team of United Nations inspectors has reached rebel-held territory outside Damascus as UN Secretary-General Ban Ki-moon cautioned against pre-empting the chemicals investigation.
Activists confirmed the inspectors had reached the town of Maleiha and were being escorted to towns where deadly gas strikes are alleged to have happened.
Ban's message came as leaders in the west plotted taking military action against the Assad regime over the alleged attacks.
"It is essential to establish the facts," he said from the Hague. "A UN investigation team is now on the ground to do just that. Just days after the attack, they have collected valuable samples and interviewed victims and witnesses. The team needs time to do its job."
Read: Cameron outlines 'necessary measures' against Assad regime
West 'threatening Syria solution'
UN experts have begun the second day of their inspection of the site of an alleged chemical attack near Damascus, witnesses have told Reuters.
Read: Damascus textile factory switches production to gas masks
Advertisement
'Neurotoxic' attack in Syria
Humanitarian group Medecins Sans Frontieres has said there are strong indications that a chemical attack was carried out in Syria. It added that doctors had treated thousands of people suffering from neurotoxic symptoms.
The Assad regime has tried to shift the blame for the attack today on rebels whilst still refusing to allow the UN to investigate.
ITV News' Middle East Correspondent Geraint Vincent reports:
'Neurotoxic' attack in Syria
French medical charity Medecins Sans Frontieres (MSF) has said they were certain a neurotoxic agent was used in Syria after an alleged chemical attack in a suburb of Damascus.
MSF France President Mego Terzian said he was "almost certain" a neurotoxic agent had been used on the victims but could not say who was responsible for the attacks.
'Neurotoxic' attack in Syria
Medecins Sans Frontieres says there is strong evidence that the "large number of patients" doctors have treated in Syria were exposed to a "neurotoxic agent".
Medical staff working in these facilities provided detailed information to MSF doctors regarding large numbers of patients arriving with symptoms including convulsions, excess saliva, pinpoint pupils, blurred vision and respiratory distress.
The reported symptoms of the patients... strongly indicate mass exposure to a neurotoxic agent. This would constitute a violation of international humanitarian law, which absolutely prohibits the use of chemical and biological weapons.
– Dr Bart Janssens, MSF director of operations
'Neurotoxic' attack in Syria
Medecins Sans Frontieres says doctors have treated about 3,600 patients with 'neurotoxic symptoms' in Syria and that 355 of them died.
Neurotoxicity hits people who are exposed to toxic substances and suffer problems to their nervous system as a result.
Load more updates
Back to top