Chief Medical Officer Dame Sally Davies has said that she expects to see a "handful of cases" of Ebola in the UK in the coming months.
She said that while West Africa remains the focal point, "it will not be surprising if we have spillover into this country so I would expect a handful of cases over the next few months".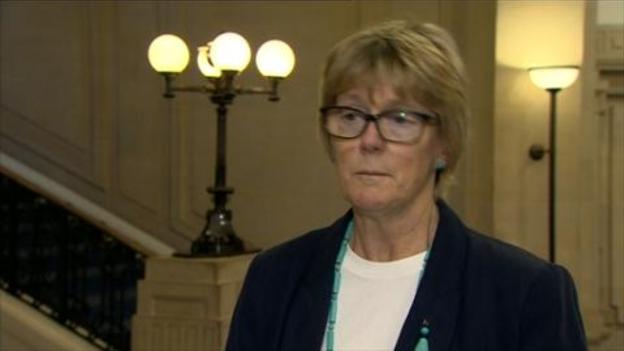 England's Chief Medical Officer has warned expanding waistlines have become normal and a tax on sugar may be needed to help the nation lose weight.
ITV News reporter Lewis Vaughan Jones reports:
Advertisement
Deaf and blind people may be at higher risk of developing dementia, England's Chief Medical Officer has warned.
Dame Sally Davies said although the data was not conclusive, investigating a possible link between sight or hearing impairment and diseases such as Alzheimer's could aid doctors' understanding of dementia.
Hard-drinking soap characters offer an "irresponsible" portrayal of excessive alcohol consumption, according to the Chief Medical Officer for England
Analysis of six weeks of soap operas and found characters drinking too much on 162 occasions, with negative consequences often left out.
However, Dame Sally Davies' report on the state of the nation's health points out that this kind of portrayal of drinking is not a modern phenomenon - every single one of Shakespeare's plays mentions alcohol at least once.
She also says that the way drinking is presented in popular culture is out of kilter with ordinary people's behaviour.
"Drinking to excess is not 'normal behaviour', and portraying it as such is irresponsible. Some 75% of the population does not consume excessive quantities of alcohol, and the proportion of the population which abstains from alcohol (15% in 2009) is increasing," she writes.
Being overweight or obese is in danger of becoming seen as normal, the Chief Medical Officer for England has warned.
Dame Sally Davies said she was "increasingly concerned that society may be normalising being overweight".
Her annual report on the state of the nation's health said excessive consumption of sugar, particularly in soft drinks, was one of the factors behind rising obesity.
Dame Sally is calling on food and drink manufacturers to tweak their products so they have less added sugar.
She also said a 'sugar tax' may need to be considered if the industry's efforts to make products healthier are not successful.
Advertisement
England's chief medical officer, Professor Dame Sally Davies, has admitted eating hash cookies at university.
She said drug addiction should be seen as a medical problem, but that society chooses to treat it as a criminal justice issue.
Speaking on BBC Radio 3's Private Passions, Prof Davies said of her university days in the 1970s: "I never smoked so I couldn't smoke joints but I did have some cookies, until on the third or fourth occasion I had hallucinations and I've never touched it since.
"And I think I understood through that what my father said to me when I told him I was going to try it. He said: 'Drugs decivlise you. You stop being a civilised person.'
"And I understood why so many people were against even the soft drugs. So, like the fact I do enjoy wine, I'm open about my past."
She added: "Of course it's a medical problem, I mean addiction is a medical problem, and it becomes a public health problem and then our society is choosing to treat that as a criminal justice issue."