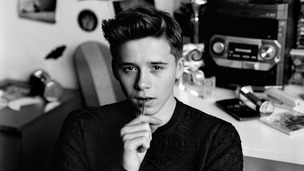 The Beckhams' eldest son has made his fashion debut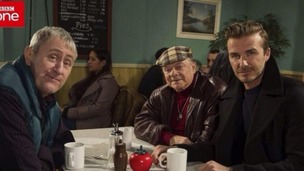 David Beckham has described how he struggled to sleep the night before making his Only Fools And Horses debut because he was so nervous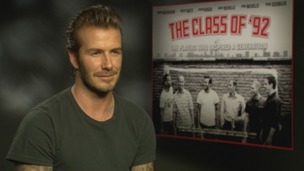 Speaking at the launch of "The Class Of 92", David Beckham said he is surprised "everyday" at how his life has turned out.
Live updates
David Beckham has revealed that he build Lego models to wind down.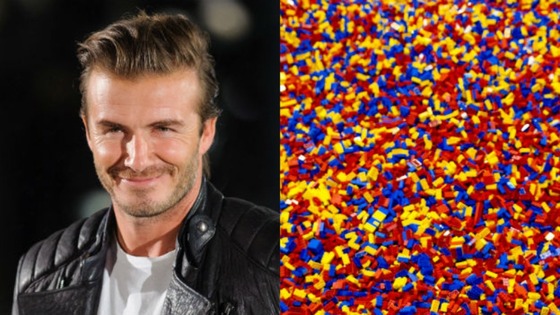 The football legend told The Sunday Times (£) that the plastic bricks help to "calm me down" and said that he constructed a model of London's Tower Bridge in only a few days.
Read: Boy's letter to LEGO after losing Christmas present
"When they [his children] get home, we'll often play one of their favourite games, like Connect Four. They also love Lego. So do I," the 38-year-old said.
"The last big thing I made was Tower Bridge. It was amazing. I think Lego sometimes helps to calm me down."
Read: Student marks Fashion Week with Lego creation
He compared Lego-building with cooking, which he said he finds "very therapeutic".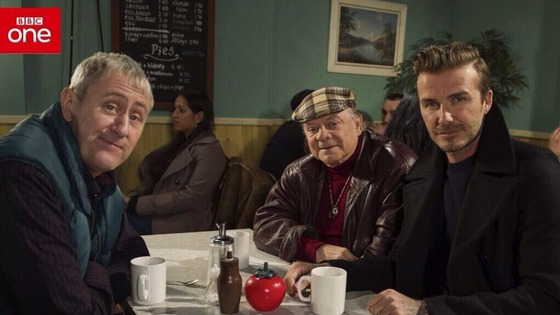 David Beckham is to guest star in a special Only Fools And Horses sketch reuniting Del Boy and Rodney for the first time in a decade.
The retired football star will appear in the film to be screened as part of BBC1's Sport Relief night in March.
Beckham is seen sitting with the duo in a greasy spoon cafe, gathered around a table on which there is a copy of the Peckham Echo.
Viewers will see the short film during the broadcast on Friday March 21. The evening will also feature a Strictly Come Dancing special with a number of sporting stars.
Advertisement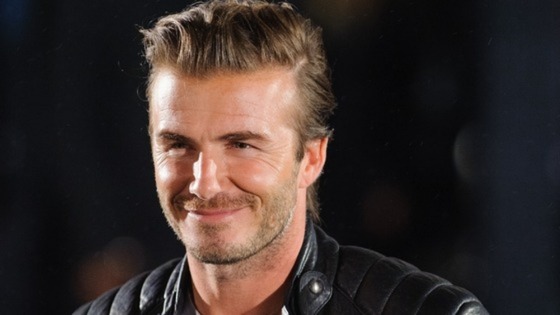 A dead body has washed up at an exclusive resort in the Maldives where David Beckham is taking a Christmas holiday with his family, police said.
Police said the man, a Sri Lankan national, was not a guest or employee of the resort where Chelsea owner Roman Abramovich was also reportedly staying.
"The body was removed to a morgue and investigations are underway," police spokesman Hassan Haneef told the AFP news agency.
Beckham, his wife Victoria and their four children remained at the de luxe resort despite the problems on Sunday, tourism sources said.
David Beckham has admitted that he couldn't watch Manchester United for two years after leaving the club.
The Jonathan Ross Show, produced by Hot Sauce TV.
Speaking on ITV's The Jonathan Ross Show, the football legend said he never wanted to stop being a red and said the way he left the club made him "sad".
Read: David Beckham always 'surprised' at how life has turned out
MPs to pay tribute to Nelson Mandela in the Commons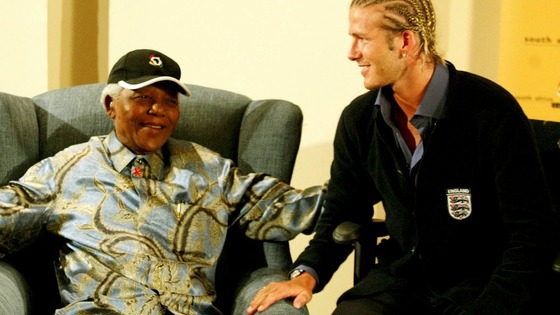 Former England captain David Beckham has paid tribute to Nelson Mandela, whom he met while on international duty in South Africa in 2003.
Writing on his Facebook page, Beckham said: "My heart goes out to the people in South Africa and Mr Mandela's family.
"We have lost a true gentleman and a courageous human being. It was truly an honor to have known a man who had genuine love for so many people. Rest in peace."
Pele: Mandela 'one of most influential people in my life'
Becks: Mum will cry over film
David Beckham says he expects his mother to cry when she watches a film about his time at Manchester United.
The film examines the difficult period in Beckham's life after he was sent off at the 1998 World Cup.
"There will be a few tears in there from my mum I'm sure," Beckham said.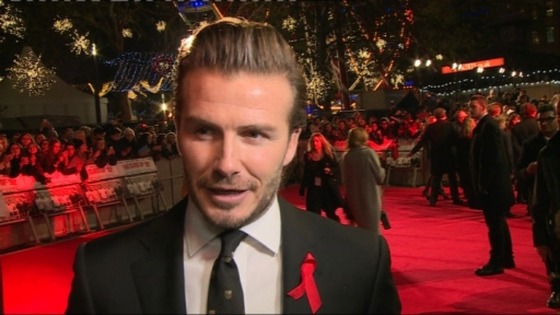 The former England captain said he valued the support of his teammates throughout tough moments of his career.
"It's the same for all of us six. There were good times, there were bad times, there were troubled times where we all stuck together," he said.
"But that is part of the movie, part of the history of the six of us.
"That is why it makes this such a great story."
Watch David Beckham's interview with Sports Correspondent Ian Payne
Advertisement
Becks: Mum will cry over film
Class of '92 stars David Beckham, Paul Scholes, Nicky Butt, Ryan Giggs and Phil and Gary Neville arrived at the documentary's premiere at Leicester Square.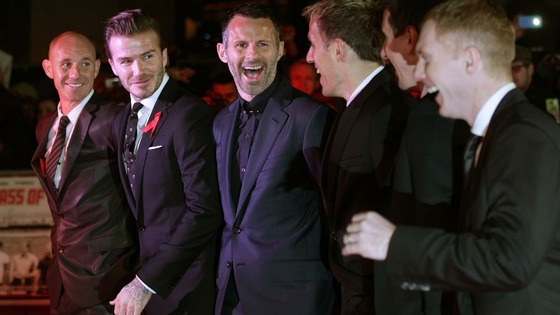 The former England captain attended the event with wife Victoria, and the couple's three sons Brooklyn, Romeo and Cruz.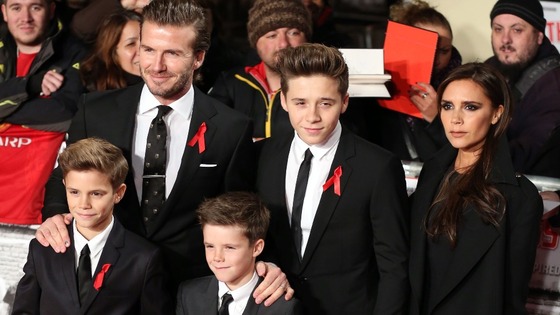 One Direction star Harry Styles also attended the premiere in support of Beckham, whom he described as "everyone's idol".
When asked about reports that Beckham could become Sir David in the New Year Honours List, Styles replied: "Why not? He's a national treasure isn't he? It makes sense. I thought he was already."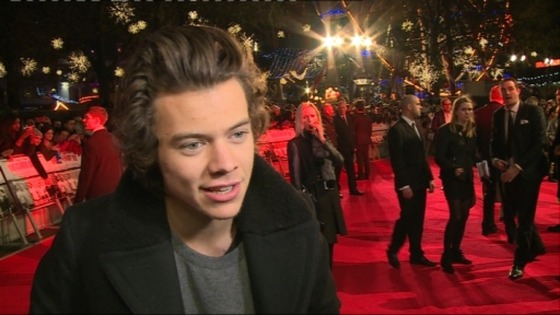 Watch: Beckham tells ITV News he is surprised 'every day' at how life turned out
Victoria Beckham said she had "so much fun" guest editing Vogue Paris' Christmas issue and gave her Twitter followers a sneak peek at the two front covers.
Vogue says the issue "transports readers straight into the world of Victoria Beckham" with the help of an interview, anecdotes, family photos and even some drawings by her children.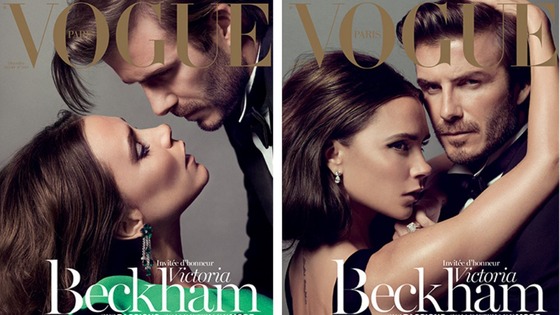 The front covers both feature Victoria and David Beckham and were shot by photographers Inez and Vinoodh.
Vogue Paris described the Spice Girl-turned-designer as "a fashion superstar on the New York scene", adding, "She's built a global business empire, never failing to build on her success wherever life has taken her".
by Ian Payne - Sports Correspondent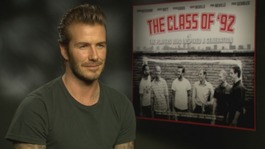 Speaking at the launch of "The Class Of 92", David Beckham said he is surprised "everyday" at how his life has turned out.
Read the full story
Beckhams' charity clothes sale
London
Items donated by the Beckhams for the charity auction in Chelsea are being sold on ebay. A pair of Victoria Beckham's D&G shoes had a starting bid of 99p.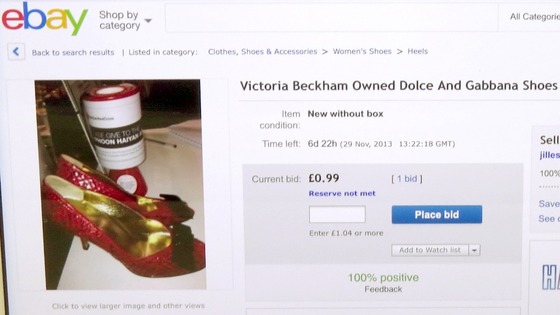 Load more updates
Back to top