David Beckham is in the Royal Box at Wimbledon today and decided to bring his mother with him instead of wife Victoria.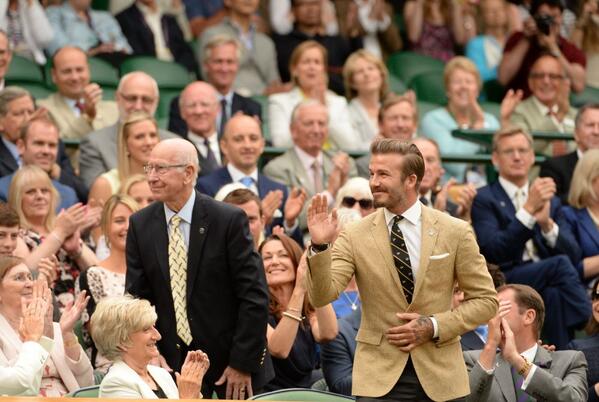 It has become a tradition that people from the world of sport watch the Centre Court action on the middle Saturday of the tournament.
Beckham has been joined by Sir Bobby Charlton and British Olympic medallists Tom Daley, Victoria Pendleton, Nicola Adams, Sir Matthew Pinsent, Sir Bradley Wiggins, Amy Williams and Lizzie Yarnold.
England rugby captain Chris Robshaw, England cricketers past and present Phil Tufnell, Andrew Strauss, Stuart Broad and Steven Finn are in the Royal Box too, along with golfer Ian Poulter, and boxing stars David Haye and Anthony Joshua.
David Beckham joined the Duke of Cambridge to warn about the "devastating" effects of poaching, as the pair kicked off their new #WhoseSideAreYouOn campaign in London today.
The social media campaign aims to use the power of football to raise awareness of the illegal trade in endangered animals.
Speaking to the specially invited audience of conservationists the former England captain said:
"We're in a world where our generation, and the younger generation can really, really make a difference and we really need to do it now.
"Are we on side of the criminals? Or are we on the side of the animals? I know what side we're all on and I'm sure you know what side you're all on."
Advertisement
David Beckham battles fear of snakes and frogs to achieve anonymity on trek through Amazon jungle to meet remote tribe.
Read the full story ›
David Beckham has come under fire from an alcohol charity after agreeing to endorse a new whisky.
Alcohol Concern said it was "incredibly disappointing" that the star had agreed to put his name to Haig Club, a new whisky produced by drinks giants Diageo.
The charity called on the former Manchester United, Real Madrid and LA Galaxy player to pull out of the deal.
"It's incredibly disappointing that David Beckham, a global icon who has wide appeal to children has chosen to use his sports star image to promote spirits," said Emily Robinson, deputy chief executive of Alcohol Concern.
Ms Robinson said a sporting icon like Beckham promoting an alcoholic drink would "send a confusing message" to children.
But Diageo insisted it had "very stringent" guidelines on its marketing and the company was "completely clear" that alcohol should only ever be drunk by adults.
A spokeswoman also pointed out that Beckham would be leading the responsible drinking programme for Haig Club.
David Beckham has described how he struggled to sleep the night before making his Only Fools And Horses debut because he was so nervous
Read the full story ›
Advertisement
David Beckham has visited the Philippines as part of Unicef's relief efforts in the devastated country.
The former England captain was welcomed by hundreds of Typhoon victims in the central city of Tacloban who have been living in United Nations tents outside a sports stadium.
The 38-year-old exchanged high-fives and posed for pictures with children.
Tacloban is still struggling to recover from the impact of Typhoon Haiyan which struck last November killing 6,200 people and displacing thousands more.
Zafrin Chowdhury, a spokeswoman for the Unicef office in Manila, said Beckham was touched by the typhoon's impact and wanted to meet displaced children and their families.
David Beckham has taken up the option to buy a new Major League Soccer franchise in Miami, but no team name has been announced yet.
What should he call his new club? Tell us on Facebook.
David Beckham said he will not seek public funding for his new football club in Miami.
He said: "We don't want public money, we will fund the stadium ourselves, it is something that we have worked very hard on.
The former England midfielder has taken up the option to buy a new Major League Soccer franchise in Miami."We are going to have the right investors, and I'm not just talking about wealth but people who have a passion for the game as well," Mr Beckham added.
Load more updates