Ed Miliband declined to say whether he had persuaded comedian Russell Brand to vote in this year's General Election during their meeting late last night.
When asked whether the comedian would vote on May 7 by 5 News political editor Andy Bell, the Labour leader said: "You'll have to wait and see."
I think Russell Brand and anyone who thinks they shouldn't vote was wrong, and I'll engage with him and anyone else who doesn't think we should vote.
– Ed Miliband
Miliband said that meeting with Brand, who in 2013 said that he had never voted, made the election campaign "more interesting" despite Conservative leader David Cameron criticising the move as a "joke".
The Prime Minister's jibe appeared to prompt Brand to tweet "Don't be jealous, Dave. I'll run into you at West Ham - when you're not busy with ordinary people" alongside a picture of Cameron in his Bullingdon Club days.
Don't be jealous Dave - I'll run into you at West Ham - when you're not busy with "ordinary people" http://t.co/wB1Paq9xHV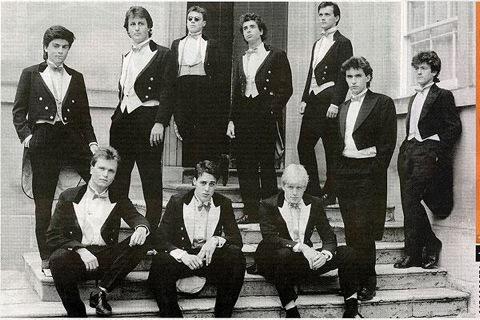 A fuzzy picture of Miliband leaving Brand's east London home emerged on Twitter at around 10pm yesterday.
The Prime Minister has labelled Russell Brand "a joke" - and taunted Ed Miliband after a photo of the Labour leader outside the comedian's house surfaced on social media last night.
A spokesperson for Mr Miliband said that he had been there to film an interview with Mr Brand.
But the PM teased both men on the stump today, saying that "his whole view" is "don't vote - it only encourages them".
He added: "That's funny, but politics and elections... that's not a joke. Russell Brand's a joke".
Advertisement
David Cameron spent yesterday telling voters and journalists just how pumped he is on the campaign trail.
Check out just how pumped Nick Clegg was on last night's Agenda with Tom Bradby.
The Prime Minister has said that today's just-released GDP figures show that "our economy is still growing" and that "we can't take the recovery for granted".
GDP figures show our economy is still growing, but we can't take the recovery for granted. Don't risk it with Ed Miliband and the SNP.
Mr Cameron was responding to figures showing slower economic growth in the first quarter of 2015 than in the last three months of 2014.
David Cameron literally rolled up his sleeves in an attempt to inject new passion into the Conservative campaign today after criticism of a lacklustre start.
He had a bullish message about backing British business, saying the election was: "a battle for the backbone of Britain."
ITV News Deputy Political Editor Chris Ship reports:
David Cameron has said he is "pumped up" about the challenge of supporting business start-ups.
Unveiling the Tories' small business manifesto in London, the Prime Minister said that if he seemed excited, it was because he was feeling "bloody lively about it".
Mr Cameron also warned: "Labour think they know how to run your businesses better than you do. They will put up your regulations.
"You know what they call you? They say business is a predator. This is not some Arnold Schwarzenegger movie. This is what we are staring down the barrel of in 10 days' time if we don't get out there and fight for jobs and fight for enterprise and fight for our economy, and that's what we are going to do."
Advertisement
A company included in a letter supporting the Tory Party said one of its staff members had been wrongly listed as a signatory.
Read the full story ›
David Cameron has said his children have taken an interest in the General Election and are aware that is it is a tight contest.
The prime minister told ITV's Lorraine Kelly: "They know how close it is, they know how hard their dad is fighting and they are taking quite an interest in it."
Asked about the criticism that his campaign has been lacklustre, Mr Cameron replied: "It's the most maddening thing because I'm so passionate about what I do and about what we have done for the last five years.
"What I'm trying to do is use everything I have got ... to try and get across my message, which is the country is on the right track, we shouldn't put everything at risk."
David Cameron will say the Tories are the party of the "grafters, roofers, retailers and plumbers" as he set out plans to help small firms
Read the full story ›
Prime Minister defends royals' decision to give birth in a private hospital - instead of going with the NHS
Read the full story ›
Load more updates