David Cameron has dismissed criticism about his tactics in relation to the SNP.
Speaking at a PM Direct event in Leeds he said: "All I am doing is pointing out what is as plain as the nose on your face - which is, right now, Labour is facing a wipe-out in Scotland."
David Cameron told ITV News that he British voters needed to realise the "frightening" prospect of a potential Labour-SNP government.
"I think it is very important everyone understands what is at stake at this election - the stakes frankly have just got much, much higher and the prospects of a Ed Miliband-SNP government I think frankly are very frightening," the Prime Minister said.
ITV News' James Mates reports:
Advertisement
David Cameron and Nick Clegg are set for a footballing showdown just three weeks after the General Election, with both leaders' teams facing off in the FA Cup final.
After today's shock semi-final win over Liverpool, the Prime Minister, an Aston Villa fan, tweeted his congratulations to his team.
The victory means Villa will play Nick Clegg's favoured side, Arsenal, at Wembley on 30 May - by which point it will be clear whether the PM and his deputy are still political colleagues.
David Cameron says he is not going to "not going to talk about anything other than winning an overall majority" in May's election.
Asked whether his private pollsters were saying an Conservative majority was increasingly unlikely, Mr Cameron told Andrew Marr: "No."
The Prime Minister said he was not planning to do any post-election deals with any other party, including Ukip.
He also refused to comment on whether he would step down as leader if he failed to win a majority.
The Prime Minister has called for voters to use tactical voting to stop Labour and the SNP taking power. David Cameron wrote in the The Sunday Times, urging UKip and Liberal Democrat and Ukip supporters not to "waste" their votes.
Vote for Ukip or the Liberal Democrats and you take Ed Miliband and Nicola Sturgeon a step closer to Downing Street — and our government, economy and country a step closer to chaos.
– David Cameron
He wrote that Nicola Sturgeon is a "hostage-taker" who would demand "more borrowing, more taxes and more welfare".
David Cameron has hailed the Conservatives' pledge to offer cut-price shares in Lloyds as another step towards "repairing our banks".
The Prime Minister is expected to say today: "The £20 billion bailout of Lloyds bank by the last Labour government became a symbol of the crisis that engulfed the British economy under Labour.
"After the public bailed it out, people feared they wouldn't see their money returned. Today they are."
"Today's announcement marks another step in the long journey we have been making repairing our banks, turning our economy around and reducing our national debt, only made possible by our long-term economic plan.
Mr Cameron again issued a call to voters not to "put all that progress at risk" by voting Labour, urging Britons to choose the Tories for a "brighter, more secure future".
Advertisement
David and Samantha Cameron - both wearing traditional dress - have joined Sikh celebrations at a festival in Gravesend, Kent.
David Cameron has launched the Welsh Conservative manifesto in Powys ahead of the general election in May.
During the event in Builth Wells, Mr Cameron asked the audience: "Where is it written that Wales must always vote Labour?"
ITV News Europe Editor James Mates is there: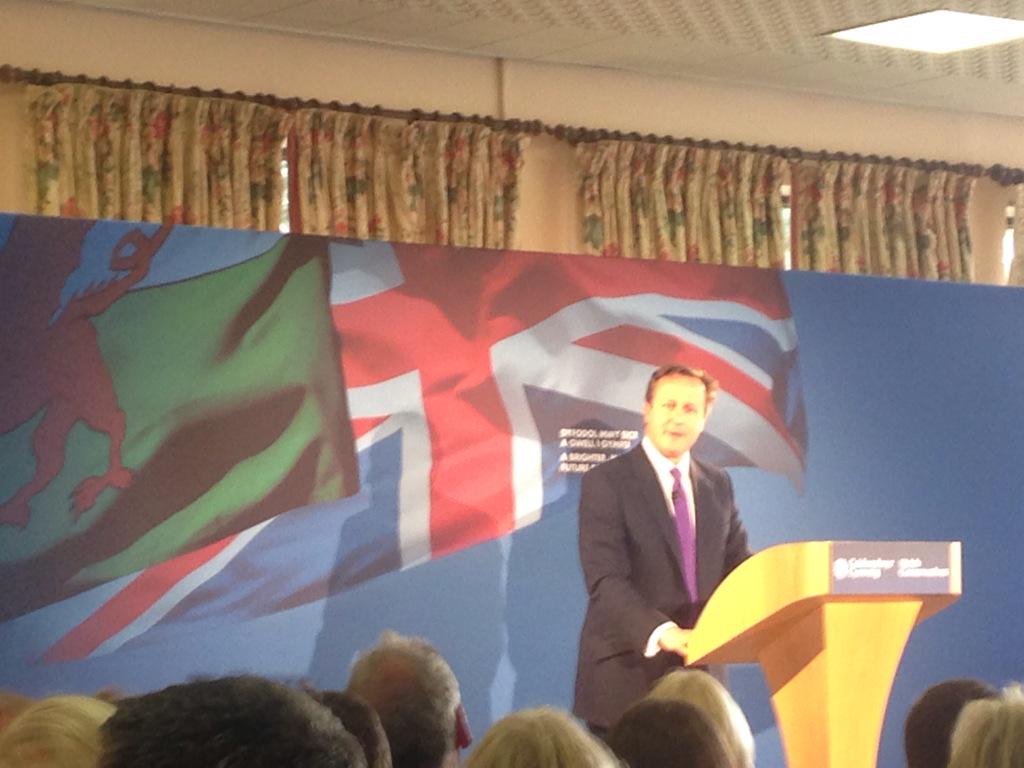 The PM also lambasted Labour's stewardship of the health service in Wales, contrasting it with his pledge to spend £8 billion a year more on the NHS in England by 2020.
The people of Wales already know more than most the damage that Labour can do. Cutting health spending and taking their eye off the ball over education. That is the way Labour treats the nation of Nye Bevan and Dylan Thomas.
– David Cameron
David Cameron has claimed he was not invited to last night's televised leaders debate.
Asked by ITV News' James Mates why he had "ducked out" of the event, the Prime Minister said, "Last night was a 'challengers' debate'."
"It was the idea of the broadcasters to have a debate of the opposition parties, a debate to which Nick Clegg and I weren't invited," he continued.
Cameron was heavily criticised after he refused to sign up to the broadcasters' original plan of three debates.
David Cameron has warned there would be borrowing and taxes if Ed Miliband does a deal with the SNP to become Prime Minister.
The Tory leader said Miliband had failed to rule out a vote-by-vote deal with Nicola Sturgeon after she offered an olive branch during last night's "challengers' debate".
Cameron wrote on Twitter:
Ed Miliband won't rule out a vote-by-vote deal with the SNP so he can be PM. It would mean more borrowing and more taxes and you would pay.
Load more updates