Lars Vilks, the cartoonist believed to have been the target of a shooting in Copenhagen has gone into hiding, Swedish Police told news agency AFP.
Denmark's Prime Minister said the country has experienced the fear that terrorism tries to spread but it "remains strong and our democracy remains strong."
Helle Thorning-Schmidt added that the Danish people will not "accept any attempt to threaten or intimidate our liberties and our rights."
Advertisement
Denmark's Prime Minister Helle Thorning-Schmidt has said recent attacks in the country which left two people dead will not easily be forgotten but she said the country would respond with "determination and resolve"
Ms Thorning-Schmidt added that the shooting outside a synagogue which killed a volunteer security guard was an attack on "all of Denmark".
Two men detained on Sunday by police in Denmark investigating the two fatal shootings in Copenhagen, have now been charged with aiding the suspected attacker.
In a statement the police said: "The two men are charged with helping through advice and deeds the perpetrator in relation to the shootings at Krudttonden and in Krystalgade," referring to the location of the two attacks.
The United States have officially condemned the attacks on a cafe and a synagogue in Copenhagen this weekend.
The state department issued a statement this evening saying they stood with Denmark and would "defend the universal right of freedom of speech and stand against anti-Semitism and bigotry in all its forms."
The suspected gunman in the Copenhagen shootings has been named by Danish media as Omar Abdel Hamid El-Hussein.
Police would not confirm the suspect's name, but Danish TV station TV2 and newspaper Berlingske said sources indicated the 22-year-old was responsible for the attacks.
According to Danish news providers Ekstra Bladet and DR, El-Hussein was released from prison just two weeks ago after being convicted of aggravated assault.
Earlier, police said an unnamed 22-year-old suspect had been known to them for some time and had a history of violence and weapon possession.
The attacker - who police believe killed two people in separate shootings at a free speech event and a synagogue - was shot dead by Danish police last night.
Advertisement
French newspaper Liberation will tomorrow run a newspaper front page stating "We are all Danish", as many gather outside the country's embassy in Paris in a show of solidarity.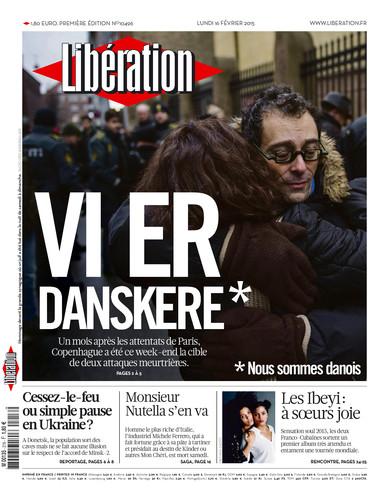 Hundreds gathered at the candlelit vigil following the Copenhagen shootings, which targeted a freedom of speech event and a synagogue.
Speaking at the memorial, Anne Dorte Riggelsen, Danish ambassador in France, said she was "moved" and "touched" by the "solidarity from the French people".
Earlier French President Francois Hollande said his country had been hit "for a second time", referencing a shared feeling after last month's attacks in Paris, including murders at magazine Charlie Hebdo and at a Jewish supermarket.
Israel's Prime Minister says the country is "preparing and calling for" mass immigration of Jews from Europe in the wake of the latest in a line of attacks on synagogues.
The shooting, which left one dead, comes just weeks after a string of attacks in Paris that included a fatal attack at a Jewish supermarket.
Benjamin Netanyahu warned today that such attacks are likely to "go on", and said: "Jews deserve protection in every country but we say to Jews, to our brothers and sisters, Israel is your home."
Under Israel's Law of Return, anyone with at least one Jewish grandparent has an automatic right of Israeli citizenship.
The second man killed in yesterday's Copenhagen shootings has been identified as 37-year-old Dan Uzan.
Uzan, a security guard, was shot dead while guarding a building behind a synagogue targeted by the gunman.
Earlier yesterday Danish filmmaker Finn Noergaard was killed in a separate attack on a cafe in the city, an attack police believe was carried out by the same 22-year-old suspect.
The gunman believed to have been responsible for two attacks in Copenhagen yesterday was a Danish-born 22-year-old man known to authorities, Danish police have said.
Police were aware of the man - whose name has not been released - because of a history of past violence, gang-related activities and possession of weapons, the force said.
Police shot the gunman dead after he was suspected of carrying out machine gun attacks on a cafe and synagogue, leaving two dead in total.
Load more updates