Did we just have a little earthquake in Swansea? The walls of my house & all my furniture just shook for like 3 seconds. Weird.
Erm, anyone else in the Swansea area just felt their house move? #earthquake?
Documents have emerged which show how some planned spending on flood defences never materialised.
Locations still waiting for the full funding include the Somerset Levels and the section of railway line in Devon that succumbed to the storms 12 days ago.
Advertisement
The Prime Minister has said that the government is "bringing all our resources to bear" to repair the train track at Dawlish, which links Cornwall and parts of Devon with the rest of the country.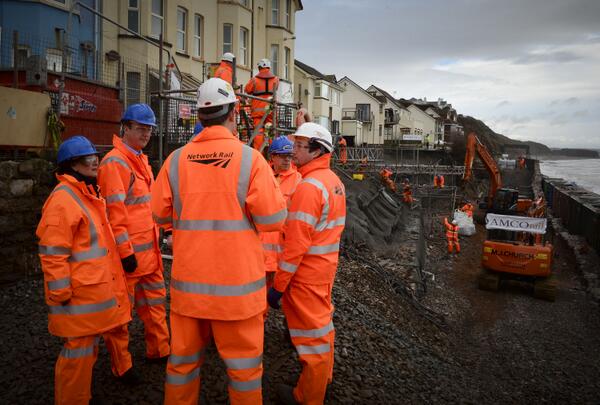 While some areas remain under water many others are dry and ready for tourists VisitEngland's chief executive has stressed.
We are naturally greatly concerned for all whose livelihoods have been affected by the recent bad weather.

Cornwall and Devon are very much open for business and whilst the Somerset Levels have been badly hit, nine-tenths of the county is unaffected.

As is characteristic of the tourism industry, businesses are rising to the challenge. Some hotels in Cornwall, for example, are being enterprising and sending cars to Exeter to pick up guests whose trains can go no further.
– James Berresford, VisitEngland chief executive
Large waves and strong winds are threatening to cause further significant flooding along the Devon and Dorset coasts tomorrow where some communities and defences are vulnerable after this week's storms.
Further heavy rainfall is expected starting this evening continuing into Saturday, exacerbating the risks of flooding from rivers and surface water across the south west, central and south east of England.
Chair of the agency Lord Smith said: "This weekend will see no respite in the extreme weather and I urge people especially in southern England to be prepared for further flooding and to sign up to Environment Agency flood warnings."
Advertisement
Transport Secretary Patrick McLoughlin has visited the Devonshire town of Dawlish where a storm on Tuesday undermined a large section of the track.
Train companies should lower fares to help people affected by the floods, Transport Secretary Patrick McLoughlin has said.
"People's rail travel is getting affected. I want train companies to help them by reducing their fares," he said, Inspecting the devastating damage to rail tracks at Dawlish in Devon.
McLoughlin denied the Government had been slow to respond to the flooding but recognised that people "were angry", adding he was hopeful Network Rail would keep their promise of repairing the destruction at Dawlish, that has severely disrupted south-west England train services, in around six weeks.
Transport Secretary Patrick McLoughlin will visit the Devonshire town of Dawlish later today to see "what needs to be done" to the railway line that has been wrecked by the floods.
"It will be an opportunity for the Secretary of State to discuss the response with the local communities there," the spokesman added.
Moorlands farmer, James Windslade, is transporting 300-400 cattle in a convoy from flooded farmland to higher ground so that he can sell them to an abattoir.
Windslade said: "it's a desperate situation. We have nowhere to farm these animals. We have to sell them."
Load more updates