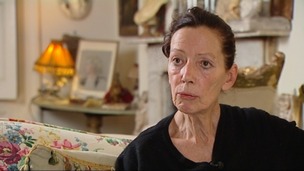 Designer Katherine Hamnett says evidence of mistreatment of factory workers in Dhaka shows the fashion industry is "a stinking business".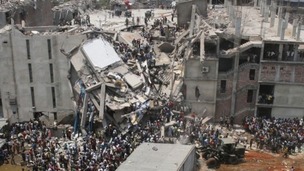 ITV Exposure investigation uncovers pressures, abuse, violence and safety dangers behind the closed doors of Dhaka's sweatshops.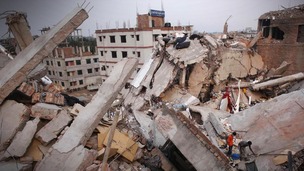 After meeting some of those affected by the factory collapse in Bangladesh, it is clear that trade partners like the UK have a role to play.
Live updates
A huge fire has destroyed another Bangladesh garment factory supplying key Western brands in the Gazipur district of Dhaka, authorities said. There were no initial reports of casualties.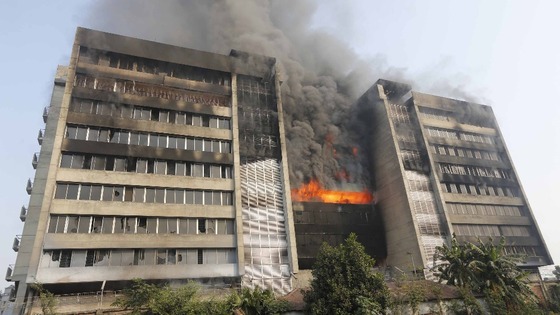 As many as 18,000 people worked at the factory, which is among the ten biggest in the country, but all employees had reportedly left by the time the fire broke out in the early hours of this morning.
Head of firefighting operations, Mahbubur Rahman, said he believed the fire had been started by some of the workers.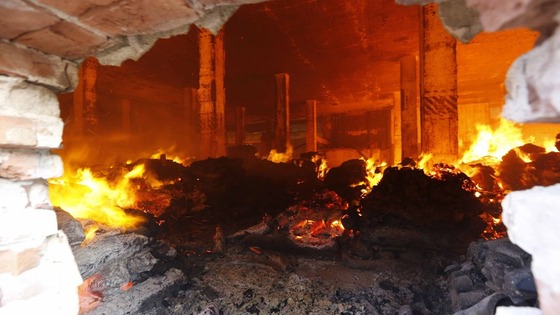 Read: The wait for help goes on six months after the Bangladesh factory collapse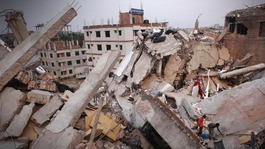 After meeting some of those affected by the factory collapse in Bangladesh, it is clear that trade partners like the UK have a role to play.
Read the full story
Advertisement
Dhaka victims still wait for help
In the weeks after the world's worst clothing factory disaster in Bangladesh, Western firms promised to compensate the families of those killed, and to help the survivors.
But ITV News has found that many victims have had little or no direct money or support.
Six months on, the dead are still being identified, and their families are struggling to survive.
ITV News Business Editor Laura Kuenssberg has returned to Dhaka in Bangladesh:
Read more from Laura: The wait for help goes on six months after the Bangladesh factory collapse
Dhaka victims still wait for help
One of the survivors Action Aid has spoke to recalls how workers raised concerns about a crack in the building the day before it collapsed.
Naznin Akhter Nazma, 20, who was pregnant when pulled from the rubble and lost her husband in the collapse, told the charity:
The day before the factory collapsed we heard that a crack had developed on the second floor, we were told that the building was safe and threatened to withhold a month's pay if we didn't attend work.
My husband worked on the second floor and I on the seventh floor. When the building collapsed I was unconscious for two hours. When I regained consciousness I found out that my husband was gone forever.
I heaved a sigh of relief when the doctor said my unborn baby was ok, but now I am worried that I can't provide for my child. I haven't had any compensation. My rent is five months overdue and soon shop keepers will stop giving me credit for food.
Dhaka victims still wait for help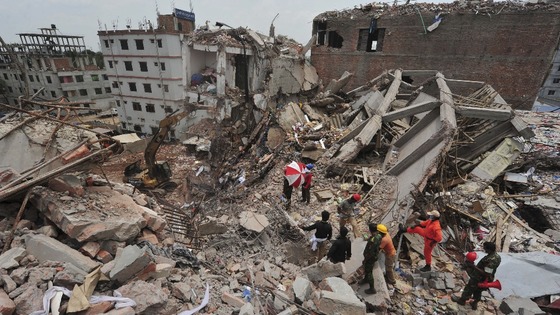 The rubble of the huge factory which collapsed almost six months ago remains heaped in Dhaka as those who were injured or lost family members await compensation.
Dhaka victims still wait for help
A charity that has been working with victims of the Bangladesh building collapse has described the lack of compensation from western brands supplied by the factory as "indefensible".
Farah Kabir, ActionAid's Country Director in Bangladesh said:
It's indefensible that for nearly six months, multi million pound companies have left victims to fend for themselves.

While corporations sit on their hands, the victims of the Rana Plaza disaster are in urgent need of medical and psychological support, as well as the financial means to feed and care for their families.
Advertisement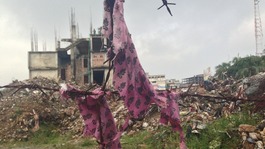 Six months after the garment factory disaster at Rana Plaza in the Bangladeshi capital Dhaka, victims are still awaiting compensation.
Read the full story
Dhaka victims still wait for help
ActionAid has said that the victims of the Rana Plaza building collapse have been left with debilitating physical and psychological injuries, preventing nearly all of them from returning to work.
The charity surveyed almost 2,300 people - around two thirds of all the survivors and families affected - and found that of those surveyed:
94% have not received any legal benefits from their employers, including sick pay or compensation
More than half have mounting debts and less than 10% had savings
92% of survivors have not gone back to work
Of these, 63% said that physical injuries have prevented them from returning to work
92% of survivors reported being traumatised, with around half experiencing insomnia and trembling from loud sounds
Dhaka victims still wait for help
A Primark spokesman said:
Primark takes its responsibilities extremely seriously.

To help alleviate short-term hardship, the company is committed to paying six months wages to more than 3,500 Rana Plaza workers, or their families, irrespective of whether they made clothes at Primark's supplier or for other major high street names.
Primark is also committed to delivering long-term compensation to the workers employed by its supplier as soon as possible, irrespective of whether other high street names feel able to do the same.
Dhaka victims still wait for help
Nearly six months on from the factory collapse at Rana Plaza in which more than a thousand workers making clothes for British high streets died, ITV News has discovered that Western promises to provide support for the survivors and their families have resulted in chaos and confusion.
Hundreds have been left with no support at all, some have received support from charities, and only one of more than twenty five western brands who used suppliers in the building, Primark, has paid compensation.
But with some brands refusing even to discuss plans for long term compensation, there is no deal to support the victims beyond six months.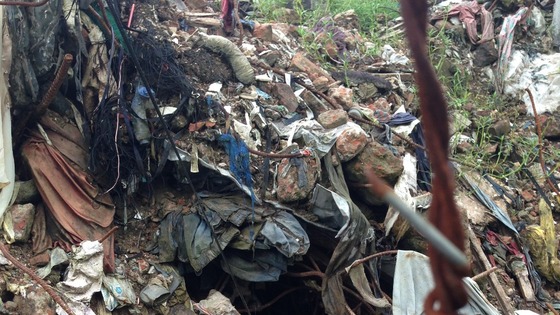 Primark is working on details for a long term deal, but I understand they will only compensate the survivors and victims who were working for their supplier, New Wave Bottoms.
With the six month deadline in a matter of days, this leaves two and a half thousand people, with no means of support.
This needs clarifying otherwise it sounds like its Primark which has left these people without compensation. I think what we mean is "leaves two and a half thousand people who were employed by companies other than Primark, with no means of support."
Primark claims to have made payouts of 115 pounds to more than 3,000 people, with an additional payment on the way. But hundreds of families are left with nothing, including those who do have not been able to identify a body from the disaster site.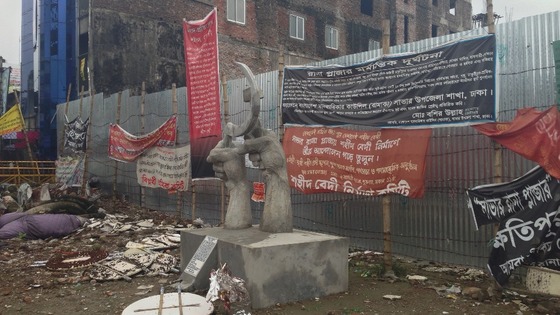 DNA matching of 322 unidentified bodies has only just begun in the laboratory at Dhaka's Medical College. Even though the factory collapsed in May, only two weeks ago the Bangladeshi government took help from the FBI who travelled to Bangladesh to install the software needed to carry out the tests.
Today we were the first journalists to see the process where remains of the victims are being tested and then will be matched with DNA swabs from families who say they have lost a family member.
Watch Laura Kuenssberg's full report on the ITV News at 6.30pm.
Load more updates
Back to top