A dog whose abusive owners chopped off its two front legs is set to walk again thanks to a British dog-lover who brought him from Romania to the UK for treatment.
Colin's front legs had been deliberately amputated and he had been walking on the stumps when he was rescued by dog-lover Claire Revis, who was told about the animal's plight by a friend working with stray dogs in Romania.
The 48-year-old from Brighouse, West Yorkshire, said: "He was found in a horrendous state, he'd been walking on bare bones, the skin on his two front legs had come off and he had a lot of infection.
"He'd probably lost them months before; the vets said they'd been chopped off deliberately."
Colin is now in Britain and has begun treatment to be fitted with prosthetic limbs but requires more surgery.
Ms Revis has so far raised £7,500 of the £9,500 needed to pay for the care.
"The £3,000 to buy his actual limbs has already been donated by the charity Finding Furever Homes," Ms Revis said.
Army search dog Sasha, who died alongside her handler in Afghanistan, will be honoured with the animal equivalent of the Victoria Cross.
Read the full story ›
Advertisement
CCTV footage finally reveals the real culprit behind a six-month vandalism campaign in Cumbria.
Read the full story ›
Five dogs have been left 'lethargic and doped' after eating a mystery substance in a London park, feared to be cannabis.
The dogs were reported ill after walks on Hampstead Heath in the north of the capital. Experts have now been called to inspect the dogs' toxicology reports.
Rachel Black said her pet cocker spaniel Samba was affected after a walk with other dogs: "Three out of the five dogs were taken ill. Her legs were going funny, she was walking round in circles.
"The dogs had bloodshot eyes, they began to hallucinate, they were focusing at a spot on the wall and barking at it."
The vet inspecting the dogs reported a slow heart rate and low blood pressure, symptoms that are commonly associated with a cannabis overdose.
Owners are being urged to 'pet-proof' their homes this Easter weekend to prevent their pets from eating 'toxic' human chocolate.
Read the full story ›
Humberside police have praised the power of Facebook after five dogs stolen in East Yorkshire have turned up safe and well in Warrington, Cheshire.
"Please pass on our huge thank you to all those who shared this post. Social media is a very powerful tool and we are very grateful for all your support in trying to locate these dogs." The statement also said.
Advertisement
Police in Cheshire believe they may have located five show dogs that were stolen from their home in East Yorkshire last week.
Once identification has been confirmed the dogs will be returned to their rightful owners.
Among the dogs taken last week is a winner of Best Puppy in Breed at this year's Crufts championship, under her show name 'Made of Candy'.
One of the owners of five chihuahuas stolen from a house in East Yorkshire has said they have received calls "right, left and centre" offering help.
Among the dogs is a winner of Best Puppy in Breed at this year's Crufts championship, under her show name 'Made of Candy'.
Mal Hilton owns the dogs with his partner Lucy and said their house was so small "you could blink and miss it".
It's not the sort of place you kind of pull up and say 'I'm going to burgle this place', you need to know what you're doing.
– Mal Hilton
Mr Hilton said people could help in the search by listening out for the sounds of new dogs barking near their house or flat, and by looking out for an Ali Baba wicker basket, in which he believes the dogs were taken.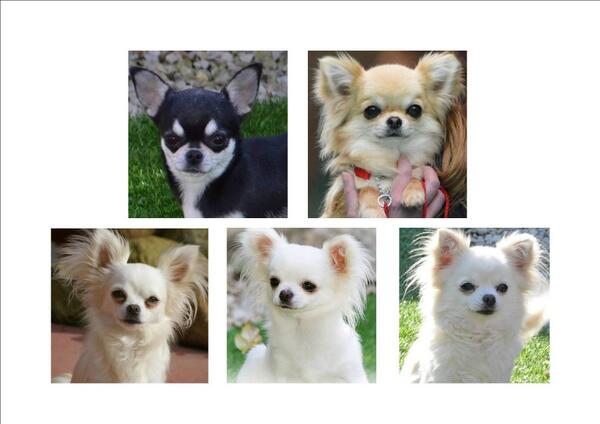 Police have started a nationwide search after five chihuahuas, including a Crufts winner, were stolen from a house in East Yorkshire.
One of the dogs, known as Xena, won Best Puppy in Breed at this year's Crufts championship under her show name 'Made of Candy'.
Her grandmother, Angel, and mother, Io, were both also snatched, along with two others called Pandora and Evie.
Mal Hilton, who owns the dogs along with his partner Lucy, told ITV News they had been inundated with calls about the animals.
"People are just ringing left, right and centre and saying 'we're here to help'. We want all the help we can, we want these dogs back before they get hurt." Mal said.
He also revealed had had calls from all over the world asking after Xena.
"This dog is famous worldwide, We've had calls from people in Japan asking after them."
Load more updates