Humberside police have praised the power of Facebook after five dogs stolen in East Yorkshire have turned up safe and well in Warrington, Cheshire.
"Please pass on our huge thank you to all those who shared this post. Social media is a very powerful tool and we are very grateful for all your support in trying to locate these dogs." The statement also said.
Police in Cheshire believe they may have located five show dogs that were stolen from their home in East Yorkshire last week.
Once identification has been confirmed the dogs will be returned to their rightful owners.
Among the dogs taken last week is a winner of Best Puppy in Breed at this year's Crufts championship, under her show name 'Made of Candy'.
Advertisement
One of the owners of five chihuahuas stolen from a house in East Yorkshire has said they have received calls "right, left and centre" offering help.
Among the dogs is a winner of Best Puppy in Breed at this year's Crufts championship, under her show name 'Made of Candy'.
Mal Hilton owns the dogs with his partner Lucy and said their house was so small "you could blink and miss it".
It's not the sort of place you kind of pull up and say 'I'm going to burgle this place', you need to know what you're doing.
– Mal Hilton
Mr Hilton said people could help in the search by listening out for the sounds of new dogs barking near their house or flat, and by looking out for an Ali Baba wicker basket, in which he believes the dogs were taken.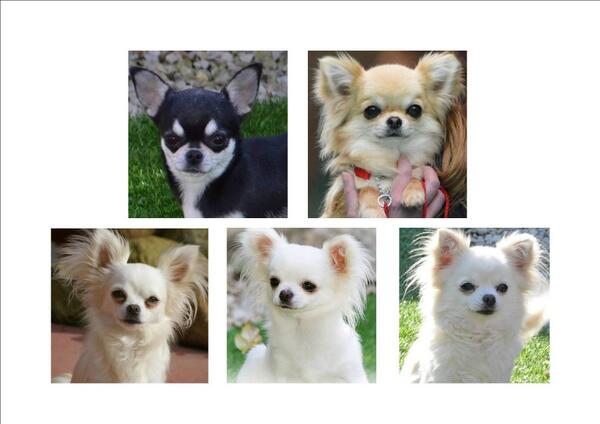 Police have started a nationwide search after five chihuahuas, including a Crufts winner, were stolen from a house in East Yorkshire.
One of the dogs, known as Xena, won Best Puppy in Breed at this year's Crufts championship under her show name 'Made of Candy'.
Her grandmother, Angel, and mother, Io, were both also snatched, along with two others called Pandora and Evie.
Mal Hilton, who owns the dogs along with his partner Lucy, told ITV News they had been inundated with calls about the animals.
"People are just ringing left, right and centre and saying 'we're here to help'. We want all the help we can, we want these dogs back before they get hurt." Mal said.
He also revealed had had calls from all over the world asking after Xena.
"This dog is famous worldwide, We've had calls from people in Japan asking after them."
Three dogs have died and three more have received treatment after eating poison 'planted' in and around a north-west London park.
Two bull lurchers and a springer spaniel have so far died in three separate incidents around Fryent Country Park in Brent, including one where meat laced with poison was left in undergrowth.
Brent Police said the deaths were caused by a "nasty, cruel act", while the RSPCA said ingesting the poison "would have caused these dogs a great deal of suffering".
Lesley Hastings, whose six-year-old lurcher Toby died in a second incident after eating what is thought to have been rat poison, said whoever is behind the attacks was "malicious".
The Kingsbury resident told London24: "To lose a dog like Toby like this is so sad. He was a rescue dog and I had only had him for two years."
"How do we know cats haven't died too but their owners think they have just run away?" she added.
Advertisement
A rescued rottweiler has won Ruffs - the RSPCA's alternative to the Crufts dog show.
Read the full story ›
A poodle named Ricky has landed the world's most prestigious dog show prize after being judged this year's Best-in-Show at Crufts.
Read the full story ›
A couple arrested over the death of an 11-month-old girl killed by a banned pitbull terrier type dog have been released on bail.
Ava-Jayne Corless was mauled to death by the dog while she was sleeping in bed at a house in Blackburn on Monday night.
The girl's mother, Chloe King, 20, and her partner, Lee Wright, 26, were held on suspicion of manslaughter.
"The two people arrested in connection with the death of Ava-Jayne Corless at Blackburn have both been released on bail pending further inquiries," Lancashire Police said.
Lancashire Police said the dog which mauled an 11-month-old girl in Blackburn has been identified by experts as a pitbull-terrier type dog, which is banned under the Dangerous Dogs Act 1991.
Load more updates