The Metropolitan Police helicopter captured this picture of the Downing Street Christmas tree: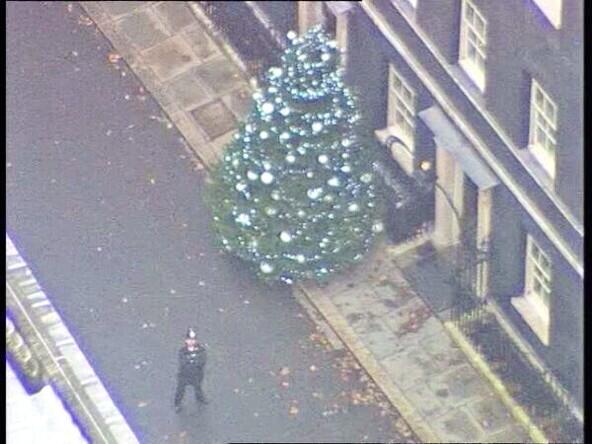 Christmas has come early for the children of George Osborne, with the Chancellor posting a picture of a new puppy.
Mr Osborne said his children, Luke, 12, and Liberty, 10, had named the Bichon Frise 'Lola'.
Mr Osborne revealed that he was already struggling with some 'business' issues, tweeting: "Some early issues with toilet training ... but we don't care. We love her."
It remains to be seen how Lola will get on with the family's cat Freya, who already lives in the flat above Number 10.
Advertisement
Ghosts of past politicians may still be haunting Number 10, it has been revealed.
The facilities manager at Number 10, David Heaton, has spoken of his encounter with the resident ghost in a dining room.
After arriving very early, Mr Heaton went to investigate a bright light in the small dining room, but as he entered someone walked past him.
Mr Heaton said he felt a "real presence" and heard a "rustling".
The facilities manager said the episode still sends "shivers up his spine".
Campaigners have delivered a 10,000 signature petition to Downing Street in a bid to stop the Government from selling off a Staffordshire town hall that contains a unique First World War memorial.
Fenton Town Hall, whose memorial pays tribute to 500 soldiers, is being marketed by the Ministry of Justice to private buyers for around £500,000.
Save Fenton Town Hall campaigners want the hall to be preserved as a community building.
Number 10 will fill the vacant positions on its Policy Unit today, with three replacements due.
Read the full story ›
The Prime Minister has moved to dispel rumours that he and his family do not get on with Downing Street's resident cat Larry:
I can set everyone's mind at rest in the #SaveLarry campaign. He and I get on purr-fectly well. The kids love him too .
Advertisement
Number 10 has denied claims that Larry the Downing Street cat is disliked by the Cameron family following speculation in a new book.
Read the full story ›
The Prime Minister's spokesman has said the allegations of a cover-up by the Care Quality Commission are "deeply disturbing and appalling."
He added that the Government has taken "strong action" to reform the system.
A 42-year-old man was Tasered after he was seen pointing a knife at his own throat near Downing Street in London, Scotland Yard said.
He was challenged by police just before 9pm yesterday but failed to respond so the electronic weapon was used.
The man had been shouting in the road and appeared to have a knife that he was pointing at his throat.
He suffered a minor head injury when he fell and was taken to hospital as a precaution.
He was later arrested on suspicion of possession of a knife and affray, and remains in custody.
The Number 10 press office has tweeted a picture over the Welsh flag flying over Downing Street to commemorate St David's Day.
Load more updates